Kayaking is just not about taking a kayak in the water and paddling. If you have been a kayaker for a while now, its likely that you know that kayaking is involves much more. All kayakers know that it is important to choose the right and the best kayak accessories to get the most out of your trips. From safety gear to navigation equipment and anchors each kayak accessory is beneficial for a perfect kayaking experience. This best kayak accessories guide will give you an overview of what you need when you are getting ready to start kayaking.
Quick Summary: Top 10 – Best Kayak Accessories This Year
Our seasoned editors have picked and rated these products for each specific category and area of expertise to recommend you the best models and products we can. We receive commission from some of these affiliate links.For Transport:1. TMS Cart-Canoe/Kayak"Transport any kayak with easy with the alumium cart from TMS"For Waterproof Storage:2. MARCHWAY Floating Dry Bag"Looking to keep your stuff dry when kayaking? Here is the best solution out there!"Wall Mount for Kayak:3. COR Surf Rack Mount"Store away kayaks while still preserving space in your garage with these straps!"Kayak Anchor:4. Airhead Anchor System"Fight the current and stay positioned with this well built anchor from Airhead"Gear Leash:5.Campingankayaking Paddle Leash"Never lose paddles or fishing rods ever again. Just hook up equipment to the cords!"Paddle Drip Rings:6. H2o Kayaks Paddle Drip Rings"Keep water from splashing onto you with this amazing accessory for kayaks! "For Safety:7. Onyx MoveVent Life Vest"Comfortable yet sturdy. This life vest is the perfect balance for any kayaker"GPS Navigator:8. Garmin eTrex 10 "Know your location at every time with just few clicks on this great product from Garmin"For Comfort:9. Surf To Summit Hot Seat"Stay comfortable for hours in the water with this well designed seat"Hole Plugs:10. Seattle Sports Universal Kayak Scupper Plugs"Fear of sinking? Keep this universal fit plugs at all times to prevent any leakage!"
For TransportIf ever you've needed to transport your kayak from your vehicle to the water, and back, you'll know how much of a problem that can be. However, using something like the TMS Cart which is for both canoes and kayaks, makes this a breeze. Quick Specs
Weight Capacity: 150 lbs

Material: Aluminum pipes

Wheels: Flat free wheels
You can just put your kayak on the cart itself, as it has a capacity of 150lbs, and then take it along with you. The flat-free tires work great on any surface, and the metal frame is actually very stiff and sturdy. You don't have to worry about your kayak being damaged in any way. And when you're done, you can just break it apart and put it in your trunk – it takes up very little space. A great kayak accessory. 
For Waterproof StorageOne of the worst things that can happen when you're out on a kayaking trip is your stuff getting wet. This is especially true if it's a longer trip where you're carrying clothes, or expensive electronics that aren't waterproof. Quick Specs
Capacity: 5/10/20/30/40 L

Material: Ripstop tarpaulin
The MARCHWAY Floating Dry bag is an excellent way to solve this, because you get plenty of room (depending on which storage capacity you go for) and all the things you place inside will remain dry, even if you get a lot of water on it. Note that it's still not a good idea to submerge it, because MARCHWAY don't guarantee anything in that case. The capacities you can pick and choose from range from a 5L bag, all the way to a 40L bag. Whichever one you go for, you get a versatile bag that will stay afloat and keep your essentials dry! 
Wall Mount for KayakUnless you have a large house with plenty of room, storing your hardshell kayak could be an issue. You've propped it up against a wall, or maybe you have it somewhere on the floor, but none of those are ideal storage solutions. You know what is? The COR Surf Rack Mount.Quick Specs
Includes: 2 slings & mouthing hardware

Material: Padded nylon
This is a "storage sling", as its manufacturer has dubbed it, and it's an excellent way to store your kayak when not in use. You screw the two sections in your wall, and you instantly two slings that will hold your kayak. It's not just any sling, though, these are heavy duty, padded slings that will hold your kayak or SUP board without deteriorating in a month. If you're struggling with storage, this is definitely the way to go. It's reasonably priced, it works very well, and it's as durable as they come. What more could you look for? 
Kayak AnchorOne of the first things you should get for your kayak is definitely an anchor. Not only will it keep your kayak at bay if you're not in it, but it will also help a lot if you use it for fishing. The Airhead Anchor System is a great option because it includes everything you need to get started, and it comes at a very reasonable price. Quick Specs
Weight: 3.5 lbs

Folding: Yes

Rope: 25 ft
Not only do you get a four-fluke anchor that's really well made and folds when you don't need it. This allows you to store it in your kayak without it taking up a lot of space. The marine-grade rope is pretty long lasting, and at 25 feet, it's long enough as well. Round things out with the excellent carrying bag and buoy that lets you find it easily, and you've got yourself an excellent kayak anchor. 
Gear LeashHave you ever dropped your paddle and spent quite a lot of time trying to reach it without flipping over, only to have that pretty much ruin your day out on the water? Well, we've got just the solution for you – the Paddle Leash by Campingandkayaking. Quick Specs
Includes: 3 black leashes

Length

: 20 inches bungee cord
For a pretty reasonable price, you get three lashes. The first one is for your paddle, but you also get two additional ones that you can use for things like a fishing rod or any additional gear you don't want to chase around the water. On the other hand, if you only need one longer one, you can loop them together. This leash has no stretching issues, and it won't lose any elasticity over time, which makes it an excellent and pretty durable product. At 20 inches, it's just right to stay out of your way, and keep your paddle at bay. 
Paddle Drip RingsSure, kayaking is a water sport, but many paddlers would actually prefer to keep certain parts of their body dry instead – their hands being one of them.Quick Specs
Diameter: 28-31 inches

Material: PVC
While for some this is purely because of comfort, there's actually no denying that keeping your hands dry can help when it comes to your ability to paddle. If you don't want your paddle slipping from your hands and you not being able to regain control, the H2o Kayaks Paddle Drip Rings is the thing you need. You will need a two-piece paddle to install them, and they fit on shafts that are between 28 and 31 inches in diameter. Being made out of PVC, they're pretty durable and should be easy to install. They do a very good job at keeping the shaft of the paddles dry, so you can enjoy your paddling. Honestly, this is one of the best kayak accessories out there. 
For SafetyA regular life vest will do a great job at keeping you afloat. But it also does a great job at restricting your movement and keeping you "tight" in order for it to be functional when it's necessary. That's a bit of a problem when you're paddling, and that's why one of the best kayak accessories is the Onyx MoveVent Life Vest. Quick Specs
Weight Capacity: 90 lbs and over

Material: Heavy duty nylon fabric

Chest Size:  28-56″ 
At its core, it does the same job – keeping you afloat when you get in the water. But it also has a mesh lower back so you can feel more comfortable in your kayak seat. It also lets you adjust the shoulder fit with straps and comfort pads, and it's made of a heavy duty nylon fabric that won't rip. Add to this the zippered pockets, and this is a lot more than a regular life vest – and you need one. 
GPS NavigatorMany of the kayakers with a more adventurous spirit have went out on longer adventures in water they may not know. If you have, you might know how it's like to have little idea of where you are and where you're going. But that is no more, since the Garmin eTrex 10 is an excellent handheld GPS device that can help you find your way. Quick Specs
Batteries: two AA up to 20 hours of use

Waterproof: IPX 7

Display:  2.2″ monochrome 
It comes with a rugged, IPX7 resistant design that will withstand any splashes that might hit it as a result of the paddling, and it will also withstand any hits or bumps as well. The support for both HotFix and GLONASS means positioning is pretty fast and the signal is very reliable, so you won't have issues. Last but not least, you have 20 hours of use and quickly replaceable AA batteries – what more could you ask for? 
For ComfortIf your kayak seat isn't too comfortable, or you'd just want a bit of extra padding, the Hot Seat by Surf to Summit is the kayak accessory you want. It sits right on top of your kayak seat, and it adds quite a lot of padding to make for a more comfortable experience, especially over longer rides. Quick Specs
Material: Lycra foam laminate

Size:  Width: 14 in Height: 1.25 in
It's made using a lycra foam laminate, which ensures it won't lose its shape or the amount of comfort it provides, even when used extensively. The contoured shape is made to be extremely comfortable, and the backing also has an adhesive that allows you to put it on your kayak seat in a more permanent fashion if you want to. There's also the fact that you're looking at a very grippy surface, so you won't be moving around your seat a lot, which is a nice addition. It's a great thing to have, for any paddler. 
Hole PlugsUsers of scupper kayaks will want to keep a couple of kayak plugs at hand, and if you're one of them, there's no better option than the Universal Kayak Scupper Plugs by Seattle Sports. They're made of solid silicone, which not only makes a great seal on your kayak, but is also very durable and doesn't lose out on its properties over time. Quick Specs
Material: Heavy Duty Molded Silicone

Universal Fit: Yes 
To add to this, the 'tiered' design, as Seattle Sports call it, allows you to fit these in a variety of hole diameters, so you can use them for pretty much any kayak. The Neon Green option is also made of a glow-in-the-dark silicone, so even if you get caught outside after hours, you'll be able to find them rather easily. It's just one of those small things that you should keep at reach when kayaking, and you should definitely get them.
Kayak Carts
A kayak cart is a two wheeler frame which can be attached to your car, cycle, or motorbike or you may even wish to pull it yourself. Kayaks can easily be loaded on the frame of the cart and can be easily pulled to your destination. If you a buy a nice durable cart then you can get a long lifespan out of the tires and you can also portage into remote areas without much difficulty. A kayak cart combined with kayak trailer tools can make your life a lot easier in transporting your kayak. Whether it is a few feet to the water, or you have to go through the woods, a kayak cart will act as the perfect tool for any conveyance purpose outside the water. A kayak cart will also save you from potential injuries that can be caused from carrying and lifting your fishing kayak, which usually is in excess of 100 pounds when rigged.
Moreover kayak roof racks help to secure a kayak on top of the vehicle. You can also choose to lock it with the help of Kayak straps and tie downs and transport it wherever you wish.
Kayak Sail Kits
Although paddling can make kayaking a lot more fun, if you wish to save your energy then you may use a kayak sail kit. The kayak sail kit gives you a sailing wind sock meaning that the kayak will turn its bow with the wind when subjected to its flow. A good sail kit plays a key role in responding to the wind and making a perfect movement following its track.
Sails are great for improving movement speed of the kayak however they may become slightly obtrusive if you have a smaller kayak and wish to do extra tasks with it such as fish. Casting with a sail can get a little annoying since the line will sometimes get caught and will not allow you to cast using a full motion.
Kayak Rudder Kits
Another tool to steer the kayak is the kayak rudder kit. This keeps the kayak straight when pushed by moving water, wind, currents and waves. If you wish to coast on open waters and the size of your kayak is over 12 inches then a kayak rudder kit is a must have for you.
Kayak rudders are almost standard for pedal kayaks since they provide one of the only means of steering if you do not have a paddle. The kayak rudder is known to slightly reduce a kayaks speed, some estimates have shown by as much as 10% of the kayaks normal speed is reduced.
Kayak Safety Accessories
Most of the accessories bought for kayaking are for safety. These may include life jackets and kayak pumps. The life jacket is a must have and every kayaker should wear it in the chance that you tip over in open water. To keep the paddles afloat, other flotation devices are also available. Kayak pumps are helpful in sucking out any accumulated water in the kayak. Without a kayak pump the kayak may sink full of water and water weight. Though kayak pumps are not essential they are a nice to have.
Another kayak safety accessory that is useful is a GPS which we will touch on in the next section. A GPS can be a lifesaver if you are out in the water and get lost on a particularly long journey.
Kayak Navigation
For a kayaker who is ready to hit the water a must have is a navigation system. To track your way around in rivers navigation tools like a GPS system, Compass and Map can be used. Each one of these navigation tools help to track your location down and are used in combination because of each one having its limitations.
The GPS system has become more and more advanced over the years and can now show and locate your exact position to avoid getting lost, some more advanced devices also show the weather patterns and wave patterns around you.
Kayak Seat Pads & Kayak Back bands
For a comfortable kayaking experience, seat pads which can encourage paddling and reduces fatigue are necessary. A bad seat pad can ruin your kayaking experience and therefore must be soft and should support your back and thighs. For an amazing kayaking experience kayak backbands are the best idea. While kayak seat pads support your thighs and hips, backbands maintains your spinal cord and also cushions it with a safety belt.
Many kayaks come with a seat however the majority of these are entry level seats and dont provide the necessary support you look for in a professional model.
Kayak Hatch and Storage Bag Kits
To keep your food, clothes and other dry items safe from water a hatch and storage bag kits are the most helpful accessories. A combination of dry boxes, dry bags and dry packs are available with versatile space and very effective waterproof seals. You may choose to store any item in these kits, and it is guaranteed that they won't get wet or sink in case they're hit with water.
A lot of hatches come pre-made on kayaks and installing a new one may require some handy work that's why storage bags are the next best alternative for those that don't want to do the extra installation work.
Repair & Maintenance Kits/Parts
For any necessary repairs of your kayak or any other gear a repair kit needs to be carried along. To replace and remove any part or hardware, the repair kit must contain all the necessary tools. Moreover to improvise and fabricate parts various lubricants, adhesives and binding material should be a part of the repair kit. The repair kit must be placed in an accessible position and should be kept dry from water reach.
These kits are especially essential for inflatable kayaks, since a puncture to the kayak could be detrimental and requires immediate sealing.
Kayak Anchors
To keep your kayak still while fishing or resting a kayak anchor is required..
Kayak anchors are very popular for fishers. If your going on somewhat turbulent waters the kayak rudder is essential and allows you to fish without being impeded by the moving waters.
Rudder kits usually come with an attachment to the bow or hull of your kayak and a secure metal or weighted anchor. There is usually some installation required with possible power tools, you may wish to get a expert to install if you are not handy.
Kayak trailers
If you have a kayak, or more of them, you undoubtedly need some means of transporting them. People who have smaller kayaks or inflatables can store them inside their vehicle, or on top of it, but those who have bigger kayaks don't have that convenience. That is where a kayak trailer comes in. A kayak trailer isn't a trailer that you attach to your kayak for extra storage, but instead a solution to carry around your kayak, or kayaks. It attaches to your vehicle and allows you to mount one or multiple kayaks on it, acting as a rack. Some of them also come with additional options such as storage area where you can put your gear or accessories, or anything else you might want. They come at a range of prices and options, and you can definitely find one that suits your needs.
Kayak paddles
A kayak paddle is basically the primary way to move your kayak. It's a rod with two paddles on each end, and you use it alternately on both sides to keep your kayak moving. Choosing the right paddle can make a huge difference in your paddling and improve the amount of energy you preserve when paddling. Choosing one isn't difficult, even though there are quite a few shapes, sizes and materials. The length depends on your height, your boat's width as well as your paddling style. As for materials, the optimal paddle will give you a balance of light weight, which is important, especially for touring paddles, and strength, which is also key, especially in whitewater environments. Some more common materials include fiberglass, nylon/aluminum and carbon fiber. There are also feathered, or nonfeathered blades, where nonfeathered blades are in line with each other, and feathered ones are at an angle to each other.
Kayak life vest
When you're out on water, or near it, it is common sense to have the appropriate safety gear. This is especially important when you're in a kayak, or a canoe, as these vessels are notorious for being potentially unstable and being able to flip you and throw you in the water when you least expect it. Even if you're a good swimmer, you will need something to keep you afloat, and that is where a life vest comes. A life-vest made for kayaking typically allows more freedom of movement, which is essential for this kind of sport, and won't interfere what you're doing. What you're looking for is a lightweight life vest which makes you feel comfortable. All of them are made to keep you afloat in case you happen to flip over, and some of them are even waterproof to protect your essentials safely.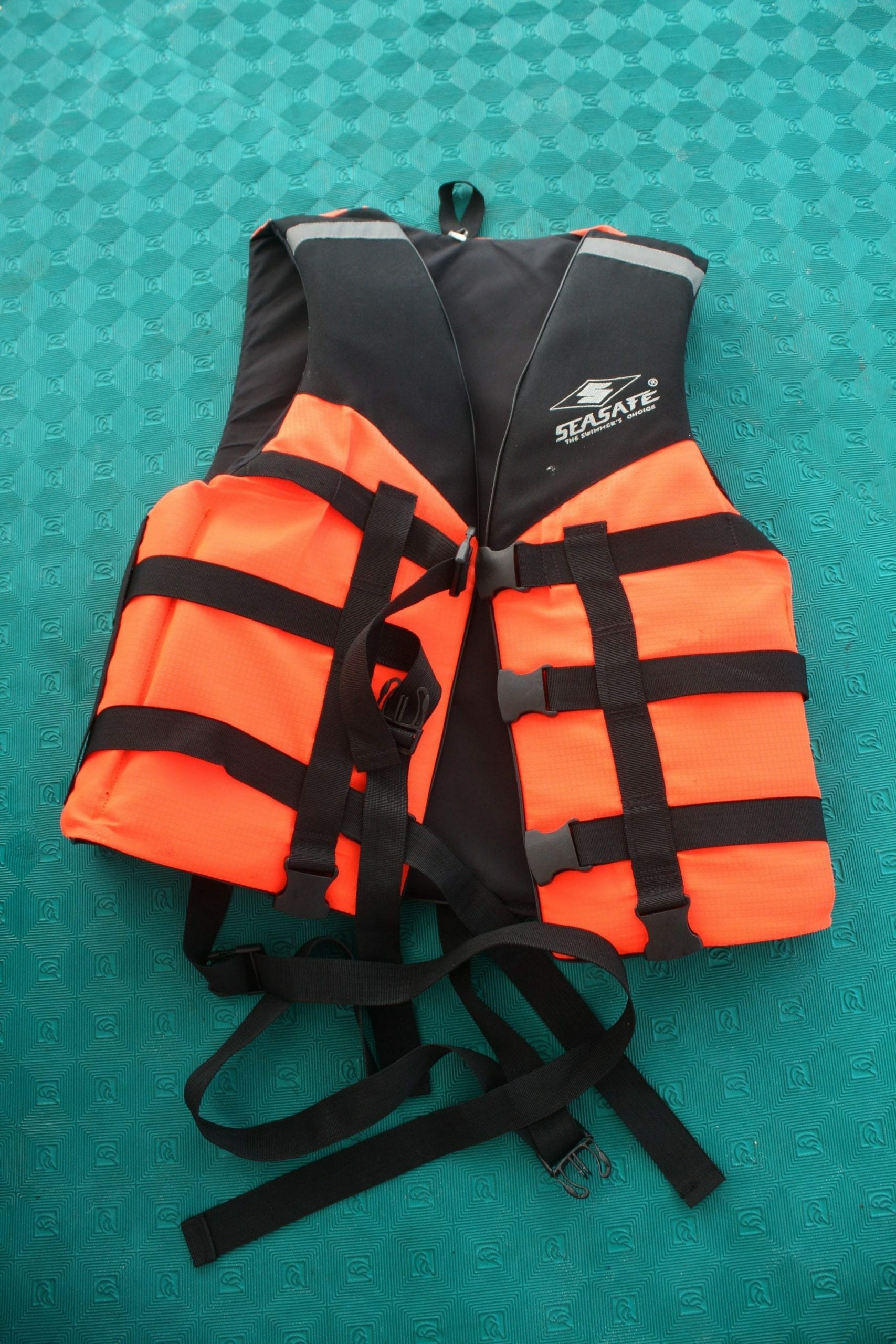 Bilge pump
Despite there being a movement which goes against using such a thing, it is common sense that you want to have some way of removing water that might come into your kayak, whether from splashes or capsizing. This is where a bilge pump comes in. It is designed to pump out any water that comes inside your cockpit, and comes with a few options. If you're paddling in flat conditions, a hand pump is sufficient since you're usually not in a rush to pump out the water, but going into challenging conditions, such as whitewater rapids, might call for something more heavy-duty, such as an electronic bilge pump. An electronic system will pump out the water for you, while leaving your hands free for paddling and handling the water. No matter what the conditions, having a bare minimum of a hand pump and a bailing sponge is a no-brainer.
Spray skirt
A spray skirt is another kayaking essential. On a touring kayak, it will keep you afloat in heavy seas. On a recreational kayak, it will keep out rain and any waves you might run into. And, on whitewater rapids, will let you ride through any waves, down waterfalls and roll over and up again. A skirt is generally made out of a torso, sometimes called a tunnel, that you wear around your waist, and a deck, that covers the entire cockpit, with the rand holding the deck over the entire cockpit. There are plenty of materials and designs to choose from. Some more popular materials include neoprene, mainly used for whitewater or surf kayaking, nylon, usually used for sea kayaking, and a combination of both. As far as fit is concerned, having a skirt that fits you and your kayak well, as this means that no water will get in.
Rescue sling (rescue stirrup)
A rescue sling, or sometimes known as a recue stirrup, is an interesting piece of kit that helps you get back into your kayak if you've capsized. It is usually used by paddlers who are either tired, or don't have the upper body strength necessary to lift themselves up on the deck of the boat. The rescue sling works by creating a step that helps lift you up into a better position so you can re-enter your kayak. They're usually built from highly visible nylon materials, feature some sort of flotation material, such as a neoprene wrap, and come with clips to attach it securely to your kayak. There are a few ways that you can enter your kayak with a rescue sling, and you can choose the one that makes it easiest for you. A good rescue sling will also be very easy to roll up and store.
Dry bag
A dry bag is pretty self-explanatory, it's primary use is a watertight bag that keeps your precious and essential things dry. Everyone who spends time out in the water and would like to keep their food, electronics or other gear dry, rely on them. They're usually strong and abrasion-resistant, and are an essential tool in a situation where things might get wet. They're usually either made of vinyl, for smaller personal items, and nylon, coated with Cordura, for the larger items. They come with different types of closure, some of which give you an extra layer of protection, and at various sizes, which makes sure that you can fit whatever you want in them, provided you can fit your dry bag in your kayak afterwards. Some even come with carrying straps, for added convenience, which you can detach when you don't need or use.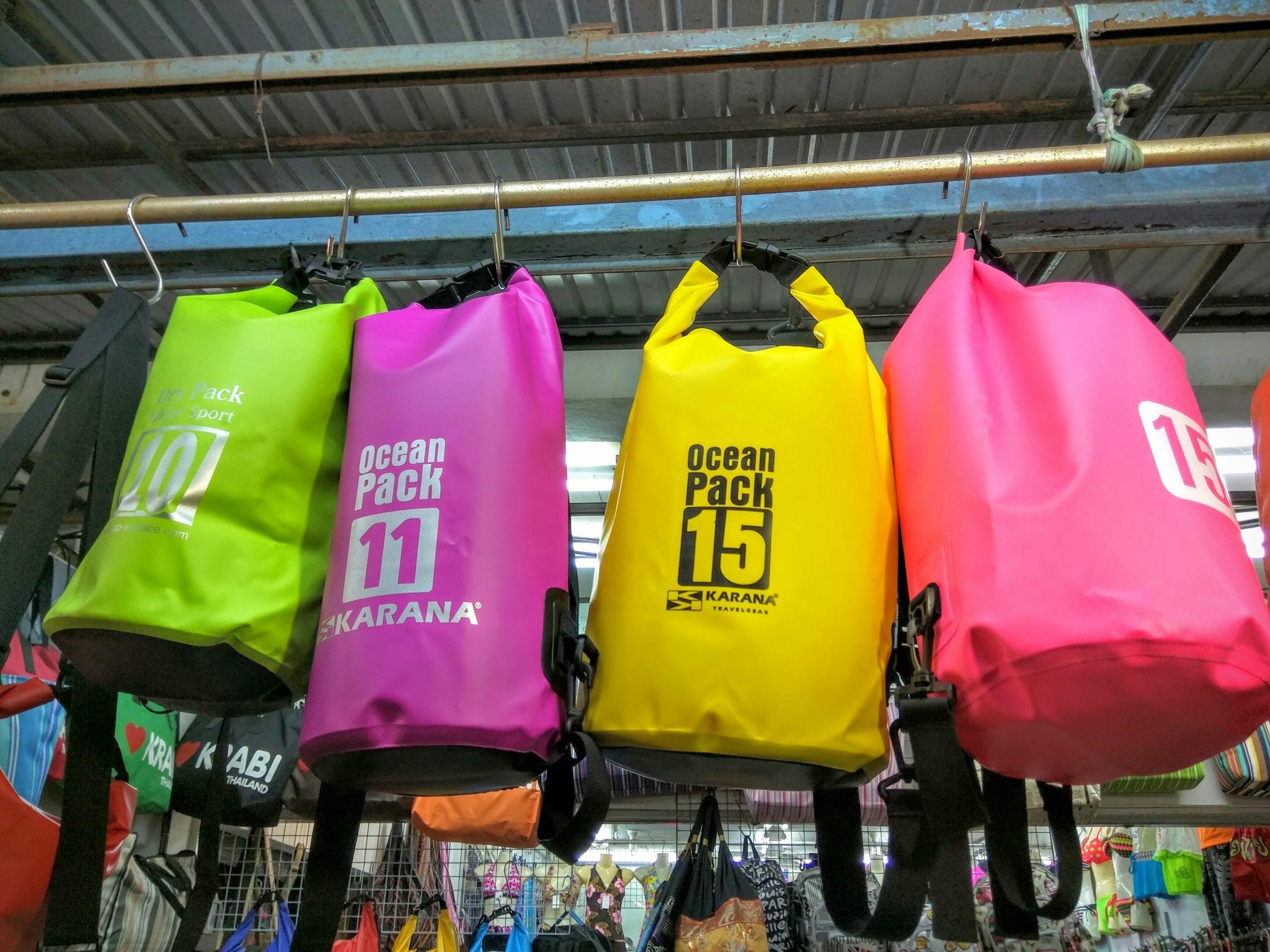 Map and compass
Even though you might be wondering what is there to navigate when you're out on a lake, or a river, there's a reason for having a map and compass. Yes, when you're out on the lake you can see where you would want to go and you merely need to paddle there. However, any time you're out in nature, you're on your own, and you only depend on your muscle power and your wits. This gets trickier when you're in the water, as if something happens, you can't find shelter and you can't sit down and think about it. Therefore, you need to have a map and compass that will let you know your position at all times, and you can tell it to someone in the case of an emergency. Plus, who wants to miss the cove after 30 miles of paddling and have to do an extra mile?
Whistle
A whistle is another accessory that you will want to have. It is a fact that it carries a lot farther than your voice, and it is another fact that your voice will give out much sooner than your whistle would. This makes it easier for you to communicate with others when out on the water or in the case of an emergency.
Wetsuit or drysuit
A suit, be it a wetsuit or a drysuit, is another accessory that becomes somewhat essential when the weather gets cold. Being well prepared for immersion might make all the difference between freezing in the water, and surviving the swim. A wetsuit will generally use neoprene in order to trap a thin layer of water near the body. The body's heat will heat up the layer and this in return keeps the paddler warm. The thicker the neoprene, the warmer it is, but it is less flexible, which is important to paddlers. Paddling wetsuits will come without arms, and this won't restrict arm movement which is essential, but won't keep you that warm, and cold water might penetrate the arm holes. A drysuit uses a waterproof fabric to keep the water away from the body, and acts as an outer layer. By itself, it isn't warm, and you might want to wear a base layer, as well as a mid layer to keep it warm. However, it is much more comfortable than a wetsuit, and you might find this very useful in the water.
Other Kayak Accessories
There are other accessories which can customize your kayak and kayaking experience. Several kayak Mounts and Hardware items are available to assist you with your kayaking. These include mounting tools, pads, holders and several other things. If you are interested in fishing then your kayak should have a kayak fishing cooler. These fishing coolers store you catch and keeps them fresh till you get back home.
Remember that when buying kayak accessories you do not have to buy all of the available accessories right away. You have to make a choice according to those accessories which are  the most important by means of frequency of use, need and availability. When you start kayaking you will eventually come to know what you need the most and which things you can forego. Just remember these best kayak accessories will make your kayaking experience a lot more enjoyable and happy kayaking!
Were Sorry This Was Not Helpful!
Let us improve this post!
Please Tell Us How We Can Improve This Article.