Emotion Stealth Angler Kayak Review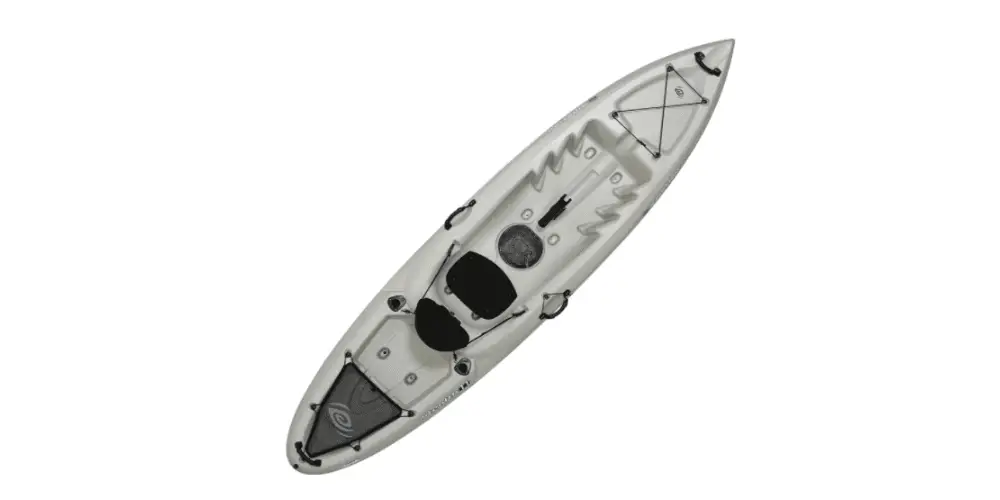 | | | | |
| --- | --- | --- | --- |
| | high performance great features | | |
Buying a new kayak is by no means an easy thing to do at this point. There is a huge number of companies, all with a huge number of models available, and they're all made to suit different people. What this means for a beginner who wants to get into kayaking is that you will get lost in the sea of choices you have, and if you don't know exactly what you're looking for, you might make a mistake. And it may be a costly one. For example, if you're looking for a fishing kayak, you will see a huge number of models, from hard-shells to inflatables, from small ones to enormous ones, and they come with a plethora of options when we're discussing fishing accessories.
However, every once in a while there is a specific model that offers excellent options and doesn't break the bank, and it's always worth taking a look at. Such an example is the Emotion Stealth Angler sit-on-top kayak, which is a great tool for any angler and offers much more than a lot of the other kayaks in that price range. If you find yourself looking for a kayak that will take you fishing with ease, read on for the full Emotion Stealth Angler sit-on-top kayak review, and see if you should be heading to the nearest dealer for a test ride. 
Features:
So why the Emotion Stealth?
The Emotion Stealth comes in two configurations, one is the Temptation, and the other one is the Angler, which is what we'll be discussing today. The difference between them is that the Angler comes with a lot of fishing perks and accessories that anglers find useful. As far as the hull design and specifications, they're identical. The Emotion Stealth is made of roto-molded, UV-resistant polyethylene plastic. This is a very lightweight material that offers some incredible impact resistance and is thus the material of choice for plenty of kayaks. It is also made with durability in mind, so you should be safe for quite a while with this kayak.
Performance is stellar, the signature ST Performance hull by Emotion delivers great speed, stability, and handling, and all without, even for a minute, sacrificing comfort. It is very important that a fishing kayak is stable and comfortable, as you will spend hours in it and you don't want to worry about it flipping over or you having pains when you get home. The Stealth Angler delivers on this, which doesn't happen very often with kayaks in this price range. It also picks up speed quickly, you'll be able to maneuver it with ease, and tracks very well.
Storage is taken care of by the Solace Hatch beneath the deck, as well as the large rear tank well with a cargo net lacing. The Solace Hatch is a great way of keeping your personal items and valuables safe and dry. With all the storage places, you can take all the essentials for fishing, or even camping and multi-day trips. The Comfort Rest Seat system, along with the UltraLite padded backrest will give you more than enough comfort for extended periods of time, and the molded-in footwells give you a place to put your feet, no matter your size.
Since this is an angler kayak, you will find two flush mounts, as well as one deck mount rod holder, for a total of three holders which is more than enough. The front rod holder is adjustable, and the flush mount holders are made for transport. The storage options are placed in strategic positions so you can put a tackle box on the bow, and any extra gear in the back. All in all, in this price range, you will have difficulties finding anything better.


Verdict
At the end of the day, there are not many things that you won't like with the Emotion Stealth Angler sit-on-top kayak. It's a great tool for the job, and it offers more than any other kayak in its price range, making it a very popular option for a variety of environments. It won't make a dent in your budget either, so if you're on the edge of buying it – do it, you won't regret it.
Were Sorry This Was Not Helpful!
Let us improve this post!
Please Tell Us How We Can Improve This Article.