Inflatable Kayaks Can Be A Great Alternative To Hard Shelled Boats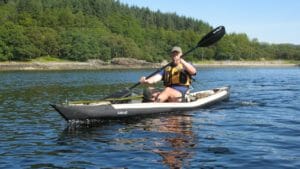 There's no doubt that inflatable kayaks and canoes have grown in popularity over the past few years.
As the sport of paddling itself has become more popular, and moved into the mainstream, anglers and recreational paddlers have been looking for more affordable and convenient ways to get out on the water. And in many ways, inflatable kayaks and canoes fill the bill in both regards.
But make no mistake, hard-shelled kayaks are still the best choice for many applications. You probably wouldn't want to do extensive touring in an inflatable boat, for example. And world-class playboating is probably out of the question as well.

On the other hand, if you're just a twice-a-month paddler, and you can't justify the expense of a hard-shelled kayak or canoe (or don't have a way to haul one around) then a quality inflatable kayak could be your best option. Plus the idea of hauling your boat to and from the water in a backpack is appealing, especially if you're worn out from a long afternoon of paddling.
If you're new to the sport, and the thought of having to learn the Eskimo roll scares the hell out of you, an inflatable, or "Duckie" as they're affectionately known, could be your entry vehicle into the sport. Almost every large outdoor recreation store or paddle shop in the country has at least one inflatable boat in stock. Many carry a complete line of these easy-to-store, and easy-to-use and transport kayaks.
Some of the advantages of inflatable kayaks include:

Safety — Safety — inflatables are very stable, easy to master even for beginners, and easy to climb back into if you find yourself in a capsize situation. They're also practically unsinkable, and so if you have to you can just hang on until help arrives.

Family friendly — inflatable kayaks are a great way to introduce the whole family to kayaking. They very simple to set up and use (most can be inflated in under 10 minutes), and even beginners can be out enjoying themselves on the water in no time. And if something does happen on the water, you're right there to safely handle the emergency.

Convenience — Unlike hard shelled kayaks, inflatables don't require roof racks or trailers to haul around, and they won't take up half your garage during those long winters. Most fit into a small carrying case when deflated, weigh from 25 to 40 pounds, and can be stored in the closet when not in use.

Durability — with today's quality materials, a well-made inflatable yak is extremely rugged and durable. For example, the boats rated for Class IV whitewater are manufactured from fabric that can withstand repeated hits from sharp rocks, tree branches, logs and just about anything else you're likely to encounter on the water. And even in the rare case that something actually punctures an inflatable kayak or canoe, they're very easy to repair. In fact most boats come with a quick-drying repair kit that will get you back out on the water in 30 minutes or less.

Great for fishing — inflatable kayaks make great fishing boats. In fact they're just about the most portable fly fishing platform you can buy (other than maybe a float tube). They're wide and stable on the water, they have lots of room for storing tackle and other fishing gear, and they're easy to portage into remote fishing areas.

Great for diving — inflatables are also well suited for scuba diving. They've got lots of room for that diving gear, and they make stable diving platforms.

They're just plain fun — inflatables are great for surfing, they're easy on swimmers if you bump into one, kids love them, and they make great river runners and short distance touring boats.

They're just plain affordable – as a group, inflatable kayaks and canoes are extremely affordable. For example, a good quality inflatable yak from Sea Eagle, rugged and capable enough to handle Class III whitewater, can be had for $300 and change. A larger or more extensively outfitted inflatable will set you back from $600-800, which is still a bargain compared to most hard shelled boats.
So there you have it. Some "purists" look down their noses at inflatable kayaks, but don't let that dissuade you. Many people don't have the money for a hard-shelled kayak, or the patience to learn the nuances of traditional kayaking, and an inflatable can be just the ticket to get you off the couch and out there on the water.
[box] Return from Inflatable Kayaks to Kayak Reviews Home
Return from Inflatable Kayaks to Kayaking Journal Home Page [/box]