Lifetime Youth Wave Kayak Review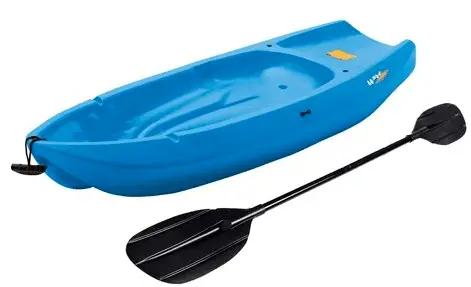 Choosing the best kayak for your kid can be a difficult task. Many parents decide to place their children in kayaks used by adults. In most cases, this is a wrong practice because handling a kayak with an inappropriate size has proven to be difficult or even dangerous for children. That's why it is the best idea to look for specially designed kids kayaks. The good news is that there is a wide range of kayaks like this on the market and one of the most sought-after models is the Lifetime Youth Wave kayak.
Lifetime Products is a well-known manufacturer or polyethylene tables and chairs. However, in the last decade, they have included items like sheds, paddleboards, and kayaks in their offer too. Once they have introduced the first kayak which was accepted better than expected, the management of this company has decided to provide few more models including specialized kayaks for children like Lifetime Youth Wave kayak.
With a length of six feet, Lifetime Youth Wave Kayak is ideal for children that are 5 years old or older. It is good to mention that the designers from Lifetime Products have created this model with children's needs and abilities in mind. The design and materials used in it are suitable for sea kayaking.
The capacity of this kayak is around 130 pounds which mean that even older children can enjoy this kayak without any problems.   Even though the kayak can withstand the weight of 130 pounds, it is very lightweight and weighs just 18 pounds. So, even one parent can easily carry this kayak to the beach from their home or vehicle without any problem. Of course, their children can assist too, making the trip to the sea even more exciting and fun. In order to make the transportation even easier, the manufacturers have decided to include molded finger handles located on each side of this modern kayak. Children can use these handles to hold themselves in case they lose balance.
While we are talking about stability and balance, it is good to point out that Lifetime Youth Wave Kayak is often rated as one of the most stable kayaks for kids out there. This stability is a result of the special design. However, the designers have decided to add reverse chine in order to boost the stability even more. Safety is number one priority when it comes to kayaking. This special kayak comes with a wide stance which gives the child a very stable paddling platform that keeps the kayaker safe all the time.

It doesn't really matter whether you will use this kayak in an ocean, river, sea or lake, entering and exiting the kayak is very simple and easy due to the presence of a swim-up step tailored for the requirements of children aged five or up.
The Lifetime Youth Wave Kayak model is good not only for classic kayaking. Namely, many satisfied users use this kayak for tracking and even for surf riding. This is possible thanks to the twin fin design which assists kayakers in these activities. In order to improve motor skills and balance, Lifetime Youth Wave Kayak includes an ergonomic cockpit. The seat is very comfortable and pleasant even for log kayaking activities.
Since this kayak is created for children of almost all ages above five, it is quite natural that it has several footrest positions. So, kayakers of different sizes can easily adjust the footrest position to suit their size. It is not unusual to bring some water to the kayak while you are in the water and this is the reason why there are scupper holes in the cockpit area. They can help water get out of the kayak. It is also good to know that the kayak comes with molded paddle cradles.
This kayak is built from high-density polyethylene of HDPE. The material is known for its durability and flexibility making this kayak a long-term investment. What is even more interesting is that the kayak comes with UV protection that guarantees that the color and the coating won't crack, peel or fade even after long sun exposure.
Lifetime Youth Wave Kayak is one of the best kids kayak for the price.
Where to buy 
Resources
Lifetime Kayaks Official Site Watersports Section
Were Sorry This Was Not Helpful!
Let us improve this post!
Please Tell Us How We Can Improve This Article.