Types of Kayaks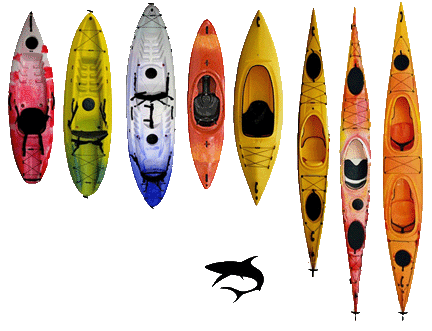 If you're new to paddling, you may be somewhat confused by the wide variety of kayaks available on the market today.
Boats have been developed for just about every conceivable application, and no doubt the manufacturers are busy developing even more designs for the paddlesports of tomorrow.
In any case, we put this page together to be a short primer on the major types of kayaks, whether you're just a recreational paddler, or a fisherman (or woman) looking for a new way to get out on the water, or someone who's interested in climbing in a boat and exploring the open water.
Keep in mind that each of the categories below has several sub-categories within it (just to make things more confusing) depending on your skill level, the type of paddling you're interested in, and of course your budget. If you're thinking about buying a kayak, you'd be wise to consider not only your current plans, but where you intend to be in 3 years or 5 years as a paddler. Trust me, there's nothing worse than shelling out $800 for a new boat, only to realize a year later that it's not suited to your current needs.
So without further ado, here's our short list of major kayak types in no particular order:
Ocean or Sea Kayaks
As the name suggests, these kayaks are used primarily over large bodies of open flat water, whether it be on the ocean or on lakes. They can be used for day trips, touring or expeditions, and these kayaks are usually long and built with plenty of storage space and are as seaworthy as a small motorless boat can be. As mentioned earlier, sea kayaks are also well suited to inland flat water like wide rivers, bays and lakes, but are not short or maneuverable enough to be used in most whitewater situations.
Sea kayaks are long and streamlined compared to their stubbier whitewater cousins, have much less rocker in their keel lines, and are equipped with watertight compartments for stowage. Sea kayaks (also referred to as touring kayaks) are based on a time-proven design that's changed little over time, and in fact the very first kayaks were built on the same platform. Only the materials from which they are constructed have evolved over the years and decades. years.
See our sea kayak page for more information
Touring Kayaks
Touring kayaks are designed primarily for extended multi-day trips along open ocean coastal regions. Designed for efficient paddling in a wide variety of sea and weather conditions. Touring Kayaks are faster and have more storage capacity than Recreational or Transitional kayaks.
This added capacity is provided by greater width and depth of touring kayaks. These are usually very forgiving boats, and even new paddlers will find them easy to get comfortable in. They are generally faster, more efficient, and have better tracking that recreation or transitional kayaks. Most models have foot controlled rudders for added tracking and maneuverability.
Whitewater Kayaks
As you might imagine, whitewater kayaks are designed to be used in the whitewater of mountain streams and rivers. There are a variety of sub-types of whitewater boats, from freestyle playboats, hybrids, slalom boats, squirt boats, steep-creekers, river runners and more. Early whitewater kayaks were constructed from fiberglass or kevlar, and some competitive paddlers prefer these hull materials due to the lighter weight. But today the majority of whitewater boats are made out of roto molded plastic, a type of plastic that's nearly indestructible (although easily scratched).
Whitewater kayaks are much shorter than their flatwater cousins, and don't have many of the features of sea kayaks such as rudders, storage compartments, compasses, sails, etc. Typical whitewater boats range in size from 5 feet on the short end, to 10 feet or more on the long end.
Visit our whitewater kayak page to learn more.

Recreational kayaks
As the name implies, recreational kayaks are for paddlers who are interested in taking it easy on the water. No serious touring or playboating here, the recreational boats are designed for the casual outdoorsman who's interested in getting out on the water, but doesn't want the noise or hassle of a motorboat. Some paddlers graduate from canoes to recreational kayaks, others are looking for a fishing platform, while still others just want a peaceful escape from the rat race of the city. With the booming popularity of kayaking in recent years, the recreational boats are the largest selling segment of the overall market.
Recreational kayaks typically have a larger cockpit and wider beam than sea kayaks. This wider girth gives them more stability, and the larger cockpit is easier to get in and out of in case of an inadvertent roll. They're usually shorter at 12 feet or less than most sea kayaks, and their lighter weight makes them easier to handle both in and out of the water. While there are some kevlar models, most recreational boats are rotomolded to keep them more affordable for the casual paddler.
Inflatable Kayaks
Inflatable kayaks have become more and more popular in recent years. Most have open decks which makes them look like a cross between a canoe and a kayak, and they've been given the nickname "Duckies" for reasons I don't entirely understand. They're versatile boats, and perform equally well on both calm water and whitewater rivers. They're also inexpensive, very portable, and perfect for the recreational paddler who doesn't have a lot of space to store or transport a traditional boat.
Inflatable kayaks are available in single or tandem models. Some models have foam floors, others use fabric. The foam floors are stiffer, but also make the boats less portable, as the fabric folds up into a smaller space. The more expensive boats are typically made of a stronger Hypalon-coated fabric and have several encapsulated air cells for extra buoyancy. You'll also want to spend a little extra and get a good quality pump, or else wear yourself out inflating the boat before you even get out on the water.
You can learn more at our inflatable kayaks page.

Fishing kayaks
Some fishermen (and women) are quite happy in a motorboat or float tube. But more and more serious anglers are turning to fishing kayaks get on the water and out to their favorite fishing hole. In the past anglers had to settle for recreational boats that weren't designed for fishing, but today there are a variety of kayaks designed specifically for fishing, from small inflatables to rotomolded boats that are 16 feet or longer and are equipped with trolling motors and electronic fish finders.
Fishing kayaks come in two main types – sit on top (SOT) kayaks, which refers to the hull design that features a molded deck that you sit on top of. And the second type is the more traditional sit-in or enclosed kayak, where the paddler sits inside the hull of the kayak. The advantages of this design are hull speed and paddling performance, as well as the comfort of sitting inside a dry protected shell.
Regardless of the style both are capable of adding numerous kayak accessories including, rod holders, GPS mounts, anchor systems and numerous other accessories. The advantage of a sit on top kayak is that many models have flat deck areas specifically designed for attaching accessories. Some designs even have areas for live bait storage containers.
Just make sure the boat you decide on his big enough to accommodate your size and weight, and has enough room for your gear and maybe an ice cooler full of beer (or soda if you prefer). And if you plan on bring along a passenger, there are tandem models available as well.
If you're lucky enough to have an outdoor sports retailer in your area that rents out boats, take several out over a series of weekends and you'll be sure to choose the right one for you.
You can read more on our fishing kayaks page.
Sit On Top Kayaks
Sit-on-top kayaks have gained in popularity in recent years, and for good reason. They're an easy way for the new paddler to get out on the water, they're great for fishing, they're stable, and they're well suited for a wide variety of conditions. Sit-on-top kayaks can been seen everywhere from mild whitewater to lakes to coastal sea areas.
Sit-on-top kayaks have opened up this great sport to a whole new generation of paddlers. These boats, which are a hybrid canoe/kayak, are appealing to a wide variety of the population. Folks who are intimidated or even frightened by the thought of having their body encased in a decked kayak feel right at home in a sit-on-top. And fishermen (and women) love the stable platform and the extra room for stowing their tackle and other gear. And some paddlers even scuba dive off of these versatile boats.
You visit our sit on top kayak page to read more
Folding Kayaks  
In essence, folding kayaks are just that – kayaks that fold up when not in use. It might be hard to imagine taking apart and folding up a 12 boat into a case small enough to carry around like a suitcase, but a folder will do just that.
These boats are actually a modern day version of the first native Eskimo kayaks, the "skin on frame" design where an animal skin was stretched over a wooden frame. Only the modern version uses a waterproof fabric skin over a lightweight metal frame that comes apart into shorter tubes. Sort of like those folding chairs you see people carrying to the baseball games.
Folding kayaks are the perfect solution for people who live in apartments, and don't have the storage space for a traditional boat, and who don't like the idea of pumping up an inflatable kayak. Or someone who wants to hike several miles up to a remote mountain lake.
The downside?  Folders aren't cheap — they can be twice as expensive as a kevlar or rotomolded boat. And they can take up to 30 minutes or more to assemble, and another 30 to disassemble when you're done paddling.
You can find out more on our folding kayak page.
Tandem kayaks
If you're married and want to bring your spouse along on your paddling adventures, or you have a young child who isn't ready for their own boat, or you just don't like to paddle alone, then a tandem kayak might be just what you've been looking for.  Tandem kayaks are larger, of course, and more expensive, and harder to paddle solo. But, like a bicycle built for two, tandem boats can double the fun, and allow you to take a breather once in a while as your partner paddles for both of you.
You can find out more at our tandem kayak page
[box] Return from Types Of Kayaks  to Kayaking Journal Home Page [/box]
Were Sorry This Was Not Helpful!
Let us improve this post!
Please Tell Us How We Can Improve This Article.