| | | | |
| --- | --- | --- | --- |
| | high performance great features | | |
Today were going to review the emotion glide sport kayak, but, before that, you may check the best fishing kayak available now in the market.
This kayak is built up using Polyethylene that is high in density which is used to have more durability and strength. It excels in speed, maneuverability and is a leader in easy tracking. It can work on all types of water conditions including lakes and rivers (you may need a spray skirt since its a sit in kayak). It has a comfort seating system  inside. There is a area inside the bow and stern that helps in having easy access to the gear which is secured within. It has a comfortable seating arrangement with secure foot resting areas that only add to the comfort. It is a perfect combination of stability, comfort and the design in a inexpensive product.
It is very light in weight and is small in size. Due to its special design it can easily float and one can handle it on and off of the water. It can withstand and perform its functions in any given condition. This can be seen in large lakes, bays or in slow moving rivers or creeks, etc.  Even the comfortable foot rests are placed in such a manner that it is comfortable for everyone. There is also a paddle holder which always makes sure that the paddle is secured properly when not in use.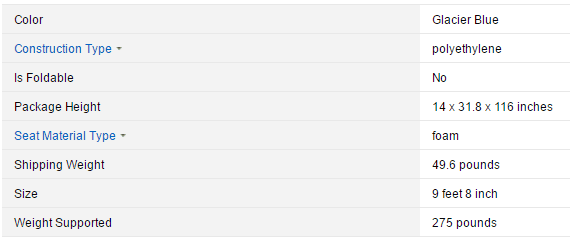 Why The Emotion Glide Sport Kayak
These kayaks are stable enough to have fun in the lakes. It keeps up its speed. Though the tracking is a little slow still one can manage to paddle efficiently. It is for people who prefer short length distance paddles rather then the endurance paddler. It has an excellent seating arrangement and has a high quality feeling. There is also a bottle holding area that is located between the legs. The kayak has two lift handles at the end which help in transporting purposes usually for two people. It has been made to be light weight so that one can handle it very conveniently. It has the best knee pads. However few of the negative comments were that the location of the bungee which is beside the seat is not fitted correctly. It is placed at a place where the paddler generally would have to strain to access.  This kayak is generally recommended for the beginners who ready to start getting into kayaking.
These kayaks have drain plugs in them that help in draining out the water. The Kayaks are very affordable and can be purchased even by lower earning incomes. It is a high quality product. There are two main bungees one at the front of the kayak and one at the back. Even the paddles have bungees attached to it. It has a padded seat, V shaped hull that is generally used for easy tracking, foot pegs etc. It is a perfect combination of all the quality requirements at a low cost. It is also great for people who plan to go fishing. The cockpit of the kayak is spacious enough to put poles and tackle boxes. Even after this there would be a place to move around in the cockpit.
Sometimes during the delivery of the product there were instances where the product delivered was damaged or not properly inspected. The company then takes back the product and exchanges it within the time period. It has a 24x7 customer support system. They attend to the queries through a call or through messages or through emails.
The kayak is very spacious. There is a space for storage too. One can store a bag here. While catching fish you dont need to worry about the volume of space available.
Conclusion
The emotion glide sport kayak is definitely one of the best budget sit in kayaks out there. It has a lot of feature for a kayak at such a low price point. Its a sturdy kayak and can be used by beginners and intermediate paddlers on a budget. We would recommend this kayak as a first step but if your graduating out of an old kayak you might want to explore a few more advanced models. If your a beginner look no further this kayaks for you!
Please check below other kayak reviews we've written for you;


Resources
Were Sorry This Was Not Helpful!
Let us improve this post!
Please Tell Us How We Can Improve This Article.