After combing through countless kayak fish finder models including some red flag bad options and dedicating over 30 hours of research we have come up with a guide to only the best fish finders around for kayaks. In this guide well go through everything you know when choosing one that's right for you.
Based on our analysis our top pick for this year was the
Garmin Striker 4
, with its affordability, depth of 487m and features we couldn't resist!
---
Quick Summary: Top 10 - Best Kayak Fish Finders This Year
---
Our seasoned editors have picked and rated these products for each specific category and area of expertise to recommend you the best models and products we can. We receive commission from some of these affiliate links.
Best Overall:
1. Garmin Striker 4
"487m depth in freshwater and a 228m depth in shallow water, great features"
Runner-up:
2. Lowrance Hook2 7
"Great screen and design with clean interface make this one of our favorites"
Also Good:
4. Raymarine Axiom 7
"Wifi enabled and with a great touchscreen the Chirp sonar is second to none"
Top 3 Quick Comparison
| | | | | |
| --- | --- | --- | --- | --- |
| | | | | |
| | | | | |
| | | | | |
Our Reviews
---
The Garmin Striker 4 is an affordable, excellent, sonar unit for your kayak. It's relatively new and has some of the best features we have seen.
One of the best kayak fish finders in the list is the Garmin Striker 4. Although it is new in the market, it provides exciting features like allowing you to fish in both shallow and deep water. The depth is 487m in freshwater and 228m in shallow water.
This kayak GPS comes with not only a high precision internal GPS, but also excellent sensors. This device from Garmin has a Fish Symbol ID, which makes it easier for you to identify fish. The Garmin also provides you with depth of target. What's more, there's an option of auto gain, which will filter out any unwanted noise, and help you scan at higher speed.
Garmin's Striker range is relatively new, being introduced by Garmin in 2016, and the Striker 4 is the base model. It is also the most affordable one, and it makes it one of the cheapest CHIRP sonar units you'll find on the market, while still coming from a reputable manufacturer.
It has a 3.5" screen with a resolution of 480x320px.
 There's a dual frequency CHIRP sonar feature, as mentioned earlier, which is limited to mid and high CHIRP. The transducer covers both 200 kHz with 15 degrees, as well as 77 kHz with 45 degrees. This gives you enough flexibility to be able to fish in both shallow waters, as well as deep ones. As far as depth goes, you can go for as much as 487m in freshwater, or 228m in saltwater.
 It is worth mentioning that the Striker 4 comes with a high-precision internal GPS. Garmin are pioneers in the navigation game, and the Striker 4 lives up to the expectations.
The Striker 4 has a few perks, such as the Fish Symbol ID. This is a function that analyzes the return results of the sonar, and displays fish icons for any returns that the sensor will interpret as fish. It also gives you the depth of each fish target. There is auto gain, to automatically filter any unwanted noise, and ultrascroll which lets you scan at higher boat speeds. You'll still notice quality loss at speeds of over 40 miles per hour, but it is unlikely that you'll be traveling at those speeds in a kayak.
The whole unit is IPX7 waterproof, so you should be safe with splashes of water, or even rain, and the backlit display gives you excellent readability, even under bright sunlight, which is something you will come to appreciate.
The Lowrance Hook2-7 is an excellent pick with great features for a fish finder. Its great screen and design, set Lowrance Hook 2 as our runner up.
The list of best kayak fish finders is incomplete without the Lowrance Hook 2. This is yet another masterpiece from Lowrance, which provides you with basic, yet the most essential features of a fish finder.
This comes with a 7" 16 bit color TFT screen along with 11 level back-light, which allows you to see even in bright sunlight. The display is also IPX7 waterproofed, meaning, you don't need to worry about accidental fresh water exposure. Additionally, with the help of DownScan Overlay, you not only have target separation but also great imaging.
Also a relatively new addition to the market, the HOOK series by Lowrance was introduced in the beginning of 2016. The entire series was designed to provide the basic and most necessary features of a fish finder, and they manage to do so. They're fairly similar to the Elite series as well. The HOOK-2 is in the lower half of the series, and is a fish finder without any navigation.
The HOOK-2 comes with a 7" screen which has a resolution of 480 x 272 px. The 16-bit color TFT and 11-level backlight make sure that you can clearly distinguish everything on the display even in bright sunlight. As far as the sonar goes, this fish finder has a broadband CHIRP and DownScan. With the CHIRP sonar, you can go as far as 305m deep, and DownScan gives you 91m. Frequencies range from 83 kHz to 800 kHz, depending on whether you're using CHIRP or DownScan, and depending on which cone angle you go for (they range from 20 degrees to 60 degrees).
The display is IPX7 waterproof, meaning it can withstand minor accidental water exposure, but there isn't any guarantee, especially in saltwater. You might want to opt for a cover if necessary to keep water out, just to be on the safe side.
There are a few perks you get with the fish finder, such as DownScan Overlay, which combines the 2D CHIRP with DownScan to get you both the target separation and the great imaging. This gives you a very clear image of what's below. There is also Advanced Signal Processing, which deals with noise rejection, and TrackBack, which lets you review the sonar feed.
When you combine everything, and add the price to the mix, you get a lot of bang for your buck. The HOOK-2 is a great all-round, entry-level fish finder.
The Hummingbird PirahnaMax is the most precise kayak fish finder that comes at an inexpensive price, deserving of the respectable 3rd position.
The Humminbird PirahnaMax 197c owes its success to the precision sonar it contains. With its 5.5"x4" display and 256 hues of color, you are bound to have a detailed picture of any fish taking bait. You have a peak output of 1600 watts, making it precise.
In addition to these features, the Humminbird PirahnaMax 197c also boasts a narrow beam with a 16 degree cone and a wider beam with a 28 degree cone. The narrow beam focuses on sharp details, while the wider one allows you to see more objects. You also have a fish ID, which distinguishes fish in the water, and marks them for your ease of fishing. All in all, this is a great grab for a stellar price.
The Humminbird PirahnaMax 197c is an excellent fish finder, mostly thanks to its precision sonar. Even though many of the models in the PirahnaMax series have been discontinued, the 197c DI is one of the improved models that are still up for grabs. It is a basic fish finder with Down Imaging technology, but it offers no navigation features, which might be its biggest downside.
The environment beneath your kayak will be as clear as day using this compact device. It is around 5.5"x4", and it comes with a 320 x 240px 3.5" backlit display. There are 256 color hues, which enable you to get a very detailed picture on where the fish are biting. In addition, a gimbal mount makes the device much easier to operate due to the rotation and tilting options. You get a peak output of 1,600 watts, which is plenty.
There is a narrow beam, with a 16-degree cone, which has a 455 kHz frequency, and a wider one, with a 28 degree cone and a frequency of 200 kHz. The narrow beam is primarily made for sharp details of items that are beneath the boat, and the wider one lets you see more objects, albeit at a lower detail level. You can even use Down Imaging, which has a 74-degree beam and 455 kHz. There's also a fish ID feature that distinguishes the fish in the water and marks them as such.
To sum things up, you get Down Imaging and a 256-color TFT screen, as well as all the other necessary bells and whistles of a basic fish finder, all for less than $200. This is tough to beat, and for anyone looking for a fairly basic tool, you should by all means go for it.
The Raymarine Axiom 7 is a great kayak fish finder with a state of the art GPS and the fish finder with the biggest display in our list.
With each of these kayak fish finders, you will find a unique feature which makes it special. For the Raymarine Axion 7, it is its functionality outside of the fishing aspect. With Bluetooth and built-in wireless, this unit is set to make your fishing experience unique.
Moreover, you can transfer all this data to a different device, through the built in SD card storage. This also comes with an integrated Wi – Fi, helping you to stay in touch with the fish even when you are looking at your smartphone. When all is said and done, the Axiom 7 gives you a lot of functionality, and all of the built-in features are well made, with no skimping on features anywhere.
Raymarine is a fairly reputable brand as far as fish finders go. The Dragonfly 4 Pro started garnering attention as soon as it was introduced, and it has even gathered a award or two. Improvements over the previous model include buttons that are more clearly marked in comparison, a simpler 4-way direction button, vastly improved attachment mechanism, as well as a ball-and-socket design, which lets you rotate and swivel the entire unit as much as you want.
The 4.3" LCD display gives you 480 x 272px to work with, and the built-in optical bonding gives much brighter colors and better contrasts to the images, which greatly improves overall visibility, especially outdoors. It also means that you can view the image at various angles, which was something you could only find on models that were significantly more expensive some time ago.
You get a 50/200 kHz and 83/200 kHz dual channel CHIRP sonar, and you can use it in depths of up to 183m. The sonar is amazing, and you get an image with easy-to-read numerals that let you know details such as vessel speed and object depth, which can be quite helpful in certain situations.
The included GPS functionality is worth noting - it boasts a 50-channel GPS/chartplotter. You can plot up to 10,000 track points, 3,000 waypoints and up to 150 routes. You can even transfer them to another device using the built in SD card slot.  One more thing you won't find on a lot of products is the integrated Wi-Fi. You can use it to connect to an app on a smartphone or a tablet, thus enabling any other anglers on board to take a look at the action in real time, without having to struggle to see the same display.
When all is said and done, the Dragonfly 4 Pro gives you a lot of functionality, and all of the built-in features are well made, with no skimping on features anywhere.
This is one of the newer additions to Garmin's lineup of fish finders, and is one of the best, if not the best fish finder you can get in the price range. You get incredible sonar, along with a large, clear display. The 500 watts of power give you 700m of depth. You will appreciate the fact that it is a part of the Echo series, which are known among anglers to have incredible accuracy.
There's a dual beam transducer, which uses the 77/200 kHz frequency, as well as the 50/200 kHz one. The DownVu capabilities give you an overview of the entire structure, as well as the fish underneath the boat, with near-photographic quality. This is something that none of the competitors offer, at least not at this level of quality. Even though at this point it might seem to you as a marketing gimmick, once you get used to it, you will see that it is difficult to go back to something of lower quality.
You have a 5" display, which is best suited for larger kayaks, and you can do things such as zoom in and out, there's both vertical and horizontal viewing, and there's even a split screen mode, which lets you look at both the down image and the broadband sonar, side by side. The resolution is 480x640px, which is plenty for a device of this caliber.
Extra features include IPX7 rating, enough to keep you safe from splashes and rain drops, Ultrascroll for moving at higher speeds, Fish Symbol ID etc. You can also rewind the sonar, to look better at some specific details. All in all, it's a pretty complete package for a fairly compelling price.
This behemoth of a device comes with a 7-inch display, which is backlit and gives you crystal clear images. The size is enough for you to be able to notice anything you'd want to, and the colors and backlight make sure that the display stays fully visible even in direct sunlight.
It is truly one of the brightest and biggest screens available. The resolution is 480x800px, which is plenty for this use, and it offers great detail on whatever is beneath the surface.
There's a 183m depth capacity when in broadband mode, and 76m in down imaging mode. There's a DualBeam PLUS feature, which gives you the choice between a 20 degree angle, for finding fish that might be hiding lower down, and a 60 degree beam for a wider view. You can have both views side by side, and even blend them together, in order to get a complete picture of whatever is below.
The angler will see a photo of exactly what's underneath the boat, thanks to the Down Imaging technology, and the 2D sonar lets you locate and target fish with ease. This combination lets you leave out any guesswork when you want to catch fish.
You do get quite a few additional features. More notable are the Ethernet networking, which does require an adapter cable, as well as the three preset buttons that you can program for convenience. There are two card slots, which you can use to save maps and waypoints, and there's a 10 Hz refresh rate with the GPS. What's best about the Humminbird 859ci HD is that there are plenty of ways to expand it and upgrade it, and it makes sure your fishing experience is more enjoyable, and easier.
Even though far from the cheapest on this list, the price of the Humminbird 859ci is fairly decent when you factor in everything that offers. If you can afford a higher quality fish finder, and you could do with the added functionalities, by all means go for it.
The Lowrance brand doesn't need an introduction. If you've ever used them before, you will be familiar with how good the DownScan imaging system works, and even how good the Broadband Sounder is. Both are incredible technologies by themselves, but HDI, which stands for Hybrid Dual Imaging, is a combination of both.
There's a power rating of 250W, and you can see as far as 305m, albeit at 50 kHz. Since most of the fish can be found much shallower than that, the Elite-5x HDI could even be overkill, which makes it the ideal solution for everything.
There is a 5", 256-color, 480x480px TFT display with fluorescent cold cathode backlighting. The display is excellent, and everything is clear and you can see everything perfectly.
The Hybrid Dual Imaging series all have the combination of a traditional SONAR, and DownScan. Since DownScan is much better and much more precise as far as structures go, and SONAR is much better in terms of spotting individual fish, the combination is more than welcome. There's one screen which shows everything – every submerged object, thanks to DownScan, and fish, thanks you the traditional SONAR. This lets you catch fish that might be hiding inside deep cover.
These units have something which is known as the Advanced Signal Processing Technology, which is a fancy way of saying that it auto-adjusts according to the readings it is getting, and the SONAR settings themselves are adjusted automatically.
It is the GPS-free version of its more expensive brother, which is the Elite-5 HDI, which means you won't be able to load up any maps or waypoints on it. This reflects on your price, so if you already have a chartplotter, or your budget doesn't allow you to get something more expensive, you really can't go wrong with the Lowrance Elite-5x.
The less expensive option of the fish finders this has a depth of 40 meteres with a 3ft(1m) to 328ft (100m) size. This fish finder is perfect for anyone looking for a mix of basic performance to a great price.
The Lucky was launched in April, 2014, and it maintains a very good reputation. Despite the fact that it doesn't have any navigation included, or even compatible, you will find that it is an excellent tool, and plenty can be said about it.
As the name implies, it has a 7" screen with a resolution of
800x480px
with 16-bit color and adjustable backlight. This means that it is large enough and has a resolution high enough so you can see everything clearly and in very high detail. It also gets bright for better readability when you're in the bright sun, which is always welcome.
The sonar is a combination of broadband CHIRP and DownScan. The CHIRP sonar has a 200 kHz frequency with a 20-degree coverage, or an 83 kHz frequency with a 60 degree coverage. It has a maximum depth of 305 meters when you use it, which should be plenty. The DownScan technology goes up to 91m deep, and can either go with 455 kHz and 57 degrees, or 800 kHz and 38 degrees.
Even though the Lucky  doesn't have any navigation, it is widely praised for its target separation, which, due to the modulated pulse, is a lot better than the traditional sonar. You can easily distinguish between fish targets, which is great. When you factor in everything, you can see that it is a great tool that offers a lot of advanced functionality, and it works great.
EchoMap Plus 43cv, MFG# 010-01885-05, with 4.3" color LCD, internal GPS and US LakeVU g3 maps.
Sonar: 500 Watts, 50/77/83/200 KHz, CHIRP L/M/H, 260/455/800 KHz ClearVu down-imaging. Includes GT20 transducer.
The HawkEye F33P is an excellent option for beginners. You might not know the brand, but this specific product is made incredibly well. There are a few things that might push away any experienced anglers, most notably the simplicity of use, but that is also exactly what attracts the beginners. It is very inexpensive, and made to give you readings of weeds, structure and fish, in up to 30m of depth. When you take into consideration just how small the entire thing is, this is actually quite impressive.
There's a screen that functions somewhat differently when put next to other, more advanced fish finders. Other fish finders usually draw an image for you, and you then have to work out what everything is. The HawkEye F33P instead gives you indicators, which are basically little symbols, and they all show either structure, fish or weeds. The guesswork is done for you, which is a good thing for beginners, but this is a setting that you can't disable, and advanced users might be bothered with it. The SONAR sensitivity can be selected at any of the four settings, but that would be about it as far as customization goes.
This interesting transducer gives you few options. You can troll it if you're in a boat, or you can throw it in the water and float it. You can also mount it with a suction cup, or even mount it on a long rod, and get readings that are highly targeted in the direction of your choosing.
There is one potential downside for many users, though, and that is the fact that you can't gauge what size a fish is. Other fish finders give you an estimate of how big a fish is with the kind of SONAR reading it gives you, but with the HawkEye you could be looking at anything from a small trout, to a gigantic salmon, and you won't know until you see it with your naked eye.
The bottom line for this fish finder would be that anyone who wants a cheap and simple tool to get the basics done, can get it and forget it. However, if you're an advanced user, you might want to look elsewhere.
What is a fish finder?
Fish finders are something that anyone who wants to go fishing in a kayak, or any other vessel for that matter, should have as their first secondary tool. They're very useful, and you will find that they help a lot to predict fish movement. But, what is a fish finder anyways? It is basically an electronic device to help you find fish. It makes use of a transducer, which transmits ultrasonic waves and displays whatever it runs into on a monitor.
The ultrasonic waves go at an (almost) constant speed of 1500 meters per second, and when they strike an object under the water, for example fish or the sea bottom, one part of the sound goes back towards the source. By calculating the time it took the wave to hit the object and go back to the transducer, the distance of the object is calculated. This is then displayed on a different level of gray scaling, if it's a monochrome fish finder, or in one of the 16 colors, if it's a color sounder. Or, if you want it bluntly, it gives you a graphic representation of whatever is underneath your kayak, or other vessel, thus helping you identify fish. There are plenty of reasons why you'd want one, aside from the obvious, and here are only a few of the more important ones:
- You get a precise image of both the depth and structure of the bottom of the body of water, which lets you be sure and eliminate any guess work in finding that perfect spot
- When it gets dark or windy you cant properly gauge where to cast
- Finding structure, and the flat areas, is incredibly easy


Kayak fish finders have become a common sight, and anglers will tell you that they all benefit from such devices. However choosing one finder that works well while fitting your specifications and budget is difficult. Therefore, below you will find information on things you should know about fish finders, how to choose one, as well as a couple of very popular choices among anglers throughout the world. If you don't find one that fits, don't be afraid, you still have plenty of options, but be sure to read through first, it might save you a lot of the guesswork.

Buyer Considerations

There are a lot of things you need to know, and depending on how you're going to use it, the conditions you'll be fishing in, some are more important for you than others. In no particular order, here are the key things to watch out for, when you're looking at a kayak fish finder.
Side Imaging vs. Down Imaging

There are plenty of models that only show you what's directly below your kayak. This is known as Down Imaging. Others also scan the side, which gives you readings of the terrain features, along the shoreline, which is known as Side Imaging. The Down Imaging transducers use a cone, with the apex being at the point of origin (more on the cones and angles below). Fish finders that make use of Side Imaging are best for fishing close to the bank. If you're going anywhere deep, you'll most likely be far from the coast, and Side Imaging is of absolutely no use for you.


Power

Power is pretty much the basic metric as far as fish finders go. It is very simple, a higher wattage, or higher power finder, will display readings much faster than one with low wattage. Higher power finders often have higher prices, which are something not everyone can afford, and certainly not everyone needs.
You only need a high power finder if you're going to fish in deeper waters. For shallow water fishing, even low wattage fish finders will display results fast enough for you to be able to make use of them. It all depends on how much you can afford to spend, and the conditions you'll be fishing in. it doesn't really make sense buying an expensive, high power finder if you're only going to be fishing in shallow waters.
Transducers

The transducer is what actually emits ultrasonic waves, and what reads them once they reflect in order to display results, it makes sense to pay attention to this part of the fish finder. In most cases, you will find transform mount transducers when you buy the fish finder, and they're incredibly easy to install.

One important consideration is the cone angle, since a wider cone results in a wider area coverage. However, with a wider angle, deeper waters will result in reduced sensitivity; so again, it all depends on the conditions. If you're using an in-hull or thru-hull transducer, metal hulls and fiberglass go best with plastic housing. Wood and fiberglass hulls are best suited with bronze housing, while aluminum and steel hulls go best with stainless steel housings. These are all things you need to take into consideration when shopping.
Depth, Temperature and Speed Sensors

Even if you're a professional fisherman, reading your fish finder can be tough. So, before you spend your money, you should learn how to decipher the different icons on the screen. No matter what the cost of your fish finder, you are the one that will be responsible for reading the screen, and if you can't do that, then the device isn't worth buying.
So, how does a fish finder work? The sonar waves, which are emitted from the transducers bounce over the fish and return. This helps the transducer read the distance, rate and speed at which the wave travels. The transducers then convert these signals in the form of bars and arches for you to find the depth of a fish.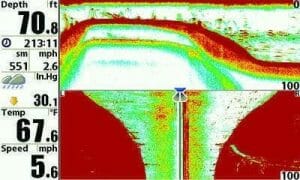 To find your catch, you will need to know the depth of the fish, the temperature of the water and the environment where the fish is. Most, if not all modern day fish finders are equipped with a depth sensor on the transducer, which allows you to know the depth of water under your vessel. Generally, on the top-left area of the screen, you will see the depth displayed. The depth depicted in meters is mostly accurate and depends on the model of your fish finder and its features.
In addition to this, you can also see the water temperature on your screen just below the depth reading. This is helpful if you want to target certain species of fish and know their habitats. For example, some fish prefer warm water, while others thrive in cold water. If you can read these two features, you will find it easier to find specific types of fish.
The third type of useful sensor found on your fish finder screen is the speed sensor. This is almost like a speedometer for your kayak, meaning, it shows how fast you're moving. If you know the precise angles and the required speed for navigation, you will become a pro. Although these features seem small, they are significant.
Frequency

You can either go for dual, single or multiple frequencies. For example, dual frequency transducers usually have both 20 and 60 degree cones. The usual array of frequencies that most common transducers have is 50, 83, 192 and 200 kHz. The basic rule of thumb is that lower frequencies work better in deeper water, while higher frequencies, such as 192 or 200 kHz are better suited for shallow waters.

Screen resolution

As with any other display, the resolution here is measured in pixels. Having a higher number of pixels gives you a sharper image, and more details. There's also more real estate on the screen, which, depending on the specific model, may allow you to fit more information on it. Any decent fish finder will have a resolution higher than 240x160, and some of the better ones go up to 640x640, which is plenty for such a screen.

Mounting space

The mounting space on your kayak will most likely dictate the format of the fish finder. What you should know is that the kayak should have enough room to hold a screen large enough to show all the details you need, as well as the cables and a 12V battery. If you have a small kayak, a 3.5" – 4" screen is enough, and if you have a larger kayak, you could go for a 5" screen as well since you'll be able to fit it in with ease.
Weather resistance

Since you'll be in the outdoors, having a rugged fish finder that is both water and dust resistant can be a very good thing. It is nature we're talking about after all, and you never know what might happen while you're out in the water. Fish finders aren't always cheap, so you might want to have it protected.

Finder GPS
GPS is somewhat of an optional thing, but if you need it, you could always get a fish finder that comes with it, instead of having two separate devices. This depends on whether you need it and/or want one, so it's up to you.
Installation process

Being out and about in the water, you often can't really afford to struggle with frustrating and complicated installation processes. Investing in a finder that is easy to install makes sure you spend less time on installing it, and more on catching fish. Most finders are not built for kayaks and you have it invest in some after market kit for mounting them, there are a few options out there but a lot of us are handy since having a fishing kayak necessitates some improvisation. We will be expanding this section soon with some options for installation stay tuned.

Price range and manufacturer

Last but not least, you should always have a set budget before you go shopping, and see how many of the necessaries you can tick off without going over it. Fish finders range from fairly cheap ones, to some more expensive ones, so make sure you find one that fits your needs.
If you have a higher budget, you can also afford to go for reputable manufacturers such as Raymarine, Garmin or Humminbird.
When all is said and done, choosing a finder should be as easy as seeing which conditions you'll be fishing in, and then choosing one accordingly. If you're going for shallow waters, for example, a low power finder with a wide cone and high frequency transducer is great.
Top 5 Brands

When you're shopping around you will find that there are a few brands that are constantly front and center, from the cheaper models to their more expensive ones. These reputable brands are arguably the best options for anyone as far as reliability and precision goes, and you will see that most, if not all, provide a range of products for anyone's budget. They're all brands you can't go wrong with, it's only a matter of choosing which model from their respective lineups fits the bill. Here is a list of the most reputable.
1. Garmin

Garmin is a name that most people, if not all, have heard somewhere. They are a pioneer in the navigation game, and you will find their units in a number of vehicles. They also have a lineup of finders as well. There are things such as the cheap, entry level Garmin Echo 100, and there are more expensive devices, such as the Striker series, which gives you both a finder and a navigation unit. Garmin are a very reputable brand, and even though their products often come at a premium price, if you can afford it, you really can't go wrong with them.


2. Lowrance

Lowrance is another reputable name in the finder industry. They have been around for a while, and they offer products for everyone, from recreational anglers looking to up their game, to professionals that need a tool for their job.
Their HOOK series is a range of fish finders that start cheap and then offer more advanced features towards the higher end. If you want a finder/chartplotter combo, you might want to look at their HDS or Elite lines – they offer navigation features as well, and they're made very well. It is another brand that's pretty hard to go wrong with.
3. Humminbird

A brand that has been around for ages, and they have constantly been trying to push the industry forward. They have an extensive range of devices, from their ICE series that's specially made for fishing in extremely cold conditions, through the PirahnaMAX series for smaller vessels, all the way to the HELIX lineup which comes with many advanced features. You pretty much have a fish finder for any purpose, and within any price range, you just have to choose one.


4. Raymarine

Raymarine, a part of FLIR systems, is a manufacturer which makes both recreational, as well as light commercial-targeted products. They have a range of products, from GPS chartplotters, to digital finders, self-steering gear etc. As far as fish finders go, they're most famous for the Dragonfly series, which offer sonars with advanced features, and let you spend more time catching fish instead of looking for them.
5. Marcum

Marcum is a brand that is driven by military-grade engineering. They make some of the best ice sonar systems in the world. They have a range that goes for everyone, from beginning anglers to professional tournament anglers – everyone will be able to find one for them.

Wrapping things up

When you're looking at a fish finder, there are plenty of things that you should know, and making a decision can be difficult. However, there are a few basic rules of thumb that you should follow, and which will help you not to make a mistake. First of all, you should always know the exact application that you'll be using your finder for. Shallow water or deep water? Close to the shoreline, or further away? There are different finders for different uses, and it's easy to make a mistake.
However, here in this guide you have a detailed description of everything you need to be looking at, in order to choose exactly what you need. There are also ten of the best possible finders that you will find on the market today, and they're all hard to go wrong with. Which one is your favorite?
Were Sorry This Was Not Helpful!
Let us improve this post!
Please Tell Us How We Can Improve This Article.