The Best Pedal Kayaks On Sale In 2022– Pedal Kayak Reviews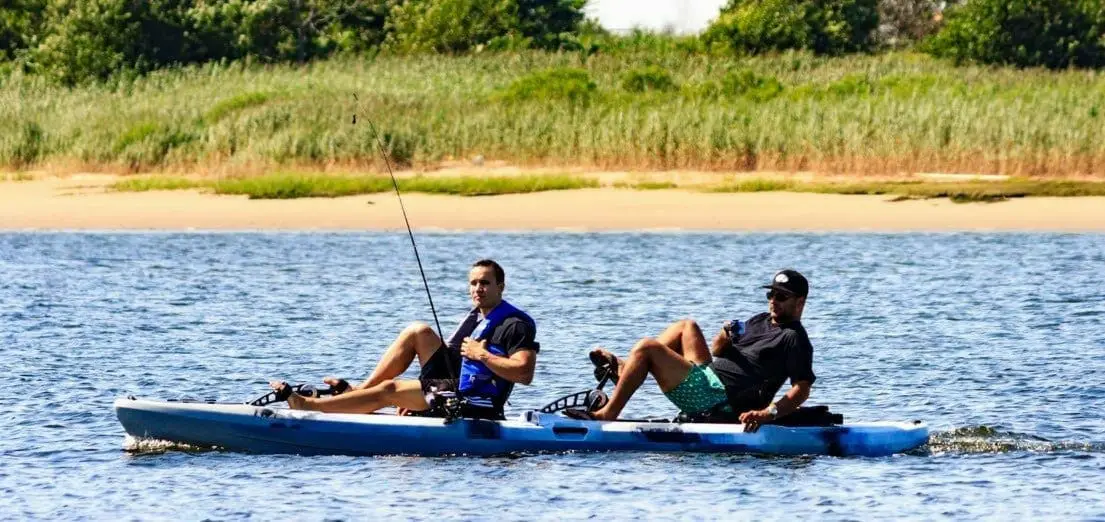 What if we told you we could help you find the best pedal kayak for your specific budget? Don't get a kayak that you'll leave in storage for years! For our guide we dedicated many hours(over 50) comparing 20 different kayaks and choosing our winners for this year. 
Quick Summary: Top 8 - Best Pedal Kayaks This Year
---
Our seasoned editors have picked and rated these products for each specific category and area of expertise to recommend you the best models and products we can. We receive commission from some of these affiliate links.
| | | | | |
| --- | --- | --- | --- | --- |
| | | | | |
| | | | | |
| | | | | |
Our Reviews
The BKC UH-PK11 is the best choice if you love long outings and are a angler or just enjoy pedal kayaks and are looking for the best kayaking experience.
Our most prolific and most recommended best pick this year, is a kayak made by the renowned kayak company BKC. This is a great seaworthy pedal kayak, which provides stability and speed easily. With its dual rod holder, awesome tackle storage and interesting colors like blue camo, grey camo, blue, grey, yellow and red, this ones sure to make you feel proud. Be it for fishing or exploring the waters, the BKC pedal drive option and the lightweight hull will make it through without challenge.
This kayak also comes with a paddle and the seat is incredibly durable. They have truly outdone themselves with this mode, you wont have to worry about tipping over since the stability is perfect and the storage space is massive with a front tank well and back bungees. Lighter than most models in its size range and easy to carry and put on a roof.
Be it for fishing or exploring the waters, the BKC pedal drive option and the lightweight hull will make it through without challenge. This kayak also comes with a paddle and the seat is incredibly durable. They have truly outdone themselves with this mode, you wont have to worry about tipping over since the stability is perfect and the storage space is massive with a front tank well and back bungees. Lighter than most models in its size range and easy to carry and put on a roof.
The Perception kayak Pescador pilot is the best bang for your buck kayak that you can get on the entire market. The price tag is slightly lower than the other models listed the make no mistake it comes with the same amount of features and a renowned quality.
The pedal drive system is comparable to the native watercraft system and allows you to reverse. If you have had some knee issues in the past this drive is incredibly easy on the knees. The pilot comes with ample storage and different features and bungee's and Rod holders to make your fishing experience truly great. The kayak has a length of 12'5" and weighs 85 pounds.
Speed can vary but you will get along the lines of 4mph while keeping the kayak incredibly stable regardless of choppy water or swells.
The seat that comes with the kayak is incredibly comfortable for a free additional seat it does very well for long trips and doesent give you the back pains we experiences with some other models we tried.
The storage space is ample with two storage compartments and some incredibly well designed paddle slots in the rear make this a pleasure for fishing or day trips.
There are virtually no complaints here except for perhaps the rod holders being a little oversized, but this was easily fixed with a few DIY installs.
Professional Kayak At a Great Price

One of the best selling tri-powered kayaks from Perception, with pedal and power capabilities
The Perception Crank 10 has always been known as one of the leaders in fishing kayaks. The kayak comes with a specialized smart hull technology that combines stability and portability throughout the hull to minimize weight and overload while still having the perfect placement and gear areas to maximize your storage.
The seat is one of the more comfortable seats in the market which is fully adjustable with mesh fabric to allow you to get the maximum in airflow while maintaining expert comfort.
This is only a sample of some of the great features this beast contains, if your looking to get your hands on and still save a buck this ones for you.
If your looking for a kayak built with every fishing consideration, this is the one for you.
Expressly designed for the purpose of professional fishing with absolutely nothing left to chance, this tank has been created by some of the best fishing names in the industry. 
This kayak is extremely compact and lightweight but don't let that fool you it comes with an amazing hands free stand up platform packed to the brim with storage, bungees, compartments and features.
The pedal drive is specific to the Old Town Line and has a great reverse motion that lets you get the biggest in precision while still fishing. The drive is actually removable so it can be installed and good to go in seconds as well it can be easily taken apart for shallow water docking.
Features include a great over-sized tank well, as well as rod and tackle storage for gear.
The seat is second to none including padded foam and adjustable comfort to keep your back moving and avoid spinal injuries.
One of the best kayaks and best rated  Pedal series.
The Reel Yak is consistently seen as one of the best pedal kayaks out there and makes our list every year. The kayak comes with a Great seat which is extremely comfortable and durable.
The standard features include large bow hatch, which is covered, a two – piece paddle with on – hull storage and mesh covered stowage pockets. 
The Reel Yak is a great choice for almost any type of water from freshwater, ocean, and inshore waters. The kayak has great turning and the rudder system is very slick and designed to be easy to use. 
Great kayak from Old town and a great comprehensive choice.
The Old Town Sportsman BigWater PDL 132 is another offering from old town sportsman that is utterly exceptional in every way. Now, before you're taken aback by the pricing, take note that you're looking at a premium fishing kayak in any sense of the word. There's nothing it can't do, and everything it does, it does it better than you'd expect it to. So, what do you get for that price?

Paired with that excellent pedal drive is the Comfort seat, which has been slightly elevated, and puts you in an excellent position for both pedaling and fishing. You'll be able to keep the kayak stable without much problem, and pedaling is pretty comfortable as well.

At the end of the day, there's no denying that this is an expensive kayak. But for that asking price, you get a lot more than you bargain for, and you get a few extras that you won't find anywhere else. It's definitely worth it. 
Another great choice from Old Town
The Old Town Sportsman PDL 106 is a phenomenal choice for a fishing trip. It comes with an excellent build quality and its one of the best pedal powered fishing kayaks out there. 

This makes it just about perfect for both maintaining direction when you need to, and easy maneuvering when you want to be turning. With this hull design, the aforementioned is true even when you pack it with fishing gear and accessories, so it's one of the best overall pedal kayaks out there.

While we're talking about gear and accessories, you do get plenty of storage options. There's a closed hatch at the front and the rear, and you also get bungee cord storage at the back, too. We should also mention there is storage room below the seat as well, so as you can see, there's certainly no shortage of options.

The pedal system itself works wonders. Not only are the pedals themselves built really well, but you also have a comfortable and pretty sturdy seat that allows you to pedal further without getting tired. 
Old Town Best pedal kayaks

Commendable performance with clean design meant for the casual weekend kayaker
The Old Town Sportsman BigWater is a good kayak that provides you with the basics when it comes to fishing. Alot of the storage is open though there is a stern tank well under the seat.
With this kayak they have opted more to give comfort rather than express fishing capabilities as we can see with the three cup holders, though make no mistake there are a ton of storage options including accessory  tracks and bungees for storage in both the front and back.
The seat is incredibly comfortable with adjustments all around the the pedal drive system that allows fast cruising while also allowing you to uplift the system when attempting to dock.
How do I Choose?
Since pedal kayaks are a fairly new technological inovation alot of people are lost as to how to choose the correct model. Here we compile a list of factors and things to go through to help you choose.
Push Pedals VS Rotational Pedals
Push pedals are easy to use, the motion is simple, by just pushing the pedals in you get propulsion. However, pushing pedals for a long time can result in adverse health effects on your back just like regular kayaks since you are not fully extending the legs. Some of the most common side effects of pushing forward pedals include leg and foot cramps, muscle injuries, back pain and early fatigue especially in the joints of your legs and feet. For the rotational pedals, the legs and feet move fully resembling walking thus resulting in less stress on your legs, feet and joints.
Considering the fact that these two systems are human driven, they are supposed to lose the least energy possible during exertion. An average person can only provide around 0.25 horsepower in an unsustainable manner.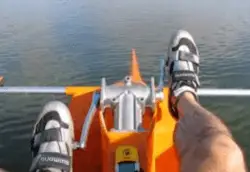 For the rotational pedals, the user is able to engage uninterrupted motion; meaning that the generated energy is not lost rather it is preserved. In rotational drive pedals, the pedals are an efficient means of the body transmitting power to the propeller with minimal energy loss. Lets now consider that with push pedal driven kayaks, most of the body's generated energy is lost; meaning that the driver losses a lot of energy especially while trying to accelerate. Continuous loss of energy with every pedal usually results in early fatigue and a less efficient system.
Overall the difference between the two is pronounced. A rotational pedal driven kayaks motion mechanism involves a rotational propeller that is continuous and thus wastes little body energy, while the push pedal kayak combines push pedals with two side moving flaps thus making it the least mechanically efficient. There are many experts that have argued that the push pedals system is as efficient as the rotational pedals however comparing the two mechanically, rotational pedal driven kayaks are more efficient.
Hull Size and Shape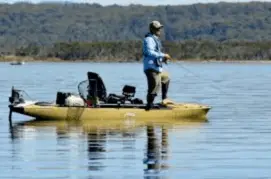 A very important factor when it comes to stability for pedal kayaks is the hull size.
Most kayak fishers that are beginners and starting to pick up the sport may be uncertain on the water. its common that they don't understand that a kayak that DOES NOT have a wide flat bottom and you can use to lean side to side could actually be a large advantage and INCREASE the kayaks stability in rough waters not decrease it. We recommend you choose hull size dependant on the type of waters you will be using the kayak for.
A flat, round shape of the hull often used in agile kayaks for small rivers makes the kayak more maneuverable though provides less tracking.
Brand Rankings
When it comes to pedal kayaks there are a few name brands that stick out. Over the years we have seen that the kayak market is getting flooded with more and more brand names though the pedal kayak market continues to stay somewhat unsaturated. Some brand makers have perfected the system while some continue to strive to achieve the best pedalling experience.
The Two brands that continue to stick out above the others are:
Hobie Kayak- Mirage Brand

Hobie kayaks have been making high quality products for years and that brand reputation has carried on to their pedal kayak offerings. Known as some of the most reliable pedal kayaks Their offerings include many different versions which are updated on a somewhat regular basis to include the latest in technology. Their main differentiation is the mirage drive technology they have implemented to improve pedalling performance. This works in a push manner where your feet push pedals inwards and the mechanism moves flippers that cross over each other displacing water and propelling the kayak.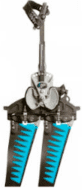 Pros
- Can manuever well in shallow water with the pedal system.
- The fins can be folded up against the hull when launching or within shallow water.
Cons
- Will not track very well because it does not have a rudder.
- Back and forth motion can be hard on the knees and patela area.
- No reverse function.
Native Watercraft- Propel Brand

The Propel brand has been around for about the same time as the Mirage brand, it sits about on par with the Hobie kayaks though the Hobie kayaks are larger in the number of different models they offer. The propel Has the propel pedal drive system which uses a propeller to push the kayak forward. A great extra feature is that you can also go backwards in the kayak!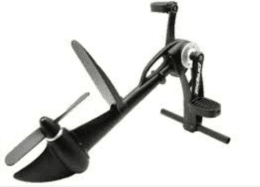 Pros 
- Tracks well within any configuration.
- Can be used to pedal in reverse.
- The drive unit installed can be easily flipped out of the water while your in the boat and you can then continue on with a paddle.
The point above makes launching the kayak easy. 
Cons
- Needs about a foot of clearance to not hit the bottom of body of water.
Other factors to consider
Stability
There are primary and secondary forms of stability. Looking at the secondary point of stability it refers to which angle the boat will capsize at. With regards to this, v shapes can be the best for tracking and a good secondary point of stability however they are bad for the first point of stability. The best for primary stability can be the flat hull however they have bad marks for secondary stability which means the kayak will turn quicker but wont track well on a straight path and capsize in rough waters.
The increase in Primary stability from flat hulls can be great for very calm waters and be comfortable for beginners however when the waters shift to being rough this same primary stability can cause kayaks to capsize and tip over. For rough waters you would want to choose a stronger secondary stability.
"Primary and secondary stability:"
Primary (sometimes called initial) stability describes how much a boat tips, or rocks back and forth when displaced from level by water movement or paddler weight shifts.
Secondary
(final) stability describes how readily a boat capsizes. Primary stability is often a big concern to a beginner, while secondary stability matters more to experienced travelers who may frequent rougher waters. Primary stability increases as the boat's volume moves away from the centerline. For example, catamarans offer high primary stability and little secondary stability, given that their volume is on either edge of the boat."
Having a pedal kayak eliminates the added stability benefit of a paddle. The pedal positioning also makes a user take up less surface area for their weight and cause the slightest movement to shift weight to a portion of the kayak whereas for the paddle kayak when your feet are spread out your weight is spread throughout the kayak.
Speed
This debate have gone on for a long time. The consensus that you find is a large dependency on the actual driver. Whether the driver has a stronger upper body or lower body can have a huge differences. There are cases of paddlers leaving pedalers in the dust and vice versa. Looking at it mechanically and from a design perspective considering the fact that pedal kayaks are less stable in the water and the fact that they must be wider to enhance stability, they are likely to be slower.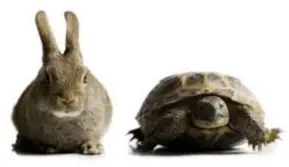 They also feature rudders for steering purposes; these rudders increase their friction within the water thus decreasing the kayak's speed by an average of 10%. Also the added width makes them heavier, making them slower in the water. The above reasons make them put a lot more pressure on the user resulting in earlier fatigue. These kayaks are usually used for recreational purposes such as fishing and touring and not racing.
Through a survey of users the average speed of the Hobie Outback was found to be about 3.5 mph with about 6-8 mph top speed between 15-20 minutes.
As a comparison the Trident Prowler 13 which is a paddling kayak is reported to maintain a average speed of 4 mph.
As a comparison a Mirage Adventure with a
kayak sail
kit can achieve consistent speeds of about 15-20 mph with a wind rudder and sail kit
Longer kayaks make it much easier to get from point a to point b because of their longer hulls, usually a rule of thumb is the wider the hull of a kayak the slower the kayak will be. Alot of other factors can influence your kayaks speed including the hulls materials, fiberglass and kevlar and thermoformed plastic are better and make your kayak faster.
Tracking and Turning
In this section, we shall address how a pedal kayak is different from a paddle kayak in terms of tracking and turning. Considering the directional control of these two kayaks, the pedal driven kayak feels a little more unstable than the paddle driven one. It is for this reason the pedal kayaks hull must be built a bit wider to enhance stability while on the water. You will commonly see pedal kayaks being slightly wider and a bit bulkier.
This is to try to make up for the stability issue. Although the pedal kayak is being propelled by one of your strongest body parts, your legs, the ability to steer is always more limited than the paddle driven kayak. A paddle gives the user ample ability to effectively control tracking and turning while propelling the kayak. Although pedal driven kayaks are equipped with a hand activated rudder steer stick, its operation in terms of tracking and turning is far less useful than in a paddle kayak.
When comparing paddle kayaks to pedal kayaks, the paddles facilitate quicker and more efficient turning than the pedals. For instance, people using a pedal driven kayak usually cling to the sides of the kayak to keep it balanced unlike those in the paddle driven kayak who keep it balanced using their paddles on each side.
What makes the steering difficult on the pedal kayak compared to a paddle kayak is debatable, a rudder can only be so large at the bottom of the kayak and you can only dedicate so much effort to adjusting it. Also the effect of a paddle on the far side of a kayak is more pronounced in turning then in the centre bottom of the boat.

With a paddle you can make sharp turns whereas with a pedal kayak and a rudder you may have to do some adjustments similar to what you would see on a boat. Not quite like the titanic trying to avoid an iceberg but the difference is pronounced!
The pedal kayaks steering rudders are controlled by your hand through a lever usually located in the cockpit of the kayak. A well know statistic is that rudders embedded on these pedal kayaks cut down the kayak's speed by an average of 10% thus making it harder for the user to get to the top speed they desire. Last but not least, while using the pedal kayak on shallow waters or in reedy waters, the rudders are likely to get stuck in mud and obstacles or rake themselves on the reeds bringing you to a halt.
Transport
Getting a pedal driven kayak in the water can be hectic especially if you don't have the man power to assist you. Their wide hull makes them heavier than the paddle kayaks.
Besides their wider hull, they are also equipped with steering rudders as well as a pedal drive attachment which adds up to its heavy weight.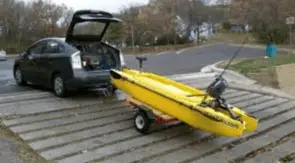 On top of that the rudder provides another protruding object that could cause problems if it were to get hooked on something. Their transport to and from your location to the beach can only be done by a big vehicle and not a simple roof rack on a small car. Upon reaching the beach, you may also need assistance to get it into the water.
Launching and Beaching
Launching and beaching for the pedal kayak is just like it is for any other kayak. It can be smoothly driven into the water. However, it is advisable for the user to carry a secondary propeller such as paddle in case the pedal system fails.
Use in Shallow Waters and Vegetation Rich Areas
Kayaks have the ability to take you anywhere you want to go but for pedal kayaks, visiting some areas especially shallow water areas and areas with sea weeds can be problematic. The reason behind this limitation is that shallow waters make the propellers prone to obstruction from mud and obstacles underneath the water. Upon reaching shallow waters, you are advised to use a paddle rather than the pedal so as to ascertain that the underneath mechanisms are not destroyed or clogged. This makes them unusable for fishing in shallow waters and vegetation rich areas.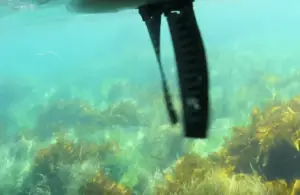 Whitewater
Pedal kayaks are not meant for white-water or fast running water navigation. They have minimal free-board which makes them easily filled with water from running water streams. Further, pedal driven kayaks' are almost impossible to navigate in moving water since the re-positioned driver's feet from the foot of the hull obstructs the ability to adequately balance and control the boat.
Fishing Considerations
It's often argued that pedal kayaks are the best when it comes to fishing since they only utilise your legs for motion which keeps your hands free to fish! This also allows the user to pedal and fish at the same time. Although both hands are free, at times you might find yourself with just one hand free and the other holding onto the kayak's deck or leaning on it to keep balance. However, fishing with a Pedal Kayak is a little more fun than using the paddle kayak since you can move along while fishing in comfort unlike with the paddle kayak.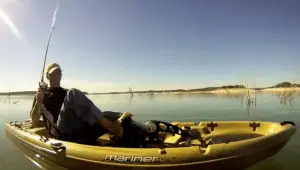 The only limitation of the Pedal Kayak is that is doesn't have the reverse capability thus going backwards can be a bit of a hassle. This issue is solved if you choose a rotational pedal kayak.
Standing Up While Fishing
Standing up and fishing while in a pedal kayak can be achieved when you are sure that nothing will destabilize you. It is always advisable to remain seated while fishing however many kayaks advertise themselves as being great for stand up fishing. Although it's argued that the Pedal Kayak is large enough to ensure stability even when standing, anything can cause you to lose balance and end up falling in the water.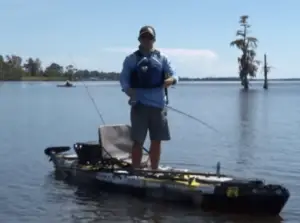 Closing Words
We have discussed various attributes that make people choose a particular kayak. No matter what the reason of preferring a particular kayak, energy used to drive them should be considered. Our bodies are all we have and inflicting unnecessary stress on them can add up in the long run. Some kayaks can be more ergonomical and efficient than others and keep you from getting tired. With regards to the speed factor, it is debatable whether pedal kayaks are faster or slower than paddle kayaks but this can greatly depend on the users personal strengths and weaknesses, if you have chicken legs you may want to spring for the paddle kayak. There are many factors to consider when choosing your perfect pedal kayak, the best advice is always choose one that feels right for you and comfortable regardless of what someone tells you is the best or worst model.
Were Sorry This Was Not Helpful!
Let us improve this post!
Please Tell Us How We Can Improve This Article.