| | | | |
| --- | --- | --- | --- |
| | high performance great features | | |
Specs:
The Emotion Temptation kayak is a sit-on kayak that makes it light and extremely flexible. It is 56 lbs, holds 275 lbs and this is extremely light for a 10-foot kayak of its kind. It comes with Ledge Lock paddle keepers on the side of the kayak, to hold the paddle when not in use. In front of the kayak, the is a Solace Hatch, if you need to store any extra gear or items. Behind the seat, there is a location with bungee cords that you could safely store your gear under, which is really useful for tools such as fishing rods which is one of the things I used it for. The kayak is made with an ST PERFORMANCE hull, which makes it obtain better tracking and stability. The kayak itself is Roto-molded from strong UV-protected linear polyethylene plastic material.
Quality:
The quality of the Emotion Temptation is amazing. Not only is that it makes it last longer, but it also makes the experience of traveling better. They use amazing material for the boat itself, such as the UV-protected linear polyethylene plastic material that has been Roto-molded.
Comfort:
Something that matters a lot to me considering how long you would spend in the kayak is comfortability. Adding on to the sit-on feature of the kayak, it is extremely roomy and great for the bigger and taller kayakers. It comes with CRS (Comfort Rest System)  and has a comfortable seat that has great support and offers a convenient fold-down feature when needed. The back of the seat is very comfortable and cushioned, but for the bottom, it is up to you. I usually just put a towel underneath if I wanted to jump out and swim, which brings me to my next point.
Flexibility:
Because the Emotion Temptation is a sit-on kayak it brings on many advantages. One of the great things about the sit-on feature is that it is easy to get in and out. Kayaking in the lake, feeling hot and dry? Easy! I just jump out and swim a little. Time to get back in? No problem. It is extremely easy to get back in without flooding it.
Performance:
The Emotion Temptations quality definitely contributes to its performance. Its design makes it tracking great, which is a great quality for a long kayak trip. It also goes pretty fast, really good for a recreational kayak of its price.
Cons:
One of the cons of Emotion Temptation is accessibility. Considering its size and weight makes it really hard to transport. It is impossible to fit into cars, which means it is necessary to use a roof rack which is a hassle to put up and take off the kayak. It is also a 10-foot kayak, so for some people, it may be hard to carry and travel around with it. Another of the few disclaimers is that it scrapes a lot. Even though it is minor, it still counts as damage but of course is never vital. It is easy to fix, and there are many ways to fix and patch it up.
Final Thoughts:
After buying this as my first kayak, it soared over what my expectations were especially for its price. If I had a chance to go back, to pick any other kayak for the same price without thinking I would definitely choose the Emotion Temptation Sit-on Kayak.
Features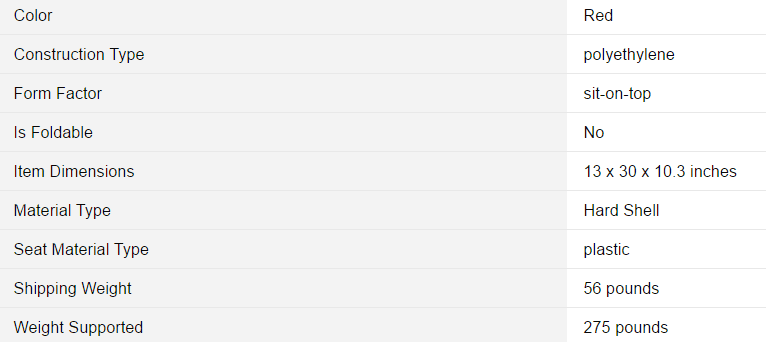 You may check other kayak guide and review below;
Dagger Kayaks Axis 10.5 Kayak Review
Must-Have Kayak Fishing Accessories
Resources
Were Sorry This Was Not Helpful!
Let us improve this post!
Please Tell Us How We Can Improve This Article.