Camping For Paddlers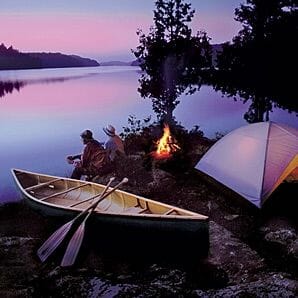 Camping, as it relates to kayaking and canoeing, is a little different than camping from a car or RV, or hiking into a campsite.

For one thing, you'll have to pack light, due to the storage constraints of your boat, so you'll need to pack only the essentials necessary for a successful outing.
Plus you'll have to bring dry bags and pack for water immersion, which is an ever-present possibility when paddling.
The most important step when kayak or canoe camping, especially if this will be your first outing, is to plan carefully and make a good checklist. There's nothing worse than getting your boat to the water and discovering you don't have room for all your gear, or getting to the first night of your trip and realizing you left something important back at the house.
Another way to avoid some potential mistakes is to do a "dry run" at home some weekend. Basically load up your kayak or canoe just as if you're leaving for your trip, then spend a night or two camped out in your
backyard. This way you can get some experience with your equipment, and how to set things up, cook your meals, get dressed for the conditions, etc.
If you're still a little nervous about camping from your kayak or canoe after a dry run at home, you'll probably want to choose a fairly easy trip your first time out. Don't choose a destination that's going to require a lot of tough paddling, be aware of the water levels in your area, and try to pick a time when you'll run up against some good weather. That way you won't be battling the elements and your new camping gear at the same time.
Another essential is a good map or maps of the area you'll be visiting. You'll want to study your maps carefully before your trip and try to anticipate where the best campsites will be, in addition to any potential hazards like waterfalls or dams along your route.
Packing Light
As mentioned earlier, what you bring along in your kayak or canoe is an important consideration. What you leave at home is almost as critical as what you bring along. Chances are you won't have room for that portable television, or that oversized ice cooler you haul around in your RV. And don't even thing about that big watermelon you'd love to eat while relaxing around the campfire after supper.
As far as clothing, make sure you bring along clothes that will match the conditions you're likely to encounter on your trip. This includes anything you're likely to run into out on the water, from total immersion to getting caught in a freezing rainstorm. Another good idea is to bring enough dry bags for all your clothing – after all, there are few things more miserable than having nothing but cold soggy clothes to wear.
Other essential gear includes a good tent (think light but sturdy), a warm sleeping bag (usually a 20 degree three-season bag will do), a stove, cooking utensils, a cooler, toilet paper, fresh water (2 gallons per person), a flashlight (headlights are better), rope, knife, sunscreen and of course enough food to replenish all that energy you'll be expending out on the water.
In other words, think light and lean. Especially if you'll be out for more than one or two nights. But don't leave the essentials back at the house either. And don't forget the marshmallows and some great stories to tell around the campfire!
[box] Camping Gear & Related Articles [/box]
Read my review and find out why I like my Patagonia Torrentshell rain jacket, which I think is a great value for the price.
Gopro Hero 960 Digital Camera Review
This tiny GoPro 960 camera is one of the coolest cameras on the market, and a great way to preserve those outdoor adventures for years to come.
Merrell Moab Mid Hiking Boots Review
These Merrell Moab hikers will taking you anywhere, and keep your feet dry in the process.
Jetboil Flash Cooking System Review
This little Jetboil stove will get your food hot in a "flash," and get you fed and back out on the trail in no time.
Kelty Cosmic 0 Degree Sleeping Bag Review
Read this review and find out why the Kelty Cosmic might just be the best cold weather bag out there for under $200
Ka-Bar Becker BK2 Companion Knife Review
This Ka-Bar Becker BK2 knife is a great tool to have out on a camping or hunting trip, or just about anywhere else for that matter…
Camelbak MULE 100 oz Hydration Pack
Check out the review of the Camelbak MULE 100 oz hydration pack and find out why you shouldn't hit the backcountry without one…
[box] Return from Kayak Camping to Kayaking Journal Home [/box]
Were Sorry This Was Not Helpful!
Let us improve this post!
Please Tell Us How We Can Improve This Article.