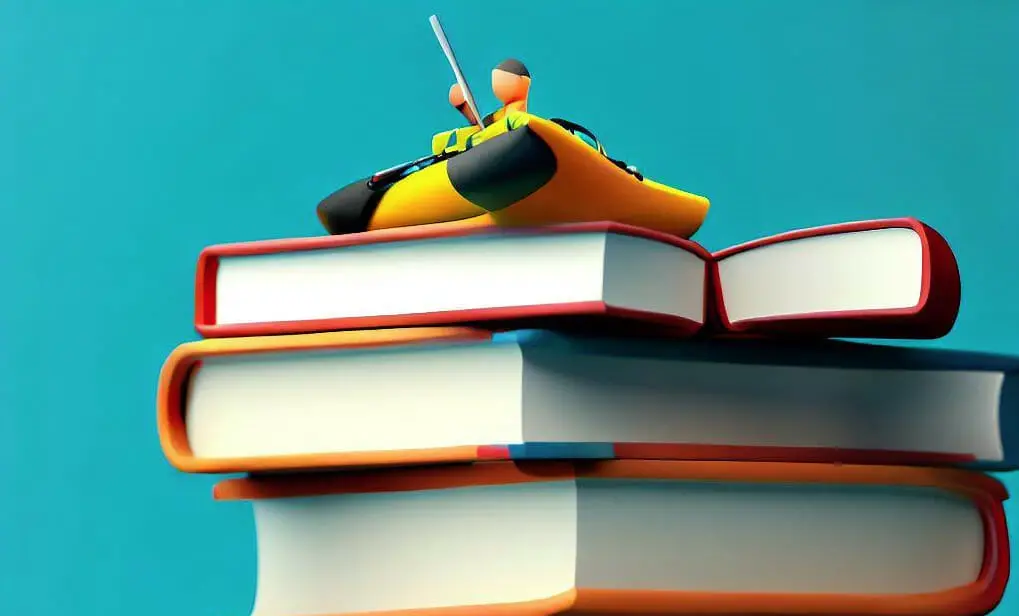 When you create a list like this, you start thinking about how to separate the different books and what rating criteria to put them on top of.
Thankfully, some of the work has already been done because many reviews are available for each of these books on the web, so we have rated them dependent on their current reviews and, in my opinion, as a season kayak veteran.
Best Kayaking Books Reviewed
If you don't agree with any of my positioning, feel free to email me. We can discuss lowering or raising one of the suggestions.

The books will be ordered in the following manner…the sections will include:
Adventure kayak books will deal with books about kayakers doing their thing, going through adventures, and exploring.
Fishing kayak books will cover different lures, fishing techniques, and stories.
How to books explaining how to do different techniques and how to kayak for beginners
Let's get started!
Adventure kayak books
This is a compilation of books dealing with different kayakers who have gone above and beyond. Some of these kayakers have traveled distances and gone to places we can only imagine.
Reading books about these kayakers opens our imagination and shows us what is possible within our sport and physically within ourselves.
One of the greatest kayaking books out there. When you think of Australia, you think of the outback and its dangers where something lurks on any corner.
This book gives you another sense of what it's like to be in the geography and environments, but it is so much more than just being a kayaking book; it becomes a tale of present appearance and hearts highly recommended.
A few high school graduates launch a second-hand 18-foot canoe into the Minnesota River. They arrive at York Factory on Hudson Bay four months later without radio, maps, or a good motor.
A pair of books that have 49 stories between them, all real-life situations, will have you on the edge of your seat. You will find out about the dangers and risks of kayaking, and you will also learn some valuable lessons.
This is the life story of Dr. Walt Blackadar, a physician from a small town in Idaho. The book will tell you about the journey through the treacherous rapids of the Turnback Canyon, a trip he undertook at 49 when many athletes were already long retired.
An excellent book that describes a 6-month, 4,200 miles long journey through the world's longest river. Filled with death-defying situations, the book will show you the journey from the Peruvian Andes to the Atlantic through the eyes of Joe Kane.
It tells a great story about determination and friendship. Three firemen decide to leave their comfort zones and go to great lengths on a trip full of twists, setbacks, and obstacles.
The book is an amazing depiction of the trip, from the start, when they construct their kayaks, until the end.
A dramatic expedition account tells a story that unveils one of the most beautiful remote regions in the world.
It maintains two stories, one of the support team and one of the paddlers, combining them into one powerful narrative.
A seasoned kayaker undertakes a 1200-mile trek from Dublin to Dublin. The book will give you a sense of the ocean's power, and you will feel that the beauty and majesty of the island move the author.
It is, in short, the story of a kayaker in his peak form who battles with both the caresses and blows of nature.
An excellent display of R.M. Patterson's observation and sharp wit, "Adventure on the Nahanni" will lead you through an entire year the author spent in the wild waters along the Nahanni River in Canada. Prepare for a trip down the challenging and treacherous waters.
Chris Buff is back at it as he takes you on a journey in the cockpit of his kayak, letting you feel the beauty and power of the South Pacific Ocean and the energy of the Tasman Sea.
The astonishingly well-written narrative will give you a depiction that will show you the true power of the sea through the eyes of a man who sees it as his master.
What seemed like a perfectly good idea while planning turns out to be a challenging experience as Eric Stiller leads you through his journey as he and Tony Brown attempt to circumnavigate entire Australia.
A book written to show you the trip from the paddler's eyes will make you feel like the ocean is in your room.
Ice is an amazing chronicle of the battle of a man versus the elements, a struggle that is both timeless and immediate and shows you great risks which lead to great rewards.
You can almost feel the adrenaline rush of facing nature at her roughest.
An amazing story of a recently married couple who set out to fulfill their mutual dream of getting from sea to sea in nothing more than a canoe.
Facing some of Canada's most treacherous rivers, they discover a side of Canada that only a few could ever see.
A book that shows you the experiences of Olson, a naturalist of the '50s and '60s, and five of his friends as they took their canoes down the Churchhill River in 1960.
Both the setting and journey give you an immersive experience and show you enough to shake up the imagination of anyone.
Go from Churchill, Manitoba, to Tuktoyaktuk, which took Don Starkell three Arctic summers. A compelling book that presents you with his determination to complete his goal, even though his supplies are running out and the ocean is freezing.
Hannes Lindemann's story takes you through two passages across the Atlantic, as his adventurous spirit provides an extremely compelling way to tell you his stories.
An extremely inspiring book; you will be asking for more when it ends.
How-to kayak books
These books cover the basics of kayaking and help you improve your kayaking skills. They can also teach you some advanced techniques to push your skills further.
Sea Kayaking: A Manual for Long-Distance Touring
This manual gives you an overall view of everything you need about long-distance sea kayaking. John Dowd provides a comprehensive guide that has become a classic in sea kayaking.
Kayak: The New Frontier: The Animated Manual of Intermediate and Advanced Whitewater Technique
The book that was a bible for many kayakers is still considered one of the best books on advanced whitewater kayaking. It gives you a great overview of the skills required and provides insight into how to acquire them.
The Art of Kayaking: Everything You Need to Know About Paddling
Nigel Foster gives you a complete course in kayaking. This book covers every aspect of kayaking, from basic strokes to dealing with currents and tides, navigation, and kayak camping.
Sea Kayak Navigation: A Practical Manual, Essential Knowledge for Finding Your Way at Sea
This book provides you with a solid foundation in the art of sea kayak navigation. It covers every topic you need to know, from reading maps and understanding tides to compass use and GPS.
The Complete Sea Kayakers Handbook
This comprehensive guide to sea kayaking provides you with a wealth of information. The book covers everything from choosing a kayak and gear to paddling techniques, navigation, safety, and rescue scenarios.
The Complete Book of Sea Kayaking
Derek C. Hutchinson's classic book gives you a great introduction to sea kayaking. It contains information on techniques, equipment, navigation, and safety procedures.
Fishing kayak books
These books cover the basics of kayak fishing, from choosing the right gear to the best techniques for catching various fish.
The Complete Kayak Fisherman
This book provides everything you need to know to start kayak fishing. It covers equipment, techniques, and safety and provides advice on fishing in different environments.
The Kayak Fishing Manual: A Practical Sea Angler's Guide for Catching Your Favorite Big Fish from a Kayak
This book will give you a comprehensive look at kayak fishing. It covers the basics and goes into detail about various fishing techniques. It also provides advice on choosing the best equipment and offers safety tips.
Kayak Fishing: The Ultimate Guide
In this book, you will find everything you need to know about kayak fishing. It's full of expert advice on rigging a kayak for fishing, choosing the right equipment, and the best techniques for catching different fish species.
Kayak Bass Fishing: Largemouth, Smallmouth, Stripers
In this book, Chad Hoover gives a detailed guide on how to catch bass from a kayak. The book provides expert tips and techniques for catching largemouth, smallmouth, and striped bass.
The Ultimate Guide to Kayak Fishing
This book provides you with all the information you need to get started in kayak fishing. It includes tips on choosing the right kayak and gear, paddling techniques, safety procedures, and practical advice on how to catch and handle fish.
The Essential Kayak Fisherman's Guide: Catch More Fish, Save More Money
This book provides you with a comprehensive guide to kayak fishing. It covers everything from choosing the right kayak and equipment to fishing techniques, locations, and safety procedures.
The Orvis Guide to Kayak Fishing
This book is a great guide for anyone interested in kayak fishing. It provides a comprehensive overview of the sport, including information on selecting the right equipment, rigging and outfitting your kayak, paddling techniques, and the best methods for catching different species of fish.
Each book offers something different, so it's worth looking into a few to see which suits your needs or interests. Happy reading and kayaking!
How to Choose Your Next Kayaking Book to Read
Choosing the right kayaking book depends on several factors, such as your current level of knowledge, your interests within the kayaking field, and the type of content that resonates with you. Here are some steps to help you choose the right kayaking book:
Identify Your Purpose: Are you a beginner looking to learn the basics of kayaking? Or are you an advanced kayaker looking for expert tips and techniques? Perhaps you're interested in the adventure side of kayaking, or you want to learn about kayak fishing. Once you've identified your purpose, you can narrow your search to books that meet these requirements.
Consider Your Skill Level: Choose a book that matches your current skill level. If you're a beginner, start with a comprehensive guide that covers the basics. For intermediate kayakers, look for a book that delves deeper into techniques, safety, and other aspects of the sport. Advanced kayakers might enjoy books offering expert tips, extreme adventure stories, or specialized areas like fishing or long-distance touring.
Research Authors: The author's expertise and writing style are important factors. Authors who are experienced kayakers themselves will have practical insights and personal experiences to share.
Who Are the Most Famous Kayak Book Authors?
Several authors have made a name in kayaking literature, whether sharing technical knowledge, recounting thrilling adventures, or providing practical advice on the sport. Here are a few of the most famous authors of kayaking books:
John Dowd: Known for his book "Sea Kayaking: A Manual for Long-Distance Touring," Dowd is a recognized authority on sea kayaking. His book has become a classic in the field, providing comprehensive knowledge for anyone interested in long-distance sea kayaking.
Derek C. Hutchinson: He was an internationally renowned sea kayaker and instructor who wrote several books on the topic. "The Complete Book of Sea Kayaking" is a widely recognized guide that covers the techniques, equipment, and safety procedures for sea kayaking.
Nigel Foster: A world-class kayaker, Foster has written several books on kayaking, including "The Art of Kayaking: Everything You Need to Know About Paddling," which covers all aspects of kayaking, from basic strokes to dealing with currents and tides, navigation, and kayak camping.
William Nealy: Known for his humorous and illustrated guides, Nealy's book "Kayak: The New Frontier: The Animated Manual of Intermediate and Advanced Whitewater Technique" is considered a classic in whitewater kayaking.
Paul Caffyn: An accomplished sea kayaker, Caffyn is known for his adventurous sea kayak expeditions. His book "Dreamtime Voyage" chronicles his 360-day, 9,420-mile circumnavigation of Australia, a feat that remains one of the most impressive sea kayak expeditions today.
Shelley Johnson: An experienced sea kayaker and instructor, Johnson has authored several books, including "The Complete Sea Kayaker's Handbook," a comprehensive guide covering all aspects of sea kayaking, from choosing a kayak and gear to paddling techniques and safety.
These authors have contributed significantly to kayaking through their books and continue to inspire and educate new and experienced kayakers.