Malibu Mini-X Fishing Kayak Review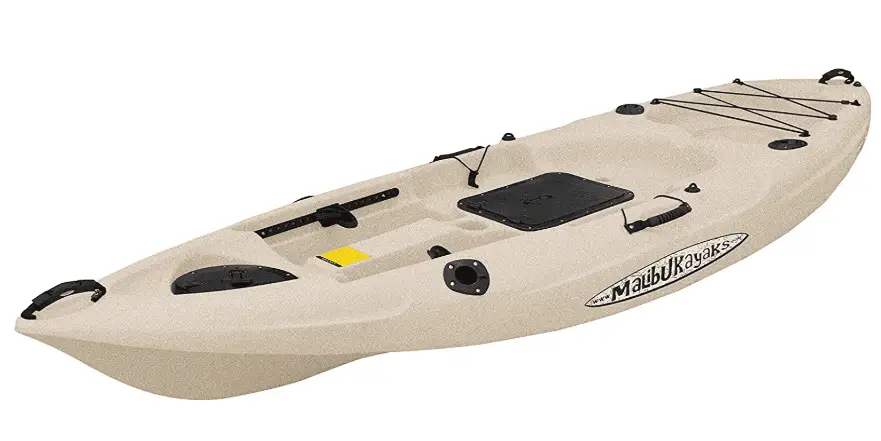 | | | | |
| --- | --- | --- | --- |
| | high performance great features | | |
The MALIBU KAYAKS Mini-X Recreational Kayak is probably the best compact stow-and-go kayak on the market right now. Malibu Kayaks has designed the Mini-X with your comfort in mind, providing a wide 33" beam for increased stability and storage space.
Looking for an affordable, lightweight, compact, and stable fishing kayak? If you don't have a lot of space for storage or if you are simply looking for a small kayak to do some fishing from, the Malibu Kayaks Mini-X Fishing Kayak is a great choice.
The Malibu Mini-X measures in at only 9 feet, 3 inches in length making it one of the most maneuverable and stable fishing kayaks on the market. Its compact size also makes it a great option for solo anglers as it's easy to transport and carry by a single person.
The Mini-X might be small, but it comes with plenty of storage for all your gear and fishing rods. It arrives ready to go with 4 built-in rod holders -- two in front and two in the rear. At the front of the boat is a anchor well with an eight inch round hatch that offers plenty of storage for gear or an optional removable bucket.
The extra large cockpit area on the Mini-X Fish or Dive Kayak includes a center rectangle hatch with removable bag. It also includes an integrated cup holder, self-draining trays, molded foot rests, and a built-in paddle holder.
Behind the seat you'll find two additional rod holders and another eight inch round hatch with removable bucket. You can easily fit a 5 gallon milk crate in the Mini-X's rear tankwell.
The Mini-X measures only 9 foot, 3 inches in length and weighs only 39 pounds. It has a width of 33.5 inches and a weight capacity of 325 pounds.
Summary: Lightweight, Compact, Comfortable, Stable, Good Tracking
Specifications
Length: 9'3"
Width: 33.5"
Weight: 38lbs
Capacity: 325lbs
Features
Apex 1 Seat - The Apex-1 seat is incredibly comfortable, and anglers have quite a few good things to say about it, but one thing is certain. You are going to want to install, or cut a set of scupper plugs for the seat scuppers to avoid getting "swamp butt". It happens with this boat. The scuppers take 5 minutes to make, though, so it doesn't hurt the boat too much.
Large Square Center Hatch - Possibly one of the best features on the Malibu Mini-X is the large (1'x1') square center hatch placed directly between your legs. The storage compartment is waterproof and makes an excellent location for your electronics while you are on the water. This flat surface helps keep your fly line from getting tangled as well!
Dual 8" Round Hatches - Your 8" rear hatch can be easily reached by turning around, while the front hatch will require you to lean forward. The 33" beam helps keep the boat stable, which makes getting access to both hatches is fairly simple. They are sealed, and unless you keep the boat flipped over for long periods of time, you shouldn't see water inside the hull.
(4) Flush Mount Rod Holders - (2) flush mount rod holders installed in the front of the boat are angled towards the sides, providing you excellent trolling capabilities. The (2) rear rod holders keep your rods in a vertical position for both traveling, and trolling.
Built In Paddle Holder - When you are anchored up, or simply relaxing and enjoying the current, you do not have to deal with your paddle falling into the water. A convenient built-in paddle holder helps protect your investment. Just don't let convenience sneak up on you, always leash your gear to the boat!
Easy Carry Handles - With the lightweight of the Malibu Mini-X fishing kayak, along with the comfortable grips on the Easy Carry handles, you do not have to worry about using a kayak cart to move this boat around. Most anglers are able to lift it up over one shoulder with ease.
Full Features
Length: 9 feet, 3 inches
Width: 33.5 inches
Depth: 12 inches
Weight: 39 pounds
Capacity: 325 pounds
Dual 8 inch round hatches with removable buckets
4 Rod Holders
Cup Holders
Eyelets
Drain Plug
Bow and Stern Handles
Side Carry Handles
Paddle Holders
Center Hatch with Bag
Malibu Stealth 12 Fishing Kayak Reviews
Sample Customer Reviews
The Mini-X kayak receives very good reviews from owners. The few negative comments we've found deal with it's tracking (or ability to go in a straight line while paddling) when compared to longer boats. However, most owners feel that it offers great tracking for a 9 foot boat.
Positive Customer Reviews
This is the perfect fishing kayak, very stable. A fishing crate will fit easy into the rear storage area. Very lightweight and easy to carry by yourself.
--W.P.
I needed a kayak for short fishing trips into the bay and the mini-x has proven to be the best purchase I have ever made.  Extremely stable, it takes waves like a barge.  Turns on a dime and tracking is great for such a small kayak.
--M.B.
I purchased this initially for my son but I use it exclusively now over my old 14" kayak. The first thing you will notice is the stability. I've never even come close to flipping this thing. It's really a great fishing platform. I can even stand while fishing, it's that stable.
-- C.X.
Negative Customer Comments
The Mini-X is slow and doesn't track well. If you can deal with this, it's a good fishing kayak.
--T.G.
Front end tends to move left and right when paddling. Getting started can be difficult. You will definitely not be winning any kayak races.
-- R.O.
Other guides and reviews you may want to check;


Resources
Were Sorry This Was Not Helpful!
Let us improve this post!
Please Tell Us How We Can Improve This Article.