Malibu Two XL Angler Tandem Fishing Kayak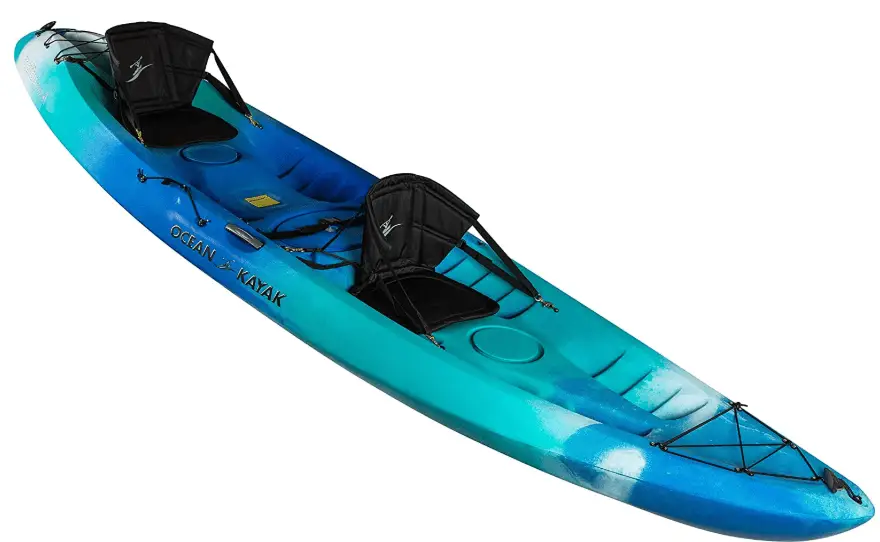 | | | | |
| --- | --- | --- | --- |
| | high performance great features | | |
Ocean Kayak's Malibu Two XL Angler Tandem Fishing Sit-On-Top Kayak provides plenty of room for all necessary fishing gear and four Scotty® rod mounts with two rod holders.  The Malibu Two XL Angler is one of the first tandem sit-on-top kayaks specially built for kayak angling.
So Why The Malibu Two XL Angler Tandem Fishing Kayak Kayak?
Extremely stable the Malibu Two XL Angler is designed to perform on flat water, (bays, estuaries, lakes and ponds), small ocean swells or waves and slow moving rivers.  It is beamy, comfortable, and practically impossible to tip. The Malibu Two XL Angler is a rare tri-hull model for enhances stability as the kayak pushes through the water. The extensive center keel area encourages the boat to trajectory straight and true when paddling and coasting.
One of the great things about is you can customise the boat to meet your needs. there are three sections where you can add hatches, there are two round hatch area and one oval hatch area. there are two seats that come standard with the boat, there is one in the front and one in the rear. another great feature about this kayak is that it is designed to be a tandem kayak however with the moving of one seat it can become a solo paddling kayak aswell. it holds a carrying weight of 68 pounds and a maximum capacity of 500 pounds. the reason i enjoy it the most is that its great for both family and the individual paddler its a great overall kayak that can be paddled in open water as well as some rivers and open streams.
Features Summary
The Malibu Two XL Angler features two Comfort Plus™ seat backs than can be easily set to a number of angling position for all day fishing comfort.  It also includes self bailing scupper holes that can be plugged for a drier ride.
The broader beam areas of the Malibu Two XL Angler hull drive high at the surface of the water without sacrificing speed under reasonable paddling circumstances, however it also allows considerable secondary steadiness when needed. The Malibu Two XL Angler can hold Up to 500 lbs of cargo creating ample room for storage, and a great selection for two anglers and all of their gear.
The bow and stern seat wells are positioned so tall paddlers can ride with comfort, and original overlapping foot wells make a flawless fit for anyone. One of the most stable tandems on the market, the Malibu Two XL Angler is impressive for couples, and parents who want to introduce the activity of kayak angling to their kids. Fishing may never be the same.
The Ocean Kayak's Malibu Two XL Angler also features a large oval center hatch with the easy to open Cross Lock™ strap system, with two paddle keepers with easy to use pull tabs, deck bungee for safety and a small tackle box.
Features and benefits of the new Malibu Two XL Angler include:
• Length: 13' 4
• Width: 34"
• Weight" 67 lbs
• Maximum capacity" 450 – 500 lbs
• Two adjustable Comfort Plus™ seatbacks
• Four Scotty® rod mounts with two rod holder
s• Large oval center hatch featuring easy to open Cross Lock™ strap system
• Paddle keepers• Deck bungee• Optional round Gaspachi® hatches (bow and stern)
• SRP: $999 US
Final Verdict:
This kayak provides you with a fun and stable ride. one of the coolest features is that it can be easily converted to a tandem kayak so if your thinking of buying a single kayak but thinking of getting another tandem kayak in case the kids and wife want to tag along this might be the perfect solution to get the best out of both worlds. We definitely recommend this kayak and its one of our favourite boats out there!
You may want to check the best fishing kayak for the money this year! As well as the best sit on top fishing kayak. Another guide we've made also is the Coleman Colorado fishing kayak review.
Resources
See Our Best Fishing Kayaks Guide - Kayakerguide
Were Sorry This Was Not Helpful!
Let us improve this post!
Please Tell Us How We Can Improve This Article.