Ocean Kayak Frenzy Kayak Review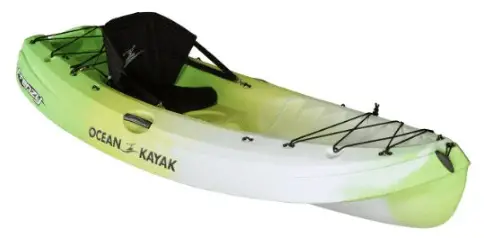 | | | | |
| --- | --- | --- | --- |
| | high performance great features | | |
Today were going to review the Ocean Kayak Frenzy Sit-On-Top Recreational Kayak. Some of the obvious features when you look at the frenzy is it has a seating capacity for one person, it is very small in size since its a 9 foot kayak but for a small kayak it still packs a huge punch and is probably my favorite 9 foot kayak out there. One can also lift it and place it anywhere as it weighs very little. This helps in transporting it from one place to another quickly and efficiently.
The seating is very comfortable. It has the padded seats which provides cushioning, support, durability and a fun way to paddle. These seats can be used for any body type. The kayak has a large storage facility by having a large stern tank. Along with the tank there are also the bungees. Apart from this tank, the kayak has the bow and stern carry handles, cup holders, replaceable rear skid plates, side handles and more. Due to its special design it can easily float and one can handle it on and off the the water and enjoy the performance and long lasting features of the kayak.
Near the area of the cover, a bow and stern form are constructed. These forms increase the working of kayaks in the water. It has an easy setup. It is available in different colors too. The frenzy is a small kayak that's a large amount of fun. Though it is small in size it is more responsive and stable. It acts well on the flat water surface. It is a perfect kayak for those who want something for children as well as adults. The maximum capacity that it can accommodate is around 275 to 325 lbs.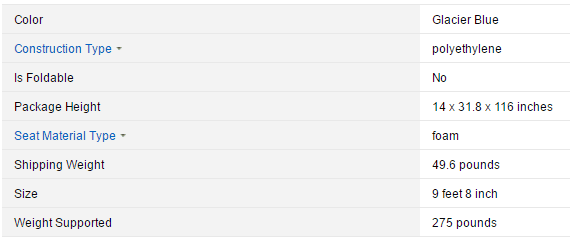 Why The Ocean Kayak Frenzy Kayak
This kayak is known to be very durable in nature. This durability helps in its sturdy performance. However there were some remarks from previous owners about the seating being a little snug, when you sat within the kayak it would be slightly tight. So if your a person larger in stature you may need to get a larger more accommodating seat. This kayak is very spacious in nature for its small size. It is known to be a quality product that is available for the consumer's at the most affordable prices, in comparison to other 9 inches the price is definitely right.
It is though very stable still one needs to be very careful while paddling. People who are the beginners and who do not know how to sail can also paddle with ease. It is extremely light in weight as such one can lift it over the head and place it on the top of the car too. It does not get damaged very easily but once damaged it needs multiple repairs.
The bungees that are present at the ends help in holding the paddles when they are not being used. In case a paddler wishes to dive, then the back end of the kayak can hold a SCUBA tank which makes it easier for diving purposes or accommodating in holding other storage. Once a paddler knows how to balance then it is easier for him to come back on the kayak when in water. This can be done even without the kayak getting tipped.
The seats are good but a bit more cushion could be added through the purchase of aftermarket seats. The kayak also has the adjustable foot holders.
One of the major complaints discussed is that the kayak does not have a cup holder, sounds like a ridiculous complaint to have over a 9 inch kayak like this but none the less some people see it as essential. For the people who carry a drink on a regular basis they may need it. It is to be placed in the center and can be purchased separately or you can adjust your kayak to have its own.
Another complaint that many people have made are that the delivery usually takes a long time. This time could be around 1 to 2 months also. One has to wait for a long time before they get hand on this.
You need to be very careful with the dimensions as this kayak can suit only selected people with a given weight, if your over 135 pounds you may want to find an alternative.
Our Recommendation
This is definitely one of the best 9 inch kayaks that we have seen. Its got everything you need from a small vessel I cant really see any improvements with the size that could be made unless it came with a GPSand robotic coffee maker but hey, we cant have everything we want. The Kayak is great for a cottage or family trips or smaller kayakers but I would not recommend it if your over 135 pounds since this kayak is not meant for the pressure of a larger person. Again I would definitely recommend this yak it can be delivered within a few days and found on Amazon. The brand name of the frenzy is not as popular as some names and not as recognizable but they have definitely made up for the lack of brand recognition with the price and attention to detail of creating a superior product they can be proud of.
Where to buy 
Resources
Were Sorry This Was Not Helpful!
Let us improve this post!
Please Tell Us How We Can Improve This Article.