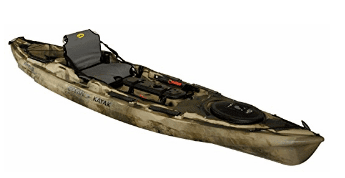 If you've ever been into the market for a new fishing kayak, you most likely know that they tend to be somewhat of a hit and miss category. They're usually very food for one thing but compromise by missing out on others, and will leave you with a half-baked experience. That doesn't mean that you won't enjoy your fishing experience, but you might find it difficult to get to locations that are further away, or your kayak won't be able to carry as much gear as you'd want it to, or maybe it won't come with as many rod holders as you'd like, all of these things leave you wanting for more. However, there are some situations where you simply don't want to compromise, you want a vessel that will get you to your spot fast and without any problems, along with all your gear, and offer you a stable platform for fishing. That is where the Ocean Kayak Prowler Big Game Angler II fishing kayak comes in. It offers all you might ask for, and more, so read on for the full review and see whether you should be buying it.
So why the Big Game Angler II?
The Prowler Big Game Angler II is designed for people looking for a high-capacity fishing kayak. It's 12'9" long and 34" wide, which is more than enough for you, and all you'd ever need to take on a fishing trip. It has a 550-600lbs capacity and plenty of space. Plus, with six strategically placed mounting brackets, you can customize the kayak to suit your specific needs. While we're discussing storage, it's worth mentioning that the Ocean Kayak Prowler Big Game Angler II fishing kayak comes with a giant rear tank, as well as a Click Seal bow hatch, which will keep your essentials dry and secure.
You might be thinking that a kayak this big is slow, difficult to maneuver, and you'll struggle to get to your favorite fishing spot. And that's where you're wrong. As mentioned earlier, this kayak comes with no compromises, and it is designed in such a way that it rides really high on the water. Performance is impeccable, and you'll notice that as soon as you start moving. You can maneuver the kayak with ease, and it maintains speed and stability without any problems.
The last key thing about a fishing kayak is comfort. What use is a fast kayak that can hold a lot of gear, if you don't feel comfortable after a few hours of fishing? Fortunately, the Prowler Big Game Angler II takes care of this as well. The Element seating system can be switched easily between three stages, stand, travel and attack, each suitable for different conditions, and the high deck walls will make the cockpit fit you like a glove. The foot braces are very easy to adjust on the go, with one hand only, which means that you can adjust the kayak for your size with ease. Spending a long time in the boat won't be an issue, and you'll enjoy it to the fullest.
The kayak comes with plenty of fishing-specific things, such as the Mod Pod center hatch system, which gives you rod access and a lot of mounting options if you want to get any aftermarket accessories. There are two flush mount rod holders behind the seat as well, which have been raised to keep the rods closer at hand. You will also find that with the Transducer-compatible scupper hole, you can easily install a fish finder.
Features

Final Verdict:
At the end of the day, if you're looking for something that will give you a so-so experience, you'll be better off with a cheaper option. However, if you want to go for a kayak that doesn't sacrifice on anything, and will make sure your fishing days out are as fun as possible, you can't go wrong with the Ocean Kayak Prowler Big Game Angler II fishing kayak. It's big, stable, fast, and comfortable, and will carry you and all your gear wherever you want to go, and back home.
Buyer Guide to best Fishing Kayaks – https://kayakingjournal.com/best-fishing-kayak/
Were Sorry This Was Not Helpful!
Let us improve this post!
Please Tell Us How We Can Improve This Article.