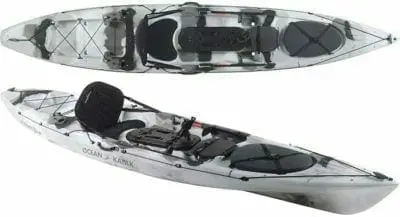 This is a killer kayak that we list as our favorite for fishing in 2015 its got the perfect mix between features and price! It's 13'6″ long and 29 1/2 inches wide, which makes it fast yet stable. It weighs about 60 pounds with 450 pound capacity. It comes with a seat, a large bow hatch and it has a great big tank well. I'm super impressed with this kayak!
An included cannon rod holder comes with the Trident 13 Angler. Each ocean Trident that you get comes with one of these. I really like this because of the rod holder. It lets you put it anywhere you want in any position(that's what she said jokes aside). This is one of my favorite things about the kayak. It's got a built-in ruler for your fish you can put your pliers inside and all kind of fishing gear. It's got many different additional holes that let you screw in many different fish finders and accessories.
Ocean kayaks really pioneered kayak fishing and this kayak has a real simple design thats gets back to basics. This Ocean Kayak Trident 13 moves very well on the water. It tracks really well. It's got very good handles to grab on and all the tie downs for all of your gear. It's got some dry storage at the front plenty of room for your gear in the back to put your fishing tray in the back inside the bungee's and put your fish back there.
It's got very nice comfortable foot pedals you can use to move back and forth and a seat that comes out easily if you have another custom seat that you want to put in(this is recommended since a lot of users listed the seat as the only con of the kayak). It's got some more storage in the Center for more fishing gear and it's got a mod pod in the middle that comes with the kayak.
There is a lot of things you can do with the gear area. It also comes right out. Ocean has a whole line of kayaks from the simple small 10 foot standard kayak up to the 15 foot fishing kayaks. This is a very good model between 13 foot it's not too big, it's easy to handle the ocean 12 is also another good size for fishing. They are one of the pioneers of kayak fishing. There is a whole line of ocean kayaks that are great for these purposes, but this is one of my favorites.
Features & Specifications from the Ocean Kayak Trident 13
Linear polyethylene plastic
Comfort Hybrid seat
Oversize stern well w/ bungee rigging
Large bow hatch w/ Cross Lock buckle system
Dual paddle keepers
Bow, stern, & side carry handle
Reflective deck rigging
Self-bailing scupper holes
Replaceable stern skid plate
Angler package:

Hanging battery storage bag
2 flush-mount rod holders
Canon spinning rod holder
Rod Pod w/ Modular Fishing Pod cover
Sonar Shield
Humminbird XTH920P transducer-compatible scupper
Top Customer Praise –  
Ocean Kayak Trident 13
tracks and turns well

minimal Rocker allows you to cut through the waves rather than go over 

paddling glides very well

seems very stable

great rod pod

works great on lakes and oceans and can even be used on fast-moving creeks

great price and value

plenty of storage
Top Negative Reactions
–  Ocean Kayak Trident 13
uncomfortable stock seating

ride is a little wet
Customer Recommendations For The Ocean Kayak Trident 13
You may want to get a small dolly so it is easier to get it to and from the water. It's not super heavy but it's a little bulky if you want someone to carry
You will probably want to get a different seat to replace the stock seating as there are a few negative reviews
Recommend the option to get a rudder
The Trident kayak series is offered in three sizes:
Trident 11 is stable and maneuverable, perfect for mellow rivers and lakes.
Trident 13 is the most versatile size, with a great blend of speed and maneuverability.
Trident 15 is considered the distance workhorse with rocket speed, and abundant storage.
Where to buy the Ocean Kayak Trident 13
Resources
Were Sorry This Was Not Helpful!
Let us improve this post!
Please Tell Us How We Can Improve This Article.