Advanced Elements StraightEdge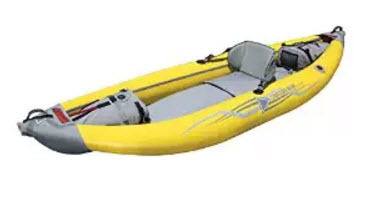 | | | | |
| --- | --- | --- | --- |
| | high performance great features | | |
Looking for an inflatable sit-on-top kayak that is versatile, easy to set-up, comfortable, and durable?  The Advanced Elements StraitEdge Inflatable Kayak offers all of this and receives top ratings from its owners.. It has a hard bow and stern lines, the two most notable features of this kayak, plus an aluminium ribbing system for more rigidity when hitting the water as well as a tracking improvement. Overall this kayak looks more like a hard-shell sit-on-top kayak than an inflatable one. It is very maneuverable and well built for white water river play.
The more unique feature is its built-in fishing rod holders. They made the boat super convenient for fishermen who want a good platform to fish from without the storage concerns of a hard body kayak. The kayak is light enough to be packed into whatever distant fishing hole you would like to venture to. The seats are removable so that if you are a solo kayaker you can have more storage space for extended kayak trips. On the stern, there are also storage bungee straps for your gear. The boat itself is made of a triple layer, puncture resistant material. So it will be very safe for you to paddle high and dry without the worry of any unexpected puncture. The durable material extends to the bow and stern areas, where it is reinforced to prevent wear and tear for protection from abrasion during beaching.
You may want to check first the best inflatable kayak guide here.
Advanced Hull Design
The StraitEdge Inflatable Kayak feature a bow and stern design that include removable aluminum ribs which decrease rocker and allow for superior tracking in open water. These aluminum ribs push against the outer cover when the boat is inflated producing a hull similar to that of a hard-shell sit-on-top kayak.
Extremely Versatile
Perfect for use in the surf or on the lake, you can easily set the kayak up for self-bailing to handle big waves or close ports for calm water.
Simple Set-Up
The StraitEdge kayak comes ready to paddle. Simply unpack the kayak, unfold it, inflate with air, and attach the seat.
Comfortable Fun
Advanced Elements Strait Edge Sit-on-top Inflatable Kayak includes a high support, adjustable padded seat for hours upon hours of fun paddling or fishing.
Super-Durable
The StraitEdge is constructed out of a heavy-duty PVC Tarpaulin material offering superior durability and puncture-proof performance.
Other great features of this kayak include fishing rod holders, advanced inflation valves, rubber handles, adjustable seat back, bungee deck lacing, mesh pocket, self-baling ports, and welded seams.
Specifications
Length: 9' feet, 8 inches
Width: 35 inches
Weight: 34 pounds
Capacity: 300 pounds
Features
Innovative inflation valves
Fishing Rod holders
Hard edge bow
Rubber handles
Strengthened bow seam
Bungee deck lacing
Variable seat back
Mesh pocket
Self-bailing ports
Welded seams
Thigh strap D-rings
Pros
There arent many online reviews for the StraightEdge. Overall our research online showed the customers actually made positive reviews regarding the product. One customer stated that the boat is a good value for flat water and easier whitewater kayaking. It works for class II and III, but the customer still hesitated to take it on serious whitewater. The boat is really self-bailing, but a bit slower than the serious whitewater boats which cost 3 to 4 times as much. However, once you filled the chambers with air, you will find that it is actually quite fast on the water.
A bit more rigid would be nicer though, at least it wont fold quite a bit when hitting big waves. The boat has good balance when paddling solo from the center position, was a bit unbalanced with another passenger that you must synchronize the paddling with your partner. (Actually, any boat would be a bit unbalance without a proper paddling technique).
Cons
As for the downsides, one customer claimed that the floor tubes tend to fill with water between the air bladder and outer skin. This condition makes for tough portage/takeout, since it can easily double the weight of the boat. The customer also stated that the space is also almost impossible to dry out, even with the zippers open and hours of hot sun. The seat will also need an extra back support to make it nicer, especially to those who have back problems.
Another complain was made regarding to the pump. Your purchase will include a foot pump which has no pressure gauge. So you might have a small trouble trying to determine 2 psi and 1 psi, to avoid overinflating. So it could be a real squirrelly to kayak on a flat but breezy lake with this boat. Keeping the boat in a straight line could also be a problem. You need to try a few times to get the weight disbursement right and not thinking about the amount of air. So in this case, purchasing a good pump with a pressure gauge should be considered. The manufacturers website also provides this kind of pump, so to get more information regarding your kayak you can learn them on the website forums from the company and other owners. They really provide good information for you which can give you a significant headway with your kayak.
Another customer experienced tracking issues with this kayak, he wrote that once he stopped paddling, the canoe-like bow started to fail and it pivoted while he still head in the before direction. The customer stated that he had taken the kayak down to a river or on the rapids close to his house.
Recommendation
Advanced Elements StraightEdge  is really considered as a great-buy by its customers. It is easy and fast to set-up as well as to take down (it takes only about 10 minutes), and great to travel with. It is very strong and is really a canoe with all the advantages you can get from a kayak, but without the disadvantages of a canoe. The boat sits low in the water, so you don't tip over easily, and it has a sit on top design, that your legs will not get hot while kayaking. It glides through the water as quickly as hard-shell kayaks, which lower your center of gravity by sitting you below the water line. Who would wonder that it is actually inflatable and checkable as luggage? This kayak is very perfect for a portable kayak. One customer who gave 5-star rating to this product even claimed that anything made by Advanced Elements is as top notch and durable as products made by stalwarts like Avon.
The kayak is a superb performer kayak in the river rat of inflatable kayak arena. It is also a great kayak for other recreational uses. Some more color options will be nice though, as the bright banana yellow seem pretty screaming on the water, especially in a very sunny day. To sum it up, this kayak is an impressive speedy and sharp looking kayak.
Other inflatable kayak reviews you may want to check below;




Resources
Were Sorry This Was Not Helpful!
Let us improve this post!
Please Tell Us How We Can Improve This Article.