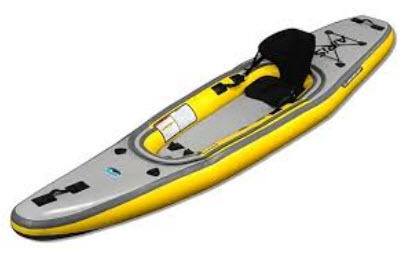 | | | | |
| --- | --- | --- | --- |
| | high performance great features | | |
My first inflatable kayak was a gift for my 28th birthday. Before it, I had owned several hard shells that were bulky and pretty hard to paddle. I was a bit skeptical about inflatable kayaks believing them to be too delicate to even use in moderately calm waters. The Airis Sport is an example of the inflatables that changed this perception as my family now owns three.
It's a very well designed inflatable kayak that comes in an easy to paddle lightweight frame. It tracks well in moderately calm waters making it great for lakes, bays and slow flowing rivers. This kayak will inflate in less than 10 minutes thanks to the included pump. Inflated, it has a hard buoyant outer shell that will keep you on the water for endless hours.
Having used this kayak for some time now, I thought it would be great documenting my take on this. But, before that you may want to check first the best inflatable kayak in the market this year.
Specifications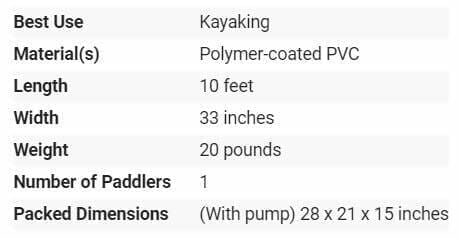 Easy To Set Up and Deflate
The Airis Sport kayak is built with three separate chambers. The setup process involves unpacking the kayak, laying it flat on the ground and inflating the three chambers. A typical procedure involves inflating the floor followed by both side  chambers.
One challenge I faced during my first attempts to set up this kayak was keeping the floor evenly positioned as I inflated the side chambers. Pushing it down with my hands usually does the trick. Depending on your experience with inflatable kayaks, getting the Airis Sport ready for the water should take less than 10 minutes.
Deflating this kayak is also quite straightforward. However, I recommend you first remove any water that might have accumulated in the cockpit and let the kayak dry out entirely before deflating and packing.
Ultraportable and Space Saving Design
One reason why I retired my hard shells in favor of inflatable kayaks is portability. With the Airis Sport, I no longer need to worry about installing carrying racks on my SUV. Weighing 20 Pounds it's easy to carry with the provided backpack. Carrying it to and from
your favorite kayaking spot is also easy thanks to the four fitted carrying handles.
The carrying backpack is made from sturdy fabric that's both durable and easy to maintain. The fact that this kayak is easy to fold and stash away inside a backpack is a significant space saver. It will comfortably fit inside the trunk of your car or closet when not in use.
Very Stable on Water and Tracks Well
The Sport features Airis's patented AirWeb High-Pressure construction. This implements a seven layer polymer coated fabric that can be inflated to 6.5 PSI. The result is a stable and very buoyant kayak that's easy to paddle. The floor is also quite rigid and is capable of
supporting user weights of up to 250 pounds. I weigh 190 pounds, so this kayak suits me quite well.
Measuring 10 feet 10 inches long and 31 inches wide, the kayaks dimensions make it virtually impossible to tip over even when facing slightly rough waves. It comes fitted with a skeg which improves on the kayaks tracking performance.
Comfortable To Paddle In
The Airis Sport features a low profile which means you will sit a bit higher compared to conventional kayaks. I found it both a good thing and a bad thing. In the positive side, the low profile makes it easier to paddle since my arms won't always rub against the kayak sides. However, it might require getting used to especially if you've been kayaking for some time.
The cockpit has plenty of leg room with attached footpegs for better comfort. A comfortable high back seat is also provided. This makes it easy to paddle for hours without suffering from back fatigue. The seat is also adjustable to accommodate users of different heights.
Storage
The Airis Sport inflatable kayak comes fitted with bungee tie-down cords both on the deck and stern. These allow me to secure small items I would want to bring along on my kayaking adventures. It doesn't include a separate storage compartment so if I have to bring things that
need protection from water; I'll usually stash them in a small backpack and carry it as I paddle.
High-Quality, Durable Design
As mentioned, the kayaks shell is made from a seven layer polymer coated fabric. This makes the kayaks outer tear and abrasion resistant extending its lifespan.
All Necessary Accessories are Provided
Besides the inflatable kayak, you're also provided with a hand pump and a carrying bag. These two accessories are usually bought separately for many inflatable kayak brands. The provision of additional accessories makes it easier to get paddling as soon as possible. For
me, I didn't have to invest in additional gear since I already owned several kayaking paddles.
Some Shortcomings of the Airis Sport
One minor shortcoming I need to point out regards the storage facilities offered by this kayak. Besides the bungee cords, there's no separate storage compartment. Although the cockpit is spacious, the kayaks low profile makes it difficult to stash additional items within it. Although my way to get around this involves carrying stuff in a backpack, this is common with most inflatable kayaks.
This is also understandable given that it's a single person kayak with a 250-pound weight limit. It's not built to ferry cargo but to allow you to enjoy yourself out in the water.
Conclusion
Since I have had some time to try my Airis Sport kayak, it has become my inflatable kayak of choice. The design is focused on ease of use and user comfort. The lightweight build and provided backpack make it easy to carry and store this kayak easily. The low profile, fitted skeg, and overall kayak dimensions make it quite stable in the water and make tracking easy. So far, the Airis sport kayak has lived up to my expectations about durability.
My main issue regards the limited storage options. But then again, it's an issue I'm willing to overlook given the many benefits it offers. Overall, if you're looking for a lightweight and easy to use inflatable kayak for use in moderately calm waters, I recommend trying the Airis Sport!
You may want to check our Saturn 13ft Inflatable Expedition Kayak Review.


References
Were Sorry This Was Not Helpful!
Let us improve this post!
Please Tell Us How We Can Improve This Article.
Emotion Stealth Angler Kayak

Emotion Stealth Angler Kayak Review and detailed opinions and feedback on whether this is the best kayak for you.
Product Brand: Emotion Kayaks