Saturn 13 ft Inflatable Expedition Kayak Review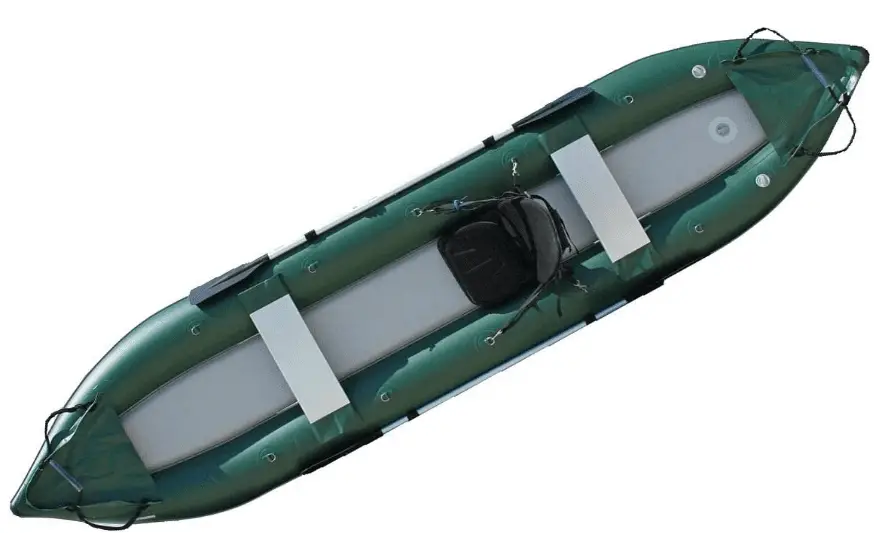 | | | | |
| --- | --- | --- | --- |
| | high performance great features | | |
Expedition kayaks are made for adventurers who want to explore miles of wilderness when they're traveling. They might not come with all the bells and whistles of a fishing kayak, or the extreme comfort of a good touring kayak, but they will offer you enough accessories to make your adventure pleasant, and a comfort level that won't make you regret the adventure overall.
However, even with the oversaturation of the kayak market, finding one that is good for adventures can be a tricky thing when you're limited with storage space. This is where the Saturn 13 ft Red inflatable expedition kayak comes in. This is an excellent vessel for two by Saturn, and it's made to withstand whatever you want to throw at it, no problem. Read on for the full Saturn 13 ft inflatable expedition kayak review, and you will see if this is the next thing that you should be buying for your wilderness adventures.
You may want to read first here the best inflatable kayak article.


So Why The Saturn 13ft Kayak?
The kayak's construction is excellent. It is made of a heavy-duty, high-strength 1100 Dtex PVC fabric, which is coated on both sides. While this might seem too scientific for the regular Joe, what is important is that the fabric is fairly thick, puncture proof and abrasion resistant. It is made to withstand anything you might throw at it with ease, and it won't blink an eye while doing so. You don't have to worry about rocks damaging it at all, and the construction allows for usage on white water rivers, bays, lakes, and even the ocean if you want to.
The floor is made of a high-pressure air deck, which means that you can inflate it and it becomes an extremely rigid platform, and when you're done, simply deflate it and you can roll it up and pack it in. All of this makes the kayak a great adventure tool which you can store away and transport if you're limited with space, and a must for any campground, RV, or other situations where it's key to have a portable vessel.
As far as comfort is concerned, the kayak comes with two removable thwarts, which you can install almost anywhere in the kayak. You can use them as back support, or you can sit on top of one for paddling, whichever you find more comfortable. However, it's worth noting that if you think you want a better seat, the kayak has preinstalled heavy-duty D-rings that allow you to install up to one or two kayak seats, depending on the space that you have left. You can also put Type IV throwable cushions under the seats, which would lift them up higher, and fit nicely on the bottom of the kayak. All in all, you get a decent level of comfort that can easily be increased by getting a pair of better seats.
When we're discussing speed and stability, the Saturn 13 ft inflatable expedition kayak is excellent. You will find that it is surprisingly fast and incredibly stable, and the four plastic fins at the bottom add more directional stability than you'd expect. The kayak is also fairly easy to maneuver, but you should keep in mind that it is made for more experienced paddlers, and novice ones might have issues with it.
Storage is somewhat of a blur with the kayak. Even though it offers space both in front, and behind the rear seat, and the storage space is covered with splash guards, you won't find any hard, waterproof storage options here, and you're fairly limited with what you can carry.
Final Verdict
All things considered, this kayak is a great tool for any adventurer. The construction is good and offers speed, stability, as well as maneuverability, and you can be sure that it will withstand rough conditions – even hitting some rough patches while you're exploring the wilderness won't damage it, and it's going to last you for years. You get a decent level of comfort which you can easily improve, and the best thing is that you can store it in the trunk of your car, and place it anywhere you want at home – it takes up little to no space.
Other reviews we've written below;
Were Sorry This Was Not Helpful!
Let us improve this post!
Please Tell Us How We Can Improve This Article.