Best Trolling Motor For Kayak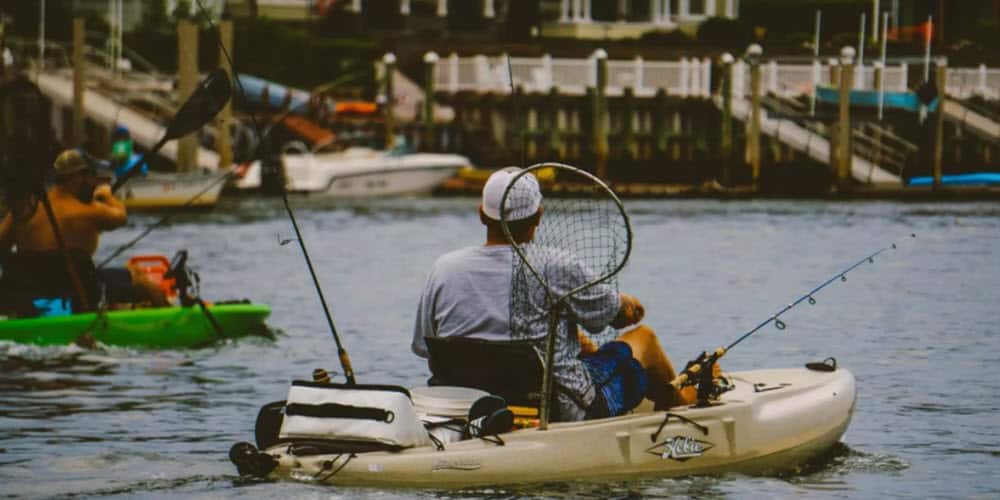 With kayak fishing becoming more and more popular, it was only a matter of time before someone had the idea of sticking a trolling motor on a kayak, having made lives easier for a whole bunch of us. The change is welcome as it not only decreases the mechanical work one has to put in but also ensures a peaceful and relaxing fishing trip.  
However, a large variety of trolling motors are available in the market and if not chosen wisely, then these motors disturb fish by the noise produced and movement made. It can easily destroy the fishing experience, even if you have the best tools at your disposal.
Picking the right motor from a sea of options can be a bit intimidating. After scouring the market, we have compiled a list of 8 trolling motors that are among the best trolling motor for kayaking.
Quick Summary: Top 8 - Best Trolling Motor For Kayak 2020
---
Our seasoned editors have picked and rated these products for each specific category and area of expertise to recommend you the best models and products we can. We receive commission from some of these affiliate links.
| | | | |
| --- | --- | --- | --- |
| | | 8 speed telescoping handle with excellent ergonomic support | |
| | | | |
| | | Fiberglass shaft with adjustable height ensures proper placement | |
Our Reviews
---
Then Newport Vessels NV-Series Trolling Motor is the best choice for you. This ultra-quiet trolling motor doesn't heat much even after a whole day at the lake, making it best for long fishing days.
With 55 pounds of thrust, this trolling motor provides long-lasting performance and makes most of the full battery life. The 30 inch shaft is fully adjustable, allowing proper depth placement in all water conditions. It is made up of fiberglass to ensure long-term usage. It also has a 3 blade propeller.
The 8 speed telescoping handle offers excellent ergonomic support, which in turn fosters simplified and efficient steering. This 6 inch telescoping handle has 5 forward and 3 reverse options for speed.
The presence of stainless steel, zinc, and magnesium hardware makes the motor compatible with freshwater as well as salt water. This trolling motor also has a super bright, 5 points LED battery meter that displays immediate charge level.
The trolling motor is built to be powered by one 12 Volt deep cycle or marine battery. You'll need to buy it separately since the battery is not included in the motor. Also, make sure not to buy a Lithium battery, since the company doesn't recommend it.
If you plan on buying this trolling motor, you'll be glad to hear that Newport provides a 2 year warranty for this product. Newport is also known for its excellent customer service and often replaces parts or even the entire trolling motor if there's some issue with the product.
We highly recommend this product if you're looking for a long-term solution. It also comes with efficient and effective customer service from the Newport company. One can say this is the best trolling motors for kayaks.
Product Review
"Very satisfied with this and I highly recommend it. It's much cheaper than a 50 LBS Min Kotta and works just as well if not better."
Minn Kota Endura C2 30 trolling motor has an iconic status among the kayaking community. This cool and overall excellent kayak trolling motor has 30 pounds of trust level and a 30 inch shaft. 
This trolling motor also features a rock-solid mount for the 10 position lever lock bracket. This trolling motor for kayak has either 36 pounds or 55 pounds of thrust to choose from.
Minn Kota CS 30 is a compact, high-performance, and manually-operated trolling motor unit, which features an 8 stage speed setting controller. There are 5 forward settings and 3 reverse settings that ensure effective control of the trolling motors on kayaks. The 6 inch telescoping handle provides an easy and comfortable ride with intuitive operation. Tilt this handle by 45 degrees, and the lower unit rotates by an impressive 180 degrees.
This cool—literally and metaphorically—12 Volt transom-mounted CS 30 maneuvers like a dream and does not scare off fish with its quiet movements. It has a unique build and is extremely lightweight, hence providing optimal fishing conditions. The 2 blade propeller delivers an extra dose of power to cruise through heavy vegetation.
The exclusive and indestructible Minn Kota composite shaft comes with a lifetime warranty, which is too hard to refuse. The company also ensures a two year warranty on the motor itself. The only drawback of genuinely stellar user experience is that it is not recommended for use in saltwater. 
Product Review
"I like my MinnKota Endura Transom Mount Trolling Motor a LOT and you will too. If your boat be smaller grab one. You'll be thankin' me!"
Newport Vessels Kayak Series Electric Trolling Motor is an excellent addition to the Newport lineup of trolling motors for kayaks. 
It is made up of stainless steel and a sacrificial zinc anode that warrant safe movement in saltwater. Its 24 inch shaft has an adjustable height, which allows proper depth placement on any kayak. It is made up of fiberglass, which ensures strength. (
1
)
One of the best things about this trolling motor is that it comes with a generous 2-year warranty. This speaks for the quality itself.
This trolling motor comes in 2 variables; you can either opt for 36 pounds thrust or 55 pounds of thrust. The battery cable is extendible up to 5 feet and 6 inches, making it easy to place the battery at any convenient place in your kayak. This feature also makes the trolling motor compatible with all mount kayaks. This motor comes with a bright blue, 5 point LED battery indicator, which keeps you informed about your trolling motors battery life.
Its 5 forward speeds and 3 reverse speeds make it easy to control the kayak. These easily adjustable speed increments give you complete control over your speed and course. The trolling motor is equipped with a 2 blade propeller that is made from fiberglass-reinforced nylon. It reduces drag and balances thrust for top-notch performance.
It is worth noting that the company advises against the use of lithium-powered batteries with the trolling motor. So be careful with your battery choice if you plan on buying this motor. (
2
)
It can be challenging to choose between the Newport Kayak Series and the Newport NV series. Both of them offer very similar features, and both are excellent in terms of performance. But we recommend you to opt for the NV series since it reportedly has a longer runtime than the Kayak Series.
Product Review
"Great little motor. Little heavy for a 36LB but it works. I paired it with a Gama wireless controller and it's a nice unit."
Cloud Mountain trolling motor is robust and reliable with reinforced nylon brackets. 
These brackets provide more strength and better dimension stability. The aluminum head of this motor ensures a longer lifetime.
This trolling motor has a 28 inch long shaft made of fiberglass. It is highly resistant to decomposition and can be positioned from a seated position. The 3 blade propeller allows easy navigation through the marine vegetation.
This versatile trolling motor has a handle with 5 forward speeds and 3 reverse speeds. You can regulate the speed accordingly. The handle of this motor is extendable up to 6 inch. So, you can adjust it according to your height, allowing you to have a smooth and comfortable ride.
Thanks to its stainless-steel hardware, this trolling motor is compatible with freshwater as well as saltwater locations. Additionally, there is a 10 point LED indicator that shows the level and capacity of the battery. It is an excellent feature as it allows you to get rid of any battery-related problem.
Product Review
"Purchased for a kayak—very powerful and responsive and uses very little battery life. Don't want to spend all your time recharging your battery. Battery life is shown on the motor, too. What more could you ask—oh yes, good price!"
Watersnake troller is one of the lightest and most affordable trolling motors available in the market. Its small size and a mere weight of 4.85 lbs make it best for powering a kayak. 
Despite being compact, the motor provides you with exceptional speed. It has a forward and reverse option for smooth steering. However, there are only two speed variations available, which can be a bit inconvenient.
The motor handle is extendable, and the shaft is 26 inch long. There is an anti-impact slip system in the mount too. There are two thrust options available for this trolling motor in the market—18 lbs and 24 lbs. Both of them have a power of 12 Volt. It is worth mentioning that the battery is not included in the motor.
Since this sturdy trolling  motor comprises high-quality stainless-steel material, it is well equipped for salty waters. Its corrosion-resistant paint, durable components, and 2 blade propellers allow you to cruise through dense vegetation with ease.
This versatile trolling  motor's optional brackets feature provides you with more mounting options and fewer DIY mounts. It uses less energy when compared to other trolling motors. It is also doesn't make much noise when in water. 
Product Review
"This is a great trolling motor for a canoe, kayak or maybe a small boat, took it out today for first time I have a 15 foot Pelican canoe and it scooted along."
Haswing 12 Volt 20 lbs Transom Mount Electric Trolling Motor is powerful despite its compact size and simple orientation. Its light weight (7.94 lbs) and collapsible tiller handle facilitate easy portability. 
The Tilt Twist Tiller provides a natural ergonomic grip and effective control over speed and steering while sitting or standing. The 110 degrees folding tiller handle gives an adjustable helm in fishing movements, and it also makes it easy to stow. 
It's reasonably easy to control speed. There are two forward and two reverse speeds. There's a big button to switch between forward and reverse. There's another smaller button to switch between the two speeds. The lack of speed adjusting options is one of the significant drawbacks.
Reinforced with material that resists flexing, warping, and UV damage, the motor's solid bracket has a quick-release lever lock. This angle adjustment bracket enables two angle positions—0 degrees and 90 degrees—that helps in easy tilting movement when the water depth or fishing conditions vary.
This durable trolling motor is rated at 12 Volt and offers a maximum thrust of 20 lbs, which may not be powerful enough for bigger kayaks and heavy weight. However, a high-quality, 2 blade propeller introduces a little extra power when cruising through heavy marine weed. The length of the wire is short. If the battery is situated at the kayak's front, you'll have to use wire extension.
With an adjustable 23.6 inch shaft, the height can be altered with varying depths of water. It's cool and quiet prowess extends the motor's life and promises a long-lasting battery. The trolling motor also features a LED battery level indicator that enables you to check the real battery life at any time.
Product Review
"This thing is tiny, and short, but powerful enough to move a small kayak around."
Designed with ultimate durability in mind, this trolling motor is one the best trolling motors for kayaks. This powerful motor can deliver 60 pounds of thrust and 684 watts of power. 
If your kayak is heavy, then this is the perfect choice for you. The motor is driven on a 12 Volt deep cycle or marine battery with a minimum 50 Ampere hour rating. You'll have to buy the battery additionally since it does not come with the motor.
The motor has a 36 inch shaft made from anti-corrosive composite material. This composite shaft for the 36 pound thrust model is 30 inch long. There's also a LED indicator that displays the live battery life. Also, if you are able to mount this motor on the bow, it spins 360 degrees.
The 2 blade propeller has an all-aluminum propeller head that's covered in waterproof marine paint. The propeller, however, is not sealed. So, if the kayak travels through weeds or hydrilla, they get caught up in it. You'll have to remove the propeller, clean it, and stick it back in every time this happens. So, avoid this trolling motor if you plan on taking your kayak to such regions.
This trolling motor is user friendly and has excellent control with 8 speeds. This motor will give you maximum control with 5 forward speeds, 3 reverse speeds, and a comfortable grip extendable handle. Its tiller twist handle and an adjustable 10 position tilt help you smoothly maneuver through the waters.
This quiet and dependable motor also comes with a 2 year limited warranty. It can also be used in salt water, but as for any kayak trolling motor, this one also needs to be cleaned after use in salty water.
Product Review
"I liked that it runs great its fast for a trolling motor the five speeds that it has is worth it just make sure you have extra battery life depending on windy weather."
Built with saltwater corrosion-resistant materials, this motor features an adjustable 6 inch telescoping handle. 
It has 5 forward speeds and 3 reverse speeds like most of the other kayak motors. The comfortable grip and these many speed options speak for a smooth ride and easy control. 
This kayak trolling motor has a 10 point LED light battery life indicator. It warns you to return to shore before the battery runs out. It also has an alterable composite shaft. Press the button, and you can tune the shaft angle. Adjust it to adapt to different sailing conditions, according to your sailing demands. The depth of the machine is also tunable with the help of a knob placed on the handle.
PEXMOR Electric Trolling Motor features a 3 blade propeller. However, users complain of a non-effective aquatic weed clearance. The company includes an additional 2 blade propeller in 36 and 45 pounds of thrust, and 3 blade propeller in 55 and 86 pounds of thrust. The 34 inch, fiberglass composite shaft has an aluminum head that ensures stability and corrosion resistance. (
3
)
Product Review
"I am so pleased with this electric outboard that I bring my boating friends around to boast about it. I researched all the option that were offered on Amazon and the Pexmor came out as a clear winner."
Verdict   
Kayaking is an exhilarating activity and buying a motor ensures that you get to your desired spot quickly. Let the motor do the mechanical work, while you sit back and enjoy in the midst of watery heaven. From leisurely trips to boat racing, a motor assists you in every kayaking activity. Trust us when we say that installing this little marvel will make you question why didn't you do this earlier!
If you are also looking for the best kayaking guides especially for first-timers, you may
click here
. We hope these guides help you!
Then Newport Vessels NV-Series Trolling Motor is the best choice for you. This ultra-quiet trolling motor doesn't heat much even after a whole day at the lake, making it best for long fishing days.
References
(1)
sacrificial zinc anode 
- 
https://www.sciencedirect.com/topics/
engineering/sacrificial-anode
(2)
lithium 
- 
https://www.livescience.com/28579-lithium.html
(3)
aquatic weed 
- 
https://extension.okstate.edu/fact-sheets/aquatic-weed-mangement-control-methods.html
Were Sorry This Was Not Helpful!
Let us improve this post!
Please Tell Us How We Can Improve This Article.