There are a couple things that you should take into consideration when you are thinking about your kayak rigging. They consist of safety, reach-ability, safety, comfort, and lastly, safety. Shall we talk about safety first? When you are setting up your new, or old kayak, you don't want to worry about having your safety gear within reach. When I talk about safety gear, I mean in particular, a very loud whistle, a fully visible (360 degrees) light, and a bright orange and silver reflective flag.
These things have to be within your reach, boats just don't give a damn about kayakers, plain and simple. Jet skiers are making their way into this category as well, as more and more are getting way to close to kayakers. When fishermen are typically fishing in these areas, they do have to cross bays, rivers, and stretches every now and then to get to the honey hole, this is when it gets hectic, sometimes dangerous. Some day, we will get respect from the other boaters, and it will probably happen when they are trying to get into our honey hole, with that expensive $3000 hobie pro angler kayboat setup. It is required to carry all the gear, that is required to catch fish, in your honey hole, after all. You are catching fish, they can too, right?
The next one on the list when you are thinking about kayak rigging is the reachability. You don't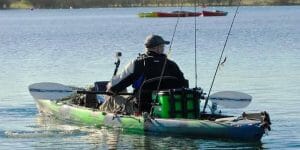 want to have any items too far out of reach, as moving around when on the water is possible, it's not usually recommended.. especially on sit insides. 99% of the time, I will mount rod holders behind me, and usually use the ones that stick up, and can be adjusted. The flush mounts make me feel like I will lose a rod while trolling.. it hasn't happened yet, I just don't like the feeling. You can pick up some flush mounts for around $7 a piece or so, 2 will do the job for most anglers. An anchor trolley is also a must have for your kayak rigging. It allows you to perfectly position the boat while you are fishing, or just anchored up. Tackle boxes are usually downsized to the Plano tackle cases, and can be tossed under the front deck for easy reach, or installed into a milk crate setup.
The last thing to consider about kayak rigging is comfort. Take a couple paddling expeditions out on the water before you start bringing any gear with you, it will make things a lot easier. If you are able to afford a higher retail sit on top, you may not need to change anything about the boats comfort, as they tend to spend some time making you comfortable.. you get what you pay for after all. If you are like me, you gotta go with the $200 version, and make it work. It isn't very comfortable, but usually after one trip you will see what needs to be fixed. It's alright, take about a week off to recoup and pick up what you need to make this thing more comfortable. I usually put the pvc a/c insulation padding on places where my skin and body touches, just makes things better feeling.
Remember to keep these few things in mind when you are thinking about your first shot at kayak rigging.
Were Sorry This Was Not Helpful!
Let us improve this post!
Please Tell Us How We Can Improve This Article.