The SeaEagle Brand
Located near the old Port Jefferson Harbor, where several of America's greatest sailing yachts were constructed SeaEagle started selling inflatable boats in 1968.
Their first product was a two-person inflatable kayak known as the Pyrawa in France. This Kayak enjoyed significant success throughout the late 1960s and early 1970s. It had been sold through Sears and other catalogs and vendors, in addition to its in-house promotional advertisements and direct sale procedures.
Through the years, their lineup has exploded to comprise ten different inflatable kayaks, SUPs, motor boats, and transom boats, which can handle up to 25 HP engines. After several years of introducing new and unique types of inflatable kayaks, the Sea Eagle brand name is now synonymous with quality, affordability, reliability, and exceptional personal customer support.
When you call Sea Eagle, you hear a voice on the opposite end of the telephone, and everyone is treated as a family member.
Check here for a guide to the best inflatable Kayak in the market nowadays.
The Top Selling 7 Sea Eagle Kayaks
| Kayak | Key Features | Pros | Cons | Link |
| --- | --- | --- | --- | --- |
| Sea Eagle Se330 | Lightweight, 500lbs capacity | Portable, Sun & saltwater-resistant hull, Adjustable comfort | Beginner challenges with skegs, Slow deflation, Limited weight capacity | Link |
| Sea Eagle Se370 | 650lbs capacity, five-tube construction | Portable, Durable material, Comfortable seats | Not for intense whitewater, Valve cap issues, Not for open sea | Link |
| Razorlight | Drop-stitch tech, 6 mph speed | Lightweight, High speed, Quick setup | For advanced paddlers, Open cockpit, Puncture sensitive | Link |
| Sea Eagle Explorer 420x | Detachable skeg, Class IV rapids | Versatile, Good capacity & stability, Self-bailing | Initial pool liner smell, Heavier, Longer inflation time | Link |
| Sea Eagle 300x Explorer | Small, one-person, 3-year warranty | Versatile, Fast self-bailing, Good tracking | Drain hole cover issues, Inspection crucial, Weight concerns | Link |
| Sea Eagle Explorer 380x | One or two people, 3-year warranty | Extremely durable, Self-bailing, Swift inflation | Heavier, More expensive, Slower in open water | Link |
| Sea Eagle 385FT Fasttrack | NeedleKnife Keel, High-pressure floor | Fast & smooth paddling, Rigidity & stability, Compact & inflatable | Not for intense whitewater, Limited capacity, Learning curve | Link |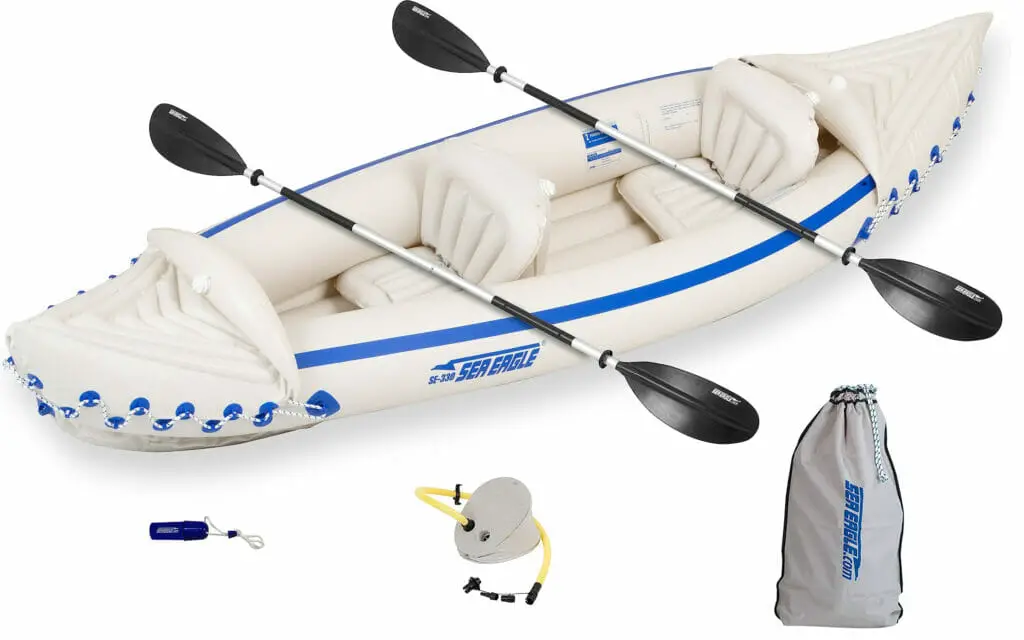 The Sea Eagle Se330 comes first as the lightest and most portable Kayak in America. It has a weight capacity of 26 lbs and folds small enough to fit in the truck of the smallest vehicle. Do not allow its light weight to fool you. It's a durable kayak that can comfortably hold two people or a weight capacity of 500 lbs and yet is simple enough that one person can carry and paddle it.
The 330 model is mostly used as a sports inflatable kayak. However, you can also paddle it as a canoe. It is the ideal model for inflatable kayaking beginners as it is nearly impossible to sink.
You can quickly turn, maneuver it, and ride in almost anything apart from sharp rapids.
The best part is that anyone of any age can set up the 330 Explorer since it's very light. Besides, you can transport it using any car, airplane, a larger boat, or bicycle.
You can use the 330 model for adventures like camping, fishing, or relaxing on the river, lake, or calm sea. It comes with a self-bailing drain valve that helps remove water if it gets into the boat. Due to its lightweight and efficient hull shape, the Sea Eagle Explore 330 is perfect for all people- young and old. It is quite easy to paddle.
Pros
Lashed-down inflatable spray skirts with storage underneath
Sun and saltwater-resistant hull material
Removable inflatable seats for customizable comfort
Cons
Two skegs on the bottom provide better tracking but may be challenging for beginners.
Self-bailing drain valves and one-way valves could take time to deflate Kayak fully.
A weight limit of 500 pounds might not be suitable for larger kayakers or heavy loads.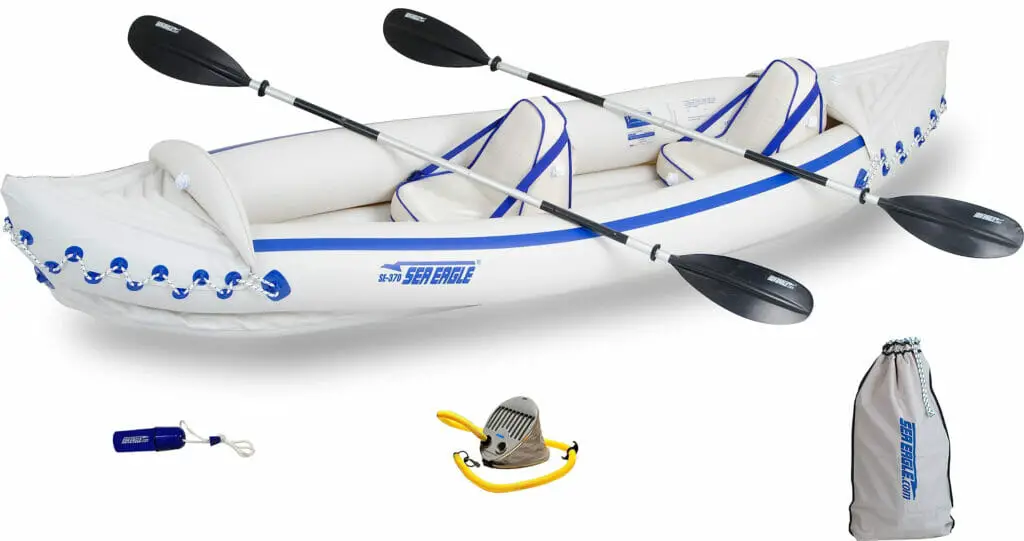 Whether you want to explore a wild river during the day or ride down a calm lake in the morning, the Sea Eagle 370 is the Kayak for you. It is an advanced model of the Sea Eagle 370, surpassing the benchmark set by its predecessor.
A weight capacity of 650 lbs makes the 370 model ideal for an adventure with your family. This inflatable Kayak is great in performance and has some exceptional features that will give you a fantastic experience on the water. The Sea Eagle 370 is a large vessel that operates well in storage, durability, construction, speed, tracking fish, and portability. It has a five-tube construction that helps increase the paddling performance by modifying the sitting position and distributing the weight evenly.
Several boats do not have rear skegs; sadly, the boat turns aimlessly, making your paddling difficult. To avoid this experience, the 370 model has two molded skegs. Instead of the conventional pipe valves, the Sea Eagle has introduced deluxe one-way valves. The pipes are easy and fast to operate. Furthermore, this Kayak uses a modest pressure fabric in construction, making it strong and durable.
Pros
Portable and storable design
Strong vinyl material and I-beam floor
Comfortable inflatable seats with back support
Cons
It may not be suitable for serious whitewater kayaking
Some difficulty with the valve caps
Not ideal for open sea conditions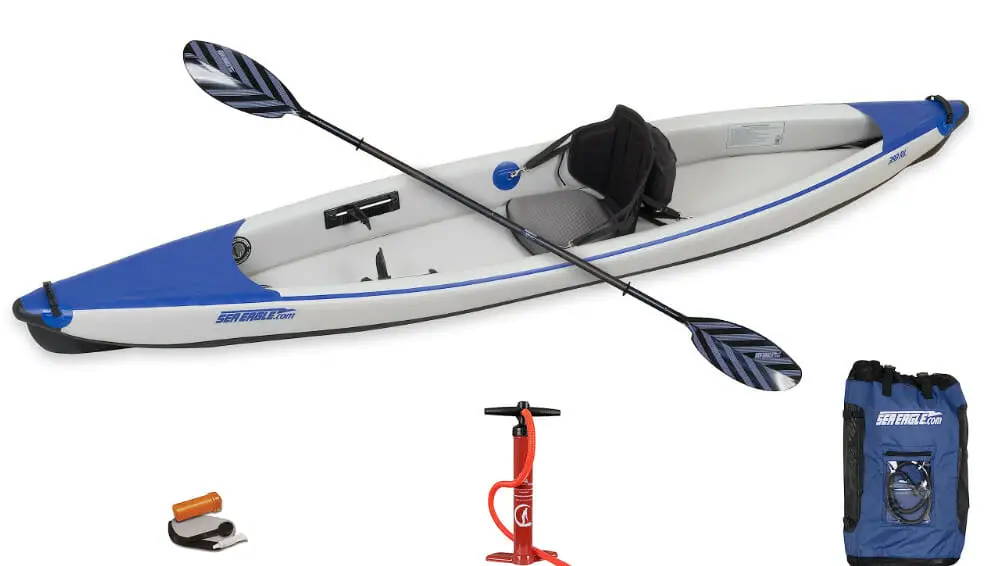 The Razorlight is the first entirely drop-stitch kayak in the world. It's sleeker, lighter, and faster to paddle than other inflatable kayaks. It is a top-performance solo kayak that gives you the ultimate water adventure. It has a sharp, narrow bow and stern, and as stated, it's entirely constructed with advanced drop-stitch technology; hence it rides straight through the waves.
The 393rl is sharper and straighter compared to any other kayak currently available on the market. It has an astounding paddling speed of up to 6 miles an hour. You will feel like riding in a hard shell when on the water.
In addition to the drop-stitch construction, the 393rl uses thinner chambers that need less air for inflation. Due to its outstanding performance, capabilities, and design, the 393rl kayaks are highly recommended for intermediate and above paddlers. Its setup is quick. Within five minutes, you will be having fun on the water. The 393rl is durable, fast, portable, stable, sleek, and safe.
Pros
Lightweight and easy to handle
High speed and performance
Quick and easy setup
Cons
Best suited for intermediate to advanced paddlers
Open cockpit design may not suit everyone
May need extra care to avoid punctures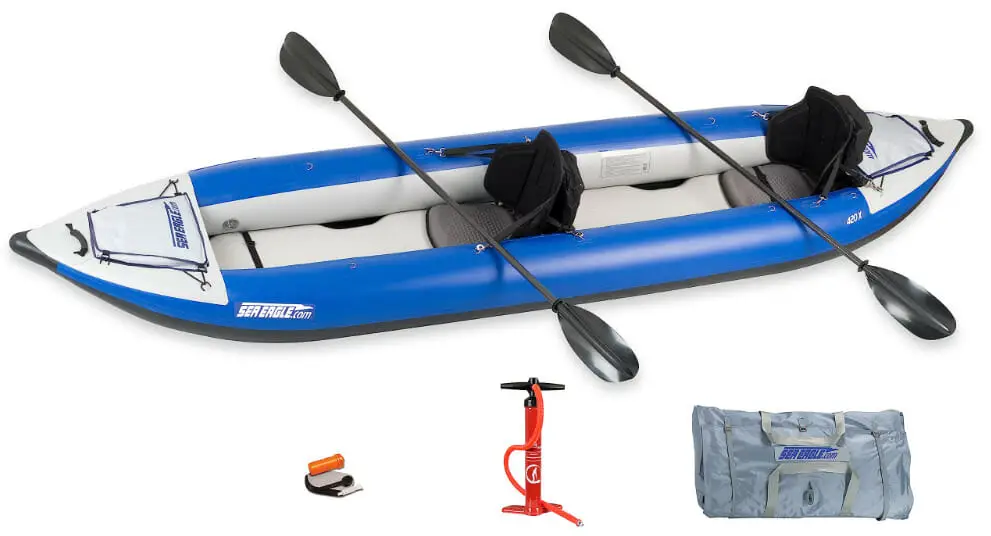 If you are making plans of camping, need to go on overnight trips, or require additional storage space. The 420x is the ideal Kayak for you. Sea Eagle has integrated a detachable skeg, improving paddling speed and effectiveness and increasing tracking ability. When handling the whitewater rapids, you can remove the skeg.
The model is tough and stable enough to handle class IV of whitewater rapids. It is very comfortable and can handle flat water too. The 16 ultra-fast drain valves can remain open for ocean kayaking and whitewater or closed for paddling in dry, flat water. The 420x Explorer is a champion with the ability to handle any adventure.
It is the largest of the Sea Eagle Explorers and weighs just 42 pounds. This durable and rugged Kayak has an exclusive design of a long-lasting drop stitch floor, offering greater rigidity and enhancing paddling performance.
Pros
Suitable for various water conditions and activities
Excellent weight capacity and stability
Convenient self-bailing feature
Cons
It smells like a pool liner, initially.
On the heavier side, at 44 pounds
Slightly longer inflation time
This model is the perfect pick for a versatile and durable kayak. Within the lineup of Sea Eagle kayaks, the 300x is the smallest and is ideal for one person. The Sea Eagle has included all the greatest aspects of the previous models and enhanced some features to develop the ultimate inflatable 300x Kayak. This model has become quite popular since its release. Since SE is a known and respected brand in the world of Kayaking, the 300x model was well-received by water lovers.
The 300x inflatable Kayak has brought significant changes to water sports for many kayakers that had not used an inflatable kayak before, introducing a kayak that stands out from the standard ones. It combines durability and stability to give you a kayak that speeds like a race car. The Sea Eagle Explorer 300x is extremely durable, versatile, portable, convenient, and easy to set up and inflate—in addition, the kayak maneuvers quite well and offers incredible stability.
It comes with all the necessary accessories and a 3-year warranty. The most interesting thing about the SE-Explorer 300x is that it naturally fits in any vehicle; weighing 28 pounds, it will not break your back when loading or offloading. With the 300x model, you are assured of durability and safety. This summer, taking a ride personally is the best way to learn how great it feels. We guarantee you won't be disappointed.
Pros
Tackles whitewater and open-water seamlessly
Fast self-bailing with 16-floor drains
Removable slide skeg for improved tracking
Cons
Some drain hole covers may interfere with water drainage
Inspection for defects is crucial upon arrival
Heavy boxes may lead to concerns about kayak weight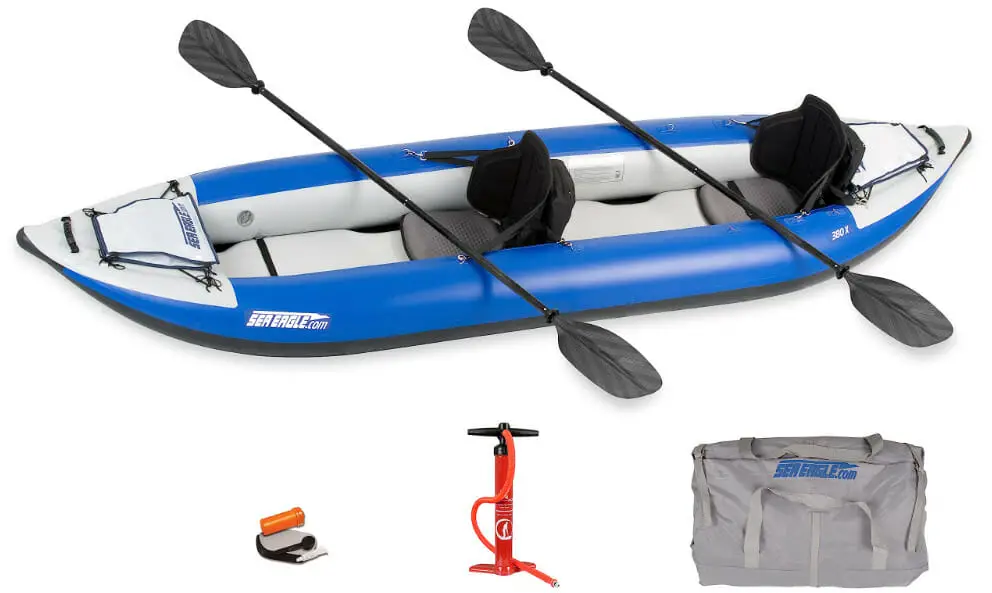 The Sea Eagle Explorer 380x is not your ordinary Kayak. It comes with exclusive features that make it stand out among its competitors. Experience all your water adventures in tandem. The Sea Eagle Explorer 380x is ideal for one or two individuals. With this model, you can experience a broad range of water types; it does it all; it tackles open water, white water, and even downwind sailing.
The top-notch material used in constructing the 380x Kayak will give you several years of enjoyment. Similar to all Sea Eagle Kayaks, it comes with a 3-year warranty. It has fantastic features that make it the perfect choice: durability, safety, easy setup, convenience, versatility, and portability.
The 380x model has a cutting-edge design of dual overlapped seams with extra strength reinforced with a glue finish for toughness and is also 98% welded. This amazing design not only lowers the entire weight of the Kayak but also dramatically improves structural strength.
It has a sturdy, detachable slide skeg for open water tracking and is well-known for tackling extreme whitewater rapids. When shooting the rapids, you can open the 16 self-bailing drain devices for extremely fast draining. For the best experience, the 380x model can offer you so much excitement and enjoyable moments. It is safe and gives you a great return on investment.
Pros
Extremely durable with a 1,000-denier, polyester-supported fabric
Self-bailing feature with four extra-large drains
Swift inflation time of 8 minutes
Cons
At 40 lbs., it can be considered a bit heavy
Slightly more expensive compared to other inflatable kayaks
It can be slower in open water than in whitewater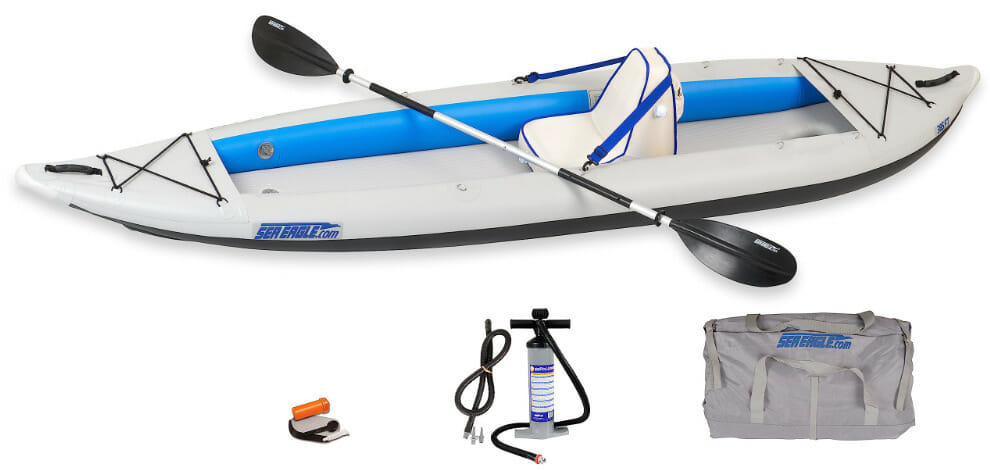 Let us share our experience with the Sea Eagle 385FT Fasttrack Inflatable Kayak—a great option for those looking for an inflatable, lightweight, yet durable kayak.
Pros
State-of-the-art NeedleKnife Keel for faster and smoother paddling
High-pressure drop stitch floor for rigidity and stability
Compact and inflatable, easy to store and transport
Cons
Not suitable for intense whitewater
Capacity limited to three people
Possible learning curve for beginners
Having just taken the Sea Eagle 385FT Fasttrack Inflatable Kayak for a spin, we can vouch for its impressive performance, mainly due to its unique NeedleKnife Keel. This technology ensures a faster and smoother paddling experience that rivals a rigid kayak.
Another feature we loved was the separate high-pressure drop stitch floor. Not only does this provide extra rigidity and stability, but it also ensures that users remain safe and confident while on the water. Additionally, since this is an inflatable kayak, it can be packed into a compact size for easy storage and transport, making it an ideal choice for those with limited space or who like to travel with their gear.
However, it's worth noting that the Sea Eagle 385FT Fasttrack is not suitable for intense whitewater adventures, as it has a rating limited to Class II rapids. Therefore, for those seeking adrenaline-pumping experiences, this might not be the ideal choice. Furthermore, the Kayak has a capacity limited to three people, which could be problematic for larger groups. Finally, while we found the inflatable Kayak relatively easy to maneuver, some beginners may experience a learning curve during their initial outings.
In conclusion, we wholeheartedly recommend the Sea Eagle 385FT Fasttrack Inflatable Kayak to anyone considering an inflatable yet high-performing option. Its unique features and ease of storage and transport make it a fantastic choice for various water adventures.
Sea Eagle Kayak Buyer Guide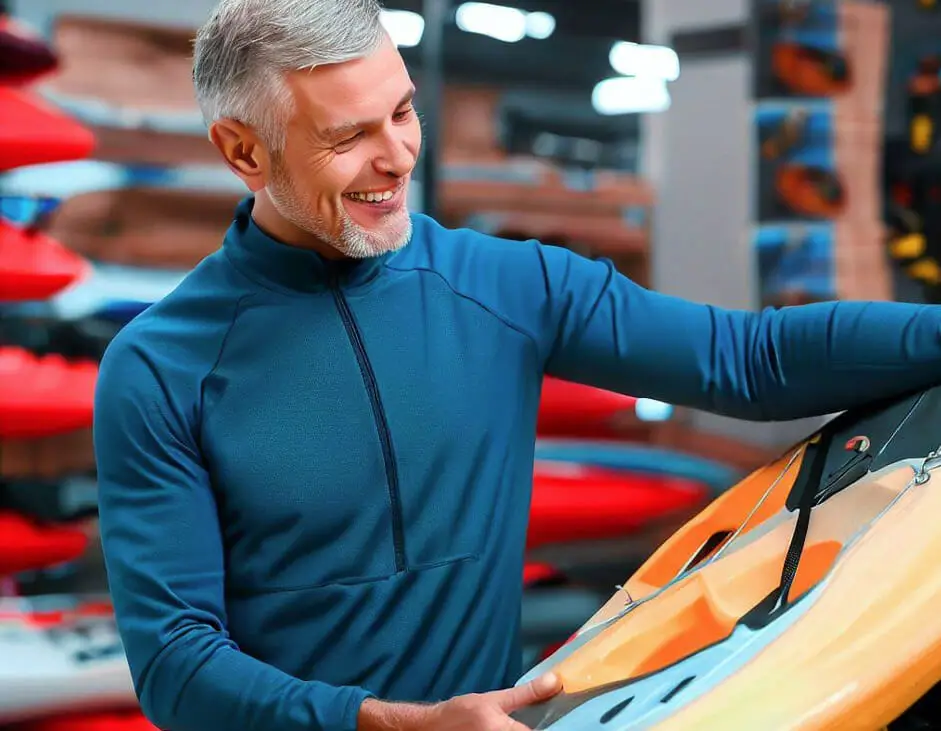 1. Model Selection
Sea Eagle offers an array of models designed for different types of water and usage. The Sea Eagle SE370, for instance, is ideal for leisure paddling, and the Explorer series is perfect for intense whitewater rafting. Identify your primary kayaking activities before choosing a model.
2. Material Quality
Sea Eagle inflatable kayaks are renowned for their durability and robust construction. They use high-quality, puncture-resistant material such as 1000 Denier Reinforced material. This allows the kayaks to withstand various water conditions, ensuring a long-lasting product.
3. Size and Weight
Consider both the size and weight of your prospective kayak. Sea Eagle models range from one to three-passenger capacity and vary in weight. Lighter models may be more suitable for transporting your kayak to remote areas.
4. Weight Capacity
It's crucial to check the weight capacity of the Sea Eagle model you're interested in. The kayak should easily accommodate the weight of all passengers plus the additional gear you plan to bring. This ensures the kayak's optimal performance and safety.
5. Ease of Inflation/Deflation
Most Sea Eagle kayaks are equipped with high-capacity foot pumps or even electric pumps, which make the inflation and deflation process quick and easy. This is a crucial factor affecting the setup and packing time.
6. Stability and Performance
The design of the kayak directly impacts its stability and performance. Wider models like the Sea Eagle 370 offer increased stability, making them great for beginners or leisure activities. Conversely, narrower models like the RazorLite are built for speed and high performance, suitable for experienced kayakers.
7. Portability
One of the key advantages of Sea Eagle inflatable kayaks is their portability. All models can be deflated and packed into a carry bag for convenient transport and storage. This makes them an excellent choice for adventurers and travelers.
8. Extra Features
Evaluate the extra features that may enhance your kayaking experience. Many Sea Eagle kayaks come equipped with adjustable seats for improved comfort during longer trips, removable skegs for better tracking, and some models even incorporate fishing rod holders for the anglers.
9. Budget
Sea Eagle offers a wide price range to accommodate various budgets. However, remember that higher prices often bring enhanced durability and better performance. Consider your budget and your kayaking needs to make an informed decision.
10. Customer Reviews
Review customer reviews for the Sea Eagles model you're considering. These can offer valuable insights into the product from a user's perspective, covering aspects like usability, durability, and overall satisfaction.
11. Warranty
Finally, the warranty offered by the manufacturer is a critical factor. Sea Eagle stands behind their products with a 3-year warranty on their inflatable kayaks. This attests to their confidence in the product's quality and provides you with peace of mind about your purchase.
Remember, regardless of your experience or the type of kayak you choose, safety should always come first. Always wear a life vest while kayaking and adhere to all safety guidelines and regulations.
Frequently Asked Questions
What are the differences between Sea Eagle 370 and Sea Eagle 330?
The main differences between the Sea Eagles 370 and 330 are sizes, weight capacity, and price. The 370 is larger, offering more room for passengers and gear, and has a higher weight capacity of 650 lbs than the 330's 500 lbs. The 370 is also slightly more expensive due to its larger size and increased capacity.
How do Sea Eagle inflatable kayaks compare to hard-shell ones?
Inflatable kayaks, like those made by Sea Eagle, have advantages over hard-shell kayaks. They are lightweight, easy to transport, and can be stored in small spaces. While they may not have the same performance and durability as hard-shell kayaks, Sea Eagle kayaks are designed with high-quality materials and construction, making them a solid choice for recreational paddling and fishing.
What is the weight capacity of various Sea Eagle kayak models?
Each Sea Eagle kayak model has a different weight capacity to accommodate different needs and preferences. Some common models and their weight capacities are:
Sea Eagle 330: 500 lbs
Sea Eagle 370: 650 lbs
Sea Eagle 435 PaddleSki: 650 lbs
Sea Eagle FishSkiff 16: 1600 lbs
It's important to consider the total weight capacity when selecting a kayak, the number of passengers, and the weight of gear you plan to carry.
Are Sea Eagle kayaks suitable for fishing?
Yes, Sea Eagle kayaks are suitable for fishing. Many of their models are specifically designed for anglers, with features such as rod holders, trolling motor mounting points, and secure storage for tackle and gear. For example, the Sea Eagle FishSkiff 16 and the Sea Eagle 385ft FastTrack are popular with fishing enthusiasts.
Where can I find the best deals on Sea Eagle kayaks?
The best deals on Sea Eagle kayaks can often be found directly through their website, which offers special offers, discounts, and package deals. Additionally, check with your local Kayak and outdoor retailers for sales and discounts on Sea Eagle products. Online retailers may also offer competitive prices and promotions.
How durable are Sea Eagle inflatable kayaks?
Sea Eagle inflatable kayaks are made of high-quality materials designed for durability and performance. The kayaks are constructed with strong, puncture-resistant hull material, and many models feature reinforced seams for added durability. With proper care and maintenance, a Sea Eagle inflatable kayak can provide many years of enjoyment on the water.
Were Sorry This Was Not Helpful!
Let us improve this post!
Please Tell Us How We Can Improve This Article.