Malibu Kayaks X-Factor Kayak Review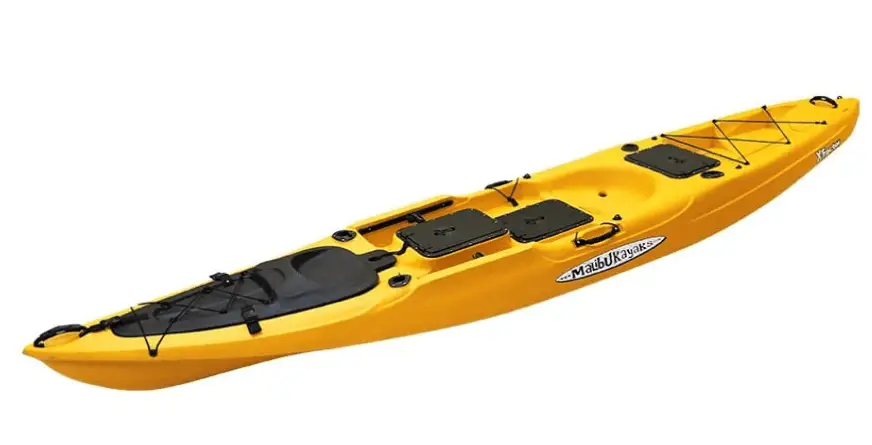 | | | | |
| --- | --- | --- | --- |
| | high performance great features | | |
First and foremost is the dry ride available from the Malibu X Factor. Lots of people dislike getting their feet wet while going on an aquatic adventure, and the Malibu X Factor provides the dry environment you want for your feet. That by itself is already a great reason to get into a kayak right there.
It also comes with a great high rocker for plowing clean through the toughest waves and breaks coming your way. The Malibu X Factor is a rough and tough vehicle designed to be at home on calm waters or choppy waves, and you won't have to worry about being overpowered by any waters that you plan on plowing through. And by that logic, there is no watery terrain you can't conquer in the Malibu X Factor.
This fourteen foot long vehicle can carry upwards of six hundred pounds, and has plenty of storage space for any gear you might need: after all, the Malibu X Factor is ideal for diving and fishing, so whatever items you might need for an adventure of that nature, the Malibu X Factor has the space and capacity to support it. It even has a trolling motor for the more serious fishing adventures you might have in mind.
For convenience purposes, the Malibu X Factor has a hatch on the front that can accommodate a child seat, and also comes equipped with self-draining trays, a cup holder, and carry handles.
And if the facts aren't enough to really sell you on this kayak, we can look at the customer reviews for the Malibu X Factor. After all, public consensus is usually the grounds on which people choose to buy new products. There are no Amazon reviews for this product below four stars. They are all four and five star reviews, and carry monikers that praise the true steadiness and strength of the Malibu X Factor. It really is one of the most high quality kayaks out there. In fact, I can't even tell you anything negative about the kayak because there are no negative reviews to look at.
That said, if you plan on going on some sort of rafting, diving, or fishing adventure, the Malibu X Factor is the ultimate kayak for whatever kind of excursions you have in mind.
Features

Were Sorry This Was Not Helpful!
Let us improve this post!
Please Tell Us How We Can Improve This Article.