| | | | |
| --- | --- | --- | --- |
| | high performance great features | | |
Brooklyn Kayak Company might not be the first name that springs to mind when you're looking at pedal drive kayaks. There are other, more popular brands that have this title. However, if you're a person who does their research, and wants to get the best possible option, you will want to look into the Brooklyn Kayak Company. They have a couple of models, made for various types of kayaking, and all of them are excellent at their respective category.

What we'll be discussing today is their UH-PK13 kayak. This is a 13-foot pedal drive kayak, one made for long distances and people who want to make use of their lower body when kayaking as well. It comes with a couple of nifty features, each of which will make your kayaking trip more interesting and more pleasurable. We're talking about an extremely versatile kayak here, so let's not waste anymore time and take a look at our Brooklyn Kayak PK13 review. If you've ever wanted a versatile pedal drive kayak, you'll want to read on.
The Pedal Drive System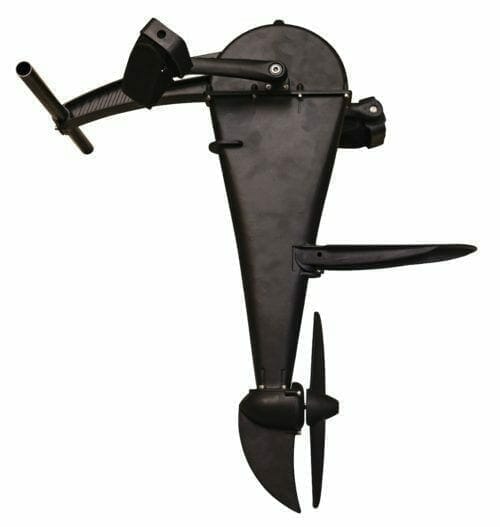 Purists shrug at the thought of a pedal drive system, but the honest truth is that this is an amazing and very helpful system, especially for fishing and long trips. Basically, you have a pair of pedals that you turn, and they rotate a propeller below the kayak. This lets you do two things: either move much faster when you're paddling, or move in a slow, controlled manner, while your hands are free for activities such as fishing.
With the PK13, you have smooth, responsive pedals which come with adjustable foot straps. If you're worried about changing direction, there's a hand-operated rudder which takes care of that for you with minimal effort. If we were to take aftermarket pedal kits out of the equation, this might be one of the best pedal drive kayak systems on the market today. Oh, and it also lets you add a trolling motor if you want to make things even easier.


Build Quality and Construction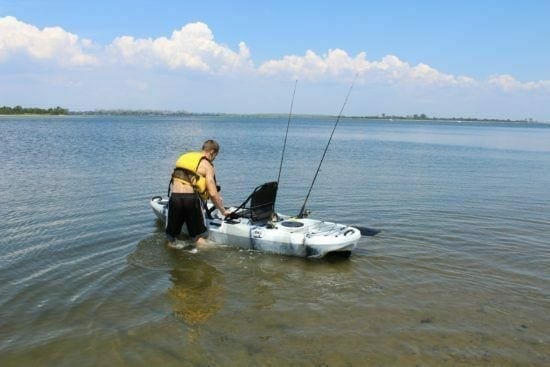 The build quality, as you'd expect from a kayak at this price range, is stellar. The blow-molded hull is designed for stability, which comes in handy when fishing. At 13 feet long and 2.7 feet wide, this 80-pound kayak is easily maneuverable, yet maintains its stability in varied weather, and water conditions. Made of high-density polyethylene, it resists scratches and bumps, and the UV protection ensures the color won't fade easily. The carry handles at the front and the back allow for easy transportation in and out of the water, which is a nice bonus.
With the PK13, you also get a seat, which is expected, as well as a paddle. The seat is built around an aluminum frame, which is at the same time sturdy and lightweight. The seat and backrest are well padded, so comfort won't be an issue here. You will also find multiple adjustment points, making the seat very versatile and suitable for just about any-sized person.
Storage and Usability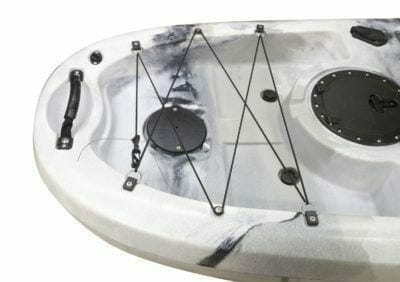 As we mentioned, the PK13 is made for long distances. Therefore, it only makes sense that it has plenty of storage, to allow you to prepare yourself for that long distance. To begin with, you have a very spacious rear cargo area. You can easily store your backpack there, and the bungee tie-down straps will keep it put. This also lets you store things such as a cooler, duffel, tackle box or a dry bag. To add to that, there are watertight storage hatches built-in into the hull, and they have dry bag inserts to make sure your belongings are safe and dry. And last but not least, there's another bungee straps system at the front, which lets you store smaller, or medium-sized items, such as a jacket or your helmet. At a maximum load capacity of 550 lbs., you can be sure that you can store pretty much anything you want in the PK13.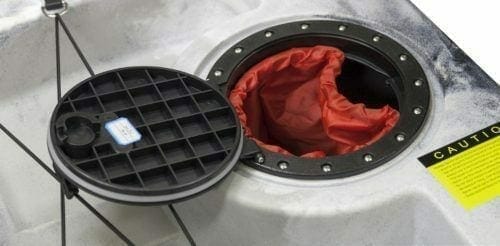 Let's discuss usability for a second. This kind of kayak is made to appeal to two main types of people: fishermen, and long-distance adventurers. For the second crowd, we discussed the pedal drive system and all the storage options, as they are all factors that make your trip a pleasure, or a pain. However, for fishermen, there are a few additional things that make things even better. To begin with, the seat is at an ideal position for fishing, as well as pedaling while you do that. You also have three flush-mounted rod holders, if you want to keep the fishing poles out of your way when you're traveling. This, combined with the easy-to-access storage options, is an excellent solution for just about any fisherman.


Wrapping Things Up: Who Is It For?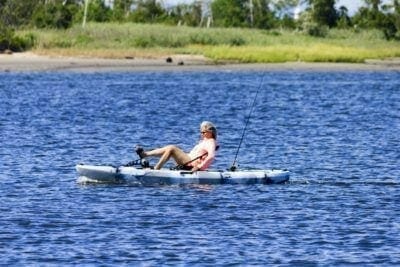 The Brooklyn Kayak Company UH-PK13 isn't for everyone. To begin with, the price tag puts it out of reach for many individuals who are just buying their first kayak, and aren't sure if their investment is worth it. Second, it has a pedal drive system, which won't appeal to purists (but should appeal to just about everyone else). This makes it much more convenient in a plethora of situations – something an all-round kayaker will appreciate. And, last but not least, it isn't a small kayak that you can just throw in the back of your shed if you don't use it.
However, if you're either a fisherman, or a person who wants to make long trips in their kayak, it might be an excellent choice. Long hours in the saddle are very comfortable, and the pedal drive system means that you can rest your arms every once in a while. Storage options ensure that you won't run out of food or water anytime soon, and the build quality is stellar and durable. All things considered, if you're after such a kayak, this is one of the best options on the market today!
Below are other kayak reviews that you might want to read later;
Were Sorry This Was Not Helpful!
Let us improve this post!
Please Tell Us How We Can Improve This Article.