Martini GTX Tandem Modular Kayak Review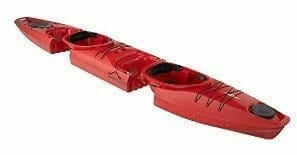 | | | | |
| --- | --- | --- | --- |
| | high performance great features | | |
If you're in the market for a new kayak, there are a few major categories in play, and when shopping you will be made to choose one of them. They usually include solo kayaks, tandem kayaks, fishing kayaks, whitewater kayaks etc., you get the point. They're made to appeal to a big mass of people, and there is usually a big choice for each category, so you'll undoubtedly find something for you. However, there are also some niche categories, that are a bit more specific, and are meant for a specific group of people who know exactly what they need, and why they need it, and they're most comfortable in such a kayak. A perfect example would be the modular kayaks category, which is something you don't see very often, but is an excellent option for many. If you're in the market for a modular kayak that you can take apart for storage, as well as add an extra piece and let another person sit in it, that is the category you should be looking into. If you are looking into modular kayaks, the first place to search is Point 65N. They have a great choice, and one of the best options is their Martini GTX Tandem modular kayak.
So Why The Martini GTX?
If we're keeping things short, you could say that the Martini GTX is a decked touring kayak that you can take apart. It has a very comfortable and roomy cockpit, and you can take it exploring, and then back home in the back of your car. It comes with Point 65N's Snap-Tap solution, and the entire vessel is a versatile and extremely fun recreational kayak. The best thing about the modular design is that if you want to turn the Martini GTX Solo into a Tandem kayak, all you need to do is snap a mid-section between the front and rear halves, and you can bring along anyone you want.
Due to the aforementioned Snap-Tap system, the kayak is very easy to handle both in the water, as well as out of it. You can snap it apart and re-assemble it in a matter of seconds, and you get a stable, comfortable and strong kayak, which means that you basically get the easiest to carry recreational kayak you could get. It is a fairly rigid kayak, and the best thing is that when you're done with it, you can just throw it in the back of your SUV or crossover, or minivan and you'll have room to spare. Performance is stellar, as the Martini GTX is a highly maneuverable kayak with plenty of legroom. And no matter if you paddle it as a solo or a tandem kayak, it's one of the faster solutions you could get. The design is made to offer a mixture of comfort, stability, tracking and maneuverability that pleases anyone that might get in it. It's also constructed of ultra-durable, UV-resistant polyethylene which results in a long-lasting kayak which will resist impacts with ease, so you don't have to worry if you happen to smash it somewhere by accident.
Comfort is taken care of with the ergonomic seat that has a fairly cushy seat pad, as well as padded thigh braces, integrated rudder and adjustable rudder pedals. You also get multiple cup holders for your drink while you're out. It also gives you plenty of storage, and it is readily prepared to accommodate fishing equipment you might want to add. There are also multiple paddleparks, which you can use to store your paddle and leave your hands free when fishing.
Features

Final Verdict
Even though it's made to appeal to a specific mass of people, if you read the complete Martini GTX Tandem modular kayak review, you will see that this kayak has many uses. It's perfect for anyone who doesn't have a lot of storage room, nor a big vehicle and the possibility to lug around a big kayak, and performance is good enough to satisfy anyone. It picks up speed fairly quick, and maintaining it is a breeze. You also get incredible maneuverability, and enough comfort and storage for a full day out. What more can you ask for?
Check below other guides and reviews that may be helpful;
Were Sorry This Was Not Helpful!
Let us improve this post!
Please Tell Us How We Can Improve This Article.