| | | | |
| --- | --- | --- | --- |
| | high performance great features | | |
When you mention a fishing kayak, the first thing that springs to mind is a large, heavy kayak with plenty of mounts, huge storage areas and a big seat. But this isn't always the case, and there's also a target market that simply doesn't need that much, and will make do with a small, light kayak, that gives them the ability to carry the bare essentials.
Sure, you won't be able to get a dozen rods and a lot of extra accessories, but do you really need them when you won't be out for long? This is where the Ocean Kayak Caper Classic recreational sit-on-top kayak comes in. It's designed as a small, compact package for anyone looking for a vessel to carry the essentials and not much more.
You may click here for the best fishing kayak.
So Why The Ocean Kayak Caper Classic Review?
By fishing kayak standards, at only 11 feet long and 45 lbs heavy, the Caper Classic is both short and light. It's made of polyethylene, which ensures that you get a stable and fast platform with a decent weight capacity of 275-325 lbs, depending on the conditions you're paddling in. The Tri-Form hull is known for its stability, tracking and maneuverability and it won't disappoint you here either. The top side has a deep, large molded tank-well, with two scupper holes for draining. The tank-well also comes with an elastic bungee cord that will make sure that whatever larger items you put inside, they will stay there and not fall out. There is also a bow hatch that will keep your essentials dry and safe, and is larger than what you might expect, meaning you get plenty of on-deck storage.
You will find that the kayak actually comes with a large number of features that you won't usually find on kayaks in this price range, which is great considering that the Caper Classic is actually pretty decently priced. Besides the huge storage spaces, you get padded carry handles that give you more comfort when carrying the kayak, as well as molded-in footrests that are stiff and sturdy for maximal power transfer, and an included cup holder. When you take everything into consideration, you will find that you get a lot of extras that would usually require you to spring for a more expensive kayak, which would be a mistake in this situation.
As far as performance and comfort is concerned, you won't have any issues with the Caper Classic. The hull is designed to offer incredible tracking, and given that the kayak is small and light, you will find that achieving speed and maintaining it is actually no problem at all. The kayak glides on the water with amazing ease. You might be thinking that such a lightweight kayak won't be very stable and may tip over easily, but you're wrong. The Caper Classic doesn't have any issues with stability, and you won't feel like you will flip over at any time. As far as comfort is concerned, you get a molded-in seat well, which is 19 ½" wide, and will result in a comfortable day on the water, especially when paired with the Comfort Plus seat back. All in all, you probably won't be able to carry gear for that much, but spending multiple hours in a single session in this kayak will be more comfortable than you think, and you'll actually love it.
Features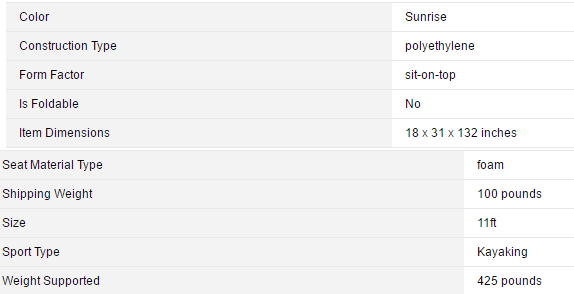 Final Verdict
All things considered, if you're looking for a heavy-duty kayak that will carry a lot of gear and give you an option to go on a fishing trip from dusk until dawn, you're probably best of skipping the Caper Classic and going for something else. However, if you're after a lightweight, fast and stable vessel that will make sure you're covered with the essentials and can easily do a few hours out, the Ocean Kayak Caper Classic recreational sit-on-top kayak is probably one of your best choices. As said earlier, it is fast, stable, tracks well and comes with plenty of accessories, many of which you won't find on kayaks in this price range, which isn't something that should be neglected.
Other reviews for you to check;
Were Sorry This Was Not Helpful!
Let us improve this post!
Please Tell Us How We Can Improve This Article.