| | | | |
| --- | --- | --- | --- |
| | high performance great features | | |
 Buying a fishing kayak can be a tricky thing. The choice is overwhelming, there are a lot of things that you should keep an eye out for, and numerous choices to make. Some of the things you might get confused about, especially if you're new in the field of fishing kayaks, include but are not limited to hull design, sit-in vs sit-on-top kayaks, fishing accessories, more reputable brands etc. Since you're buying a kayak, which is something you will use for a while, and you are paying a decent amount of money for it, it is no secret that making a mistake can be costly, both in your hard-earned money, and your patience.
However, there are a few companies that make kayaks that are actually a no-brainer when you're buying a kayak. They tend to give you a lot of kayak for your money, and come to the market with kayaks that can please anyone's taste. One of those companies is Sun Dolphin, and they have plenty of choices when you're after a fishing kayak. However, many folks will agree when I say that their Journey 10-foot sit-on-top fishing kayak is one of the best purchases you can make.
If you're after a fishing kayak that won't break the bank, but will give you decent performance and plenty of fishing accessories, read on for the full Sun Dolphin Journey 10-foot sit-on-top fishing kayak review, and see how it strives to be one of the best kayaks you can buy in that price range.
Here's your best guide for choosing the best fishing kayak.
So Why The Journey 10 Foot?
Sun Dolphin have been in the game long enough to know what works and what doesn't in a fishing kayak, and the Journey 10-foot is one of their best kayaks. It comes at 10 feet in length and 30 inches in width, which is enough to both pick up speed and maintain it, as well as offer stability when you're fishing. The material used is UV-stabilized Fortiflex, a high-density polyethylene. This is one of the best possible materials for this purpose, as it has almost unmatched impact resistance, and is made to last. And, it is also light enough for you to be able to transport the kayak by yourself.
Performance is stellar, as the kayak is very versatile and gives you a steady base, with the ability to shift your weight while remaining on the water. It's ideal for lakes, as well as rivers, and will undoubtedly get you to your favorite fishing spot. Even though stability is the primary concern and is well taken care of, the kayak also paddles with ease however there have been a few issues with tracking.
As far as storage is concerned, the kayak comes with a portable accessory carrier in the back of the kayak, and you can use it to store your essentials. It also has a bungee cord storage area in front, which gives you access to all the things you need to have nearby. Comfort is taken care of by the well-padded seat and protective thigh pads, and the adjustable foot braces mean that you will fit inside the kayak no matter your size.
Since this is an angler's kayak, it also comes with quite a few fishing perks. There are paddle holders on both sides which are key if you want to dedicate yourself to fishing, and it also has two flush mount rod holders, as well as one swivel fishing rod holder. This, combined with the storage options and the stability it offers, make it a great choice for your next fishing adventure.
Features Of The Sun Dolphin Bali 8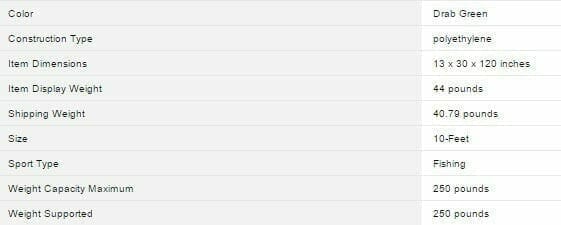 Final Verdict
As said earlier, this kayak is a no-brainer. It truly gives you a lot of kayak for the money, and you will get performance and comfort that is unmatched in this price range. There are also plenty of fishing accessories to satisfy your needs, and enough storage space so you can take all of your gear with you and have it quickly accessible. All in all, the Sun Dolphin Journey 10-foot sit-on-top fishing kayak is an excellent tool for any angler, and won't leave you wanting more.
Other reviews that may help you in choosing which best kayak is for you;




Resources
Were Sorry This Was Not Helpful!
Let us improve this post!
Please Tell Us How We Can Improve This Article.