Old Town Loon 120 Kayak Review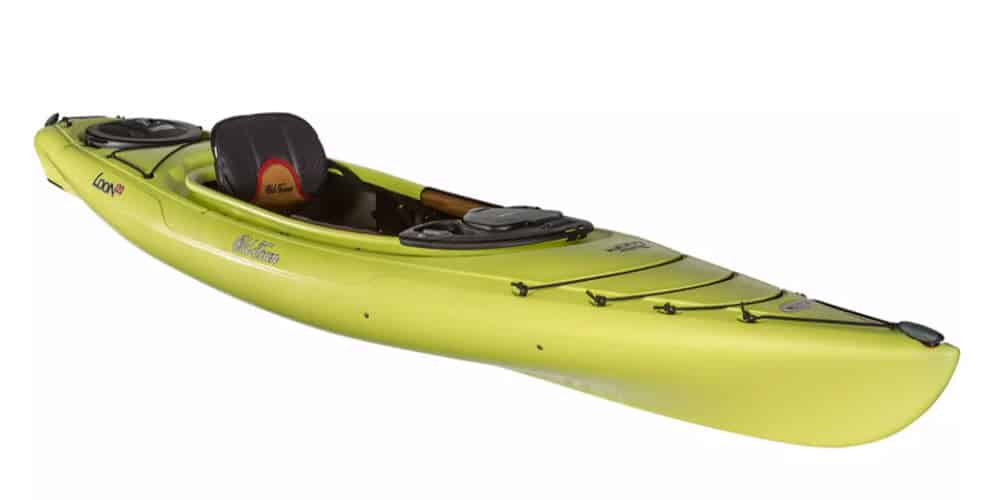 | | | | |
| --- | --- | --- | --- |
| | high performance great features | | |
Today were going to review the new old town loon 120. This is a fairly new kayak along with the loon angler. This is a recreational model of the loon there are actually three in the series the 106 the 120 and 126. The idea behind the loon was fitting the paddler to the boat.
Should I Buy It?
This is a high performance boat with features and a comfortable fit. They started with the seat and built the boat around it.
If nothing else the seat is trimmed beautifully it looks really nice and the styling is very professional, there is performance foam which is perforated and quick dry it gives a lot of cushion to it. Its airy and breathable from not just the padding but the deck pan and seat pan itself is perforated and that perforation provides functionality as well so the seat pan can be raised and lowered just by pulling the handle in front of the paddler and the seat hand raises and gives you a more comfortable fit.
If want to change your leg position or take some weight off your legs or stretch out its fine. If your changing water conditions or heading out into some white water you can raise the seat pan a bit to have a more secure fit. You can also adjust the lumber support up and down, forward and backwards it's easy to do with instructions icons and pull tabs so you shouldn't have any issues.
There is an area called a work deck that the company came up with after doing research with consumers so there is a dry storage compartment, some gear trays cup holders and water bottle tracks on the bottom. They also found people used a lot of go pros and phones and wireless speakers so they added a usb port to the kayak and you can power your Bluetooth speaker by plugging in your USB power and inside the dry storage there is a dry battery that can be any juice pack or any type of battery you wish to pick it up and plug it in there are many different waterproof options available.
There is a little bracket that locks out from the cockpit that snaps out and snaps back in that gives you the option to have an oversized cockpit if you want to put a spray skirt on or have a child or dog sitting on top you can just de-attach the deck and then later pop it back on.
Another great thing is if you're travelling and have your kayak on top of your car or in the bed of your truck if you've got your accessories already attached to your work deck, just undo the whole work deck and lock it in your car you don't have to worry about your stuff getting stolen.
Final Thoughts
This model is pretty polished and ready to go, the loon 120 have already launched and shipped to dealers, it has a 3-layer hull gorgeous 4 layer setup and a lot of real excitement coming for the new loon. The other models have come out last year and have recently started shipping to dealers. We would definitely recommend this for someone looking for a kayak that's advanced and ready to tackle kayaking in this day and age, with lots of up-links and areas for technology this kayak is definitely the most updated for the technological world out of the other models we have seen and the seat is second to none.
Below are some of the guide and review that you might want to check;
Were Sorry This Was Not Helpful!
Let us improve this post!
Please Tell Us How We Can Improve This Article.