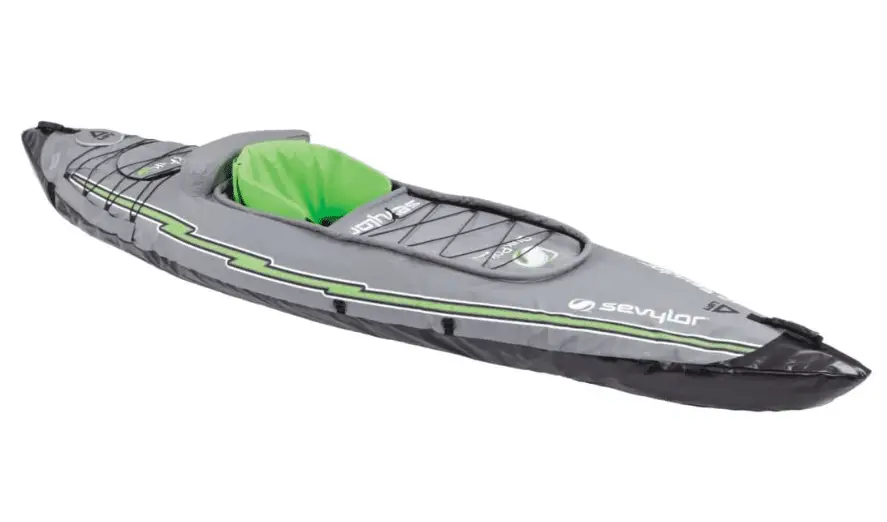 | | | | |
| --- | --- | --- | --- |
| | high performance great features | | |
One of the positives of an inflatable kayak is that it is a "grab and go" item, something you can toss into the trunk of your car at a moment's notice and take off for the river or lake.  The Sevylor QuikPak K5 takes this idea to another level with the kayak designed to fold into an integrated backpack storage system that includes oars and pump.  With its 23 pound weight and padded shoulder straps, it's easy to take the K5 to a more remote location than you might be willing to do if you had to haul an inflatable in a duffel bag.
Before you proceed, you might want to check the list of the best inflatable kayak here.


So Why The Sevylor QuikPak K5 Kayak?
Like the other inflatable kayaks reviewed on this site, the K5 is not intended for use on white water rapids or in the surf.  If you want to race, run the rapids, or challenge the heavy surf, get a hardshell kayak.  If you are new to kayaking, or you just want to have some relaxed fun on quiet waters and maybe get some exercise, look into a Sevylor K5.
The K5 inflates easily and quickly; in as little as 5 minutes you'll be ready to put it in the water.  It's easy to get into, and once you are seated, the first thing you'll notice is how stable it is.  This is perfect for a kayak newbie or for just lolling along in the water.
It's comfortable, too.  The backpack is inflated and becomes the seat, with a backrest for added back support.  If you are fairly tall, the Sevylor QuikPak K5 may not be the inflatable for you, although owners as tall as 6' 2" have reported no problems with comfort, but another at 5' 9" said it was pretty snug, though not uncomfortable.  It seems to boil down to leg room.  If you have particularly long legs, you might want to consider another larger inflatable kayak.
Tracking is about what you would expect from an inflatable.  The Sevylor has a tracking fin to make manoeuvring easier, but it won't track on a knife's edge like a hardshell.  If you don't paddle too hard, it will track where you point it.  But the idea with a kayak like the K5 is not to paddle hard, but to enjoy the experience.
The Sevylor QuikPak K5 is very durable.  The bottom is reinforced with PVC for added durability and rigidity, and many owners have reported grounding it or dragging it across rocks without causing a puncture.
Features Summary
Backpack with padded shoulder straps for carrying and storage
Five-minute setup
PVC-reinforced polyester bottom for increased durability
Rigid bow and stern
Tracking fin and directional strake
Padded seat with backrest
Bow and stern lifting handles
Rear zippered compartment with top bungee lacing for storage
Paddle
Spray skirt for splash protection
Hand pump
1 year limited warranty(Back to Top)Sevylor QuikPak K5 Specifications
Capacity: 250 pounds
1 person
Length: 10 feet
Width: 36 inches
Weight: 23 pounds
User Reviews
Here are some reviews of Sevylor owners.  They are overall very positive, with the main issues being with the paddle and the pump.
snippet of a review from Amazon…"The kayak preformed as advertised…set up and tear down are a breeze! Very stable, very easy to handle! An incredible value!"
snippet of a review from Amazon…"…the yak is fun on the water. I weigh in at 247 lbs and had NO problem getting in and out of the yak. It is a real engineering marvel… Easy to get ready (it really is only about five minutes from pulling it out of the trunk to ready to launch). It is also comfortable and secure in the water. I'm sure it is not as fast as a hard shell, but I'm interested in having fun, getting exercise, and don't plan on entering any races anyway, so it is perfect for me." Amazon Rating: 4.5 out of 5
Pros
Stability
Ease of setup
Light weight
Durable and sturdy
Lots of storage space when inflated
Tracks well for an inflatableCons:
Flimsy paddle
Pump nozzle does not fit securely
Cons
The main complaints are not with the kayak itself, but with the accessories.  Owners reported that the included paddle is of very low quality, and in fact some reported that the paddle broke while they were on the water.  A couple of owners complained that the paddle is too short.  Buying a longer, sturdier paddle solved this problem.
The other complaint was that the hand pump didn't attach securely to the inflation valve.  Some owners simply held the attachment in place when inflating the kayak while others used duct tape to hold the attachment in place.
What is significant is that these complaints didn't negatively color owners' overall impressions of the Sevylor K5.  There was virtually universal praise for its stability, maneuverability, durability, and overall "fun factor."  The Sevylor QuikPak K5 gets high marks as a fun recreational kayak.  If you are looking for something to get you onto the water that won't cost an arm and a leg, is easy to use, and easy to store, check out the K5.
Final Verdict
The K5 is the perfect inflatable if your just getting started and you dont need anything ground breaking. As an inflatable it consistently puts itself out there as one of the better inflatable models and is a great alternative to a hard shell kayak for those without the necessary space to buy a hard shelled option.
We've managed also to review some of the best inflatable kayaks. See them below;




Resources
Were Sorry This Was Not Helpful!
Let us improve this post!
Please Tell Us How We Can Improve This Article.