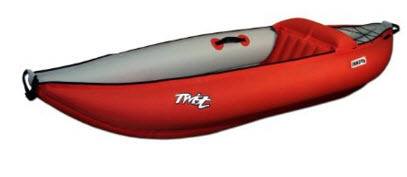 | | | | |
| --- | --- | --- | --- |
| | high performance great features | | |
There are more than a few inflatable kayaks on the market that promise you all the great benefits of owning a inflatable kayak, but the Innova Twist comes in at the top of the ranks in a more compact, lightweight model that's easier to store and transport. The nice thing about this particular model is that it actually keeps all of its promises. This is one of the best compact, lightweight kayaks you're going to find. There are more than a couple of reasons why it deserves such a high grade.
Read the best inflatable kayak here.


Breaking Down The INNOVA Twist
Size
One of the beautiful things about this kayak is its size. This is a great kayak for those who live in apartments, have roomates or simply for anyone who is lacking the storage space necessary to keep a traditional kayak. The dimensions of this product are only 18 x 11 x 9 inches, and it weighs just 16 lbs total. You can fit this thing into a car or multiday backpack with ease! That's one small kayak!
Performance
But can it perform in the great outdoors? It's one thing to have a kayak that can fit in small spaces, but will the INNOVA Twist be able to do everything you need a kayak to do? The answer is a resounding yes. The INNOVA Twist is suitable for both moderate, Class 1 rivers and flat water use. It can handle these waters, and the polyester laminate and Lite-Pack natural rubber feels incredibly soft against the skin.
Durability
But how tough is this thing going to be when the waters turn a little rough? How many times can it really handle your idea of a kayaking adventure in the outdoors? For a super light kayak the fabric is surprisingly strong. The Twist is built by a unique process that uses rip-stop polyester fabric ( it may puncture but the hole will not zipper into a gash) and a coating
of natural rubbers. The natural rubber compound on the interior of the fabric has been vulcanized through the kayak's unique manufacturing process. This means you've got a kayak that's built for durability and endurance. No worries about sinking in this inflatable kayak. In the unlikely event of a hole the three chamber design will allow you to get safely to shore.
The INNOVA Twist handles like a dream, too. The high interior pressure allows for perfect, responsive handling similar to high end inflatables. It's a great choice for beginners and experienced kayakers alike.
Extra Features
It comes with a few neat extras including a substantial removable tracking fin (skeg), bungee gear storage, and a nylon bag for easy transportation and a repair kit.
One additional feature of this inflatable kayak is that it is "green". INNOVA does not use PVC in this boat so it is better for the environment. A nifty plus!
Final Recommendation
The INNOVA TWIST is a kayak that delivers a lot in a little package at a great price point. Looking for a flawless lightweight kayak? You found it.
Check other inflatable kayak reviews below;


Resources
Were Sorry This Was Not Helpful!
Let us improve this post!
Please Tell Us How We Can Improve This Article.