Sun Dolphin Aruba 12 Review

| | | | |
| --- | --- | --- | --- |
| | high performance great features | | |
The Sun Dolphin Aruba, the only kayak I have ever owned. The investment was worth it. The Sun Dolphin Aruba, is a twelve foot kayak and tracks extremely well. It is a sit in kayak, and is remarkably comfortable. I am a relatively tall guy, and I have plenty of legroom in the boat. It weighs 40 lb, and has a capacity of 250 lb. I love how easy it is to carry because I travel a lot with this kayak and I find it very convenient.
Its weight is not the only thing that is convenient; it has bungeecords on the front of the boat and behind, has two water sealed storage rooms. Within the cockpit, it has thigh guards for people who weigh a bit more, and are prone to hit the sides a bit more. It has two rod holders, behind the seat, which makes it extremely easy to just relax and fish. Since it is a sit in boat, it has two scupper plugs at the front and back of the kayak, so if any water sunk in you could drain the water. If I could go back and choose, I would definitely not regret getting this boat it was worth the money.
If you're finding the best fishing kayak, check the link. 
So why the Sun Dolphin Aruba 12?
Pros
Comfort
The Sun Dolphin is extremely comfortable, because it is a sit-in kayak it is very spacious and roomy with lots of legroom since it is a 12 foot kayak. On the sides, there are soft thigh guards so you won't be banging your thighs on the rough kayak surface. Out of all of the kayaks, I have sat in over the years I would say this is the most comfortable kayak.
Convenience
This kayak is a 40 lb 12 foot kayak which makes it very light for its size, and makes it very easy to transport. I do not have a cottage on the water, so every time I want to go on a kayaking trip I have to pull the kayak from my garage onto my roof rack, then when I arrive I have to take it off and carry it over my shoulder to the water. The light weight makes it a lot more easier on me for this process. If you are somebody who will need to transport a lot, this is the kayak for you.
Accessibility
On the water, the Sun Dolphin Aruba is a very stable boat easy for little children to use. I recommend this kayak to novice or beginner kayakers, but not only the beginners. A really great use for the Sun Dolphin Aruba is fishing, because of all the space and storage available for tools and utilities. Like I stated before, in front and behind the seat there is a large storage area, and inside there's a water sealed container attached to the boat. Above there is a big bungee cord where you can stick any of your large utilities. This kayak also has speed, and also tracks extremely well for a kayak of its price. These are some of the main reasons, I highly recommend this kayak.
Cons
Size
Considering the Sun Dolphin Aruba is a 12 foot kayak it is hard for it to fit into my car. I have a Toyota 4Runner it was not even close to fitting. This meant I had to get a roof rack, and that significantly increased the weight on the car and I had to spend more money on gas.
Durability
One of the things I did not like about the Sun Dolphin Aruba was its Durability. Like any other kayak, I expected the Sun Dolphin Aruba to last up to six years but after three years of heavy use, I started experiencing nicks and scratches.


Features Of The Sun Dolphin Aruba 12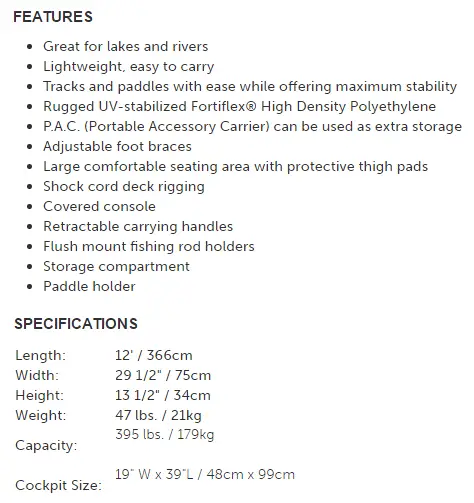 Final Verdict
Overall as Sun Dolphin Aruba, was my first kayak I would say it is a very comfortable and easy to use for a fishing and family kayak. I mainly used this kayak for fishing trips, because of its great features such as the two rod holders. I also liked to go on long kayak trips with my family, because of all the tools and utilities you could store and place. Great for the smallest child, or the largest adult. Very stable and roomy. I highly recommend this kayak for anyone who is looking for a kayak for recreational use, and who is traveling a lot with it. Great family and fishing kayak, and if it breaks I would definitely re-buy it.
Check below other reviews for kayak;


Resources
Were Sorry This Was Not Helpful!
Let us improve this post!
Please Tell Us How We Can Improve This Article.