Sun Dolphin Bali 12 Review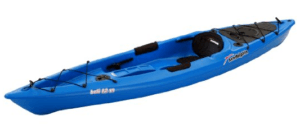 | | | | |
| --- | --- | --- | --- |
| | high performance great features | | |
If your choice of kayak is a sit-on-top, there is a huge number of options. However, if you do your research well, you will undoubtedly find out that most of them tend to be heavy, difficult to maneuver, lacking storage space, and inconvenient altogether. All of these things are major dealbreakers, and could potentially spell disaster to your kayaking trip. I mean, who would like to buy a kayak that he would need three more people to get it from his car to the water? Would you want to go paddling by yourself, only to find out that you can't get all of your necessary gear in your kayak?
I would bet the answer to both of these questions is 'no', and the other aforementioned potential issues are also serious, and this is where the Sun Dolphin Bali SS 12-Foot sit-on-top kayak comes in. It's a great kayak, primarily made for lakes and rivers, and is lightweight and very stable.
You may find the best fishing kayak here.
So Why The Sun Dolphin Bali 12?
As its name suggests, the Bali SS 12 is 12 feet long, and this means that the kayak is made more for maneuverability, than speed, which is a fairly important factor for a number of potential buyers. However, speed isn't in any way neglected, as the 29.5" width takes care of that. The construction is made from rugged, UV-stabilized Fortiflex High Density Polyethylene, which is a material built to resist nature and last. Another huge benefit of the choice of material is the weight – this kayak is fairly lightweight and you will have no issues in taking it to the water, and back to your car, as well as to the storage location in your home.
The most important characteristics for anyone buying a kayak will most likely be the comfort, performance, and price, and the Sun Dolphin Bali SS 12-Foot sit-on-top kayak has all of them mastered. The comfort, which is most likely to be the deciding factor for most people, is taken care of by a very comfortable seating area, which comes with adjustable foot braces to suit people of various sizes, as well as protective thigh pads to give you additional comfort. Well, as much comfort as you can expect from a sit-on-top. Performance is also excellent, with the sturdy construction offering excellent tracking and stability. You can rock it back and forth, and chances are you won't even get close to flipping over. The size is also spot-on, as the length and width are ideal for maintaining decent speed without sacrificing on maneuverability. Speaking of size and dimensions, you will be pleased to know that the Bali SS comes with enough storage for your essentials, such as a watertight area in the bow that safely holds your personal belongings, and the additional P.A.C., or Portable Accessory Carrier, that you can either use as a storage compartment or a tow behind. The last thing on the list is the price, and there is really nothing much to discuss here. If you compare it to other kayaks with the same performance and characteristics, you will find that the price is extremely good for what you get.
There is however a downside to this kayak, but it is no big deal and can be easily solved. Namely, there were a few people who noticed that the scupper holes tend to let in water. This happens when you tend to lean towards one side for a while, and can be easily solved if you sit straight and keep the keel level in the water.
Features Of The Sun Dolphin Bali 12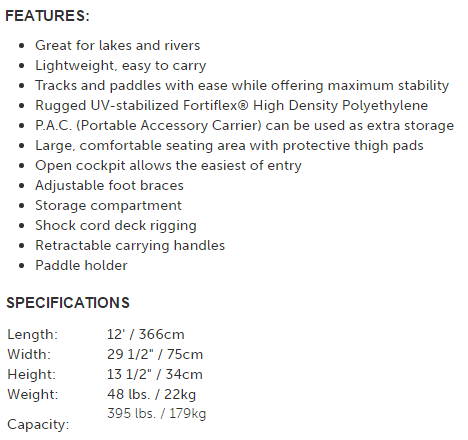 Final Verdict
All things considered, when purchasing a kayak, it is most likely that not everyone demands the same things, and not everyone is happy with the same benefits of a certain model. However, if you've read the Sun Dolphin Bali SS 12-Foot sit-on top kayak review, you will see that this kayak has a specific target market, and it does the job for that market quite good, and at an excellent price. It's lightweight, it comes with enough storage for the occasional fishing trip, and performance is great. What else can you ask for?
See other reviews for kayaks below;
Were Sorry This Was Not Helpful!
Let us improve this post!
Please Tell Us How We Can Improve This Article.
Emotion Stealth Angler Kayak

Emotion Stealth Angler Kayak Review and detailed opinions and feedback on whether this is the best kayak for you.
Product Brand: Emotion Kayaks