Hey everyone, today we're going to review the Aruba 8 ss kayak. It is a one-person kayak. Typically it comes with a few accessories excluding the paddle though some versions may come with one I would say be ready to also order a paddle for this kayak.
So why the Sun Dolphin Bali 8?
The kayak is said to hold up to 190 lbs however if you weight over 160 your going to find that it sits very low for the water and isn't really meant for a heavier individual the ideal weight I would say is 150-160 pounds to get the most out of this kayak.
I'll tell you right now this is not a professional kayak for those pro anglers or those pro white water surfers smashing up on rocks. However, if you're going to the cottage or want a quick fun started kayak to enjoy for a small cruise you can definitely use the sun dolphin Bali 8.

The backrest is very comfortable and the one thing you notice is the whole boat is generally well built and comfortable to maneuver and take your belongings on. This kayak is built for calm waters and moving across rivers and serene lakes. I don't think I would recommend this kayak for ocean kayakers but definitely for recreational kayakers looking for a fun toy.

The kayak is quite stable however because of its smaller size the tracking will need some work but it's not that bad and is something you expect with a model that is this small.

The material is solid, it's not too weak or thin.

The kayak itself weighs around 45 pounds which means it's easy to pick up for a fairly fit male but lower weight or smaller individuals may have some trouble and may need some help getting it up. Its got a nice waterproof container at the back which lets you store different items such as your phone keys or anything else you may have. Its got some nice handles for carrying one on each end. It has bungee cords on the back for strapping things down so you can bring things with you.

The kayak has a very sleek design. What I found out since kayaks usually don't include the paddles, we picked up a great set of aftermarket paddles there are lots of labels out there we recommend you take a look at our paddle guide to help you choose one.
The seat cushion is nice comfortable. However it's not great for really long rides, the lip near the top portion of the seat sits in the bottom of your back and may dig in. There is also a holder next to the seat for beverages or anything you may have underneath the seat.
For shipping, we recommend amazon since it gets it shipped and delivered to your house super fast and sometimes even provide free shipping.
Features Of The Sun Dolphin Bali 8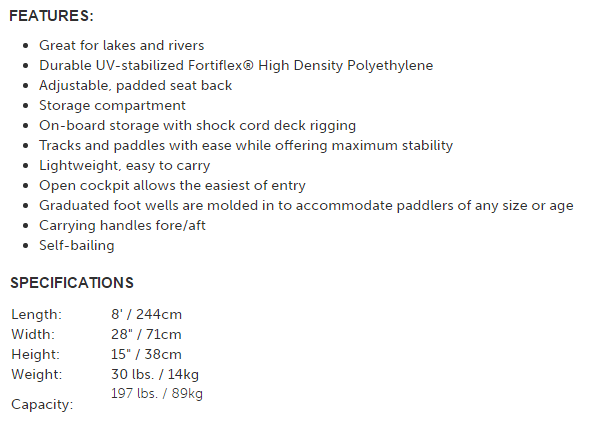 Pros and Cons of the Sun Dolphin Bali 8 Sit On Top Kayak
Pros
Price is right
Good dry storage
Lightweight
Cons
Tracking not that great
Seat uncomfortable for long journeys
weight limit not recommended for over 155 pounds
Final Verdict:
The Sun Dolphin Bali 8 is not meant for the professional kayak but if you have a cottage or just want to go out for a nice relaxing paddle without worrying too much about your kayak specifics this kayak may be for you. The price point is definitely one of the bigger sellers of this kayak, if you have enough to get a more upgraded version i would shell out for a 10 foot or a better kayak however this is a good kayak for entry-level paddlers or for something for the cottage or friends to enjoy on a weekend get-together.
Resources
Were Sorry This Was Not Helpful!
Let us improve this post!
Please Tell Us How We Can Improve This Article.