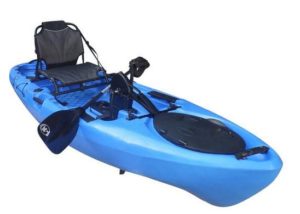 With brands such as Lifetime Kayaks, Advanced Elements, Ocean Kayaks and Old Town making some of the best kayaks on the market, it's a tad difficult for other brands to push out a competitive product. It's even more difficult to do so at an affordable price, which you must do if you want people to buy yours, and not the competition's. With this in mind, we have to give credit where credit's due. In this situation, it's Brooklyn Kayak Company. The aren't the most famous, nor the most high-end kayak manufacturer, but they have excellent models in their lineup.
Want to see more pedal kayaks? Check out our top 10 list pedal kayak guide
We have one of those models up for review today. More specifically, we have a BKC UH PK13 review for you. As its name might imply, we're talking about a 13-foot kayak, one that's equipped with a pedal drive system. A pedal drive system can be an interesting addition to a kayak, as you'll see later on. Aside from that, you get a very versatile kayak, one that you can use in a variety of situations. It will undoubtedly make your experience out on the water more fun, so let's take a look at our review and see whether you should be investing your money in it.
Kicking things off with the outside – how is the build quality and construction?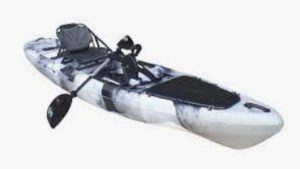 Some price points bring along certain expectations in terms of what you're getting, and the PK13 lives up to the expectations. You have a 13 feet long blow-molded hull, and it was made with stability as its main priority. The 2.7 feet width just adds to that, and it comes in at 80 pounds, which does help to keep it stable on the water, regardless of the weather and water conditions. The material of choice is what you'll find with many other kayaks – high-density polyethylene. It is fairly cheap, yet has excellent resistance to bumps and scratches, unlike other materials, such as carbon fiber, for example. You might be concerned about the weight mentioned earlier, but the carry handles at both the front and the back should help you move the kayak easily.
The seat that you'll get with the PK13 is excellent. It is both lightweight and sturdy, thanks to the aluminum frame it is built around. You get a well padded seat and backrest, so you can comfortably stay inside your kayak for hours without an issue. It is very adjustable, so regardless of your body, chances are you'll fit in the kayak well.
Since it is a part of the build and construction, lets talk about that pedal drive system for a minute. It's something that purists hate, but if you aren't one, you should consider giving it a chance. Especially if you're fishing with your kayak, or if you often go out for longer trips. The gist of it is that you have a pair of pedals that propel the kayak. You could either move faster when you're paddling, provided you can maintain balance, or move slowly and keep your hands free for fishing, or wildlife observation.
With the PK13, the pedals are smooth and responsive. The adjustable foot straps will come in handy, and you also get a hand-operated rudder that lets you change direction with little to no effort. From our experience, this is one of the best pedal drive systems that you'll find stock on a kayak nowadays, and that's within just about any price range. But if you disagree, or just want a bit extra, there's also the possibility of adding a trolling motor to the PK13.
It's made for long distances and fishing, but does it have enough storage for that?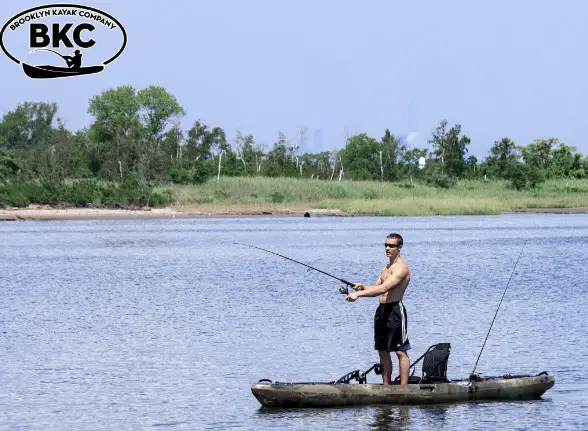 The answer is yes, it absolutely does. Any kayak made for longer distances should have plenty of storage for food and gear, and the PK13 delivers. The largest storage option is the rear cargo area. You have an open space and a bungee cord system. Even though this isn't waterproof, it is large and spacious, and you could put things such as your backpack, or a cooler, or a dry bag with important items. If you don't have a dry bag, there are watertight storage hatches that are built-in into the hull. \They do have dry bag inserts, so you could potentially store important electronics there. And, to wrap things up, there's another open space at the front, which also has a bungee cord system. You can't really fit a big backpack there, but smaller things such as your helmet or jacket could absolutely fit. There's a maximum capacity of 550 lbs., so yes, you can store just about anything on it.
Our next point might not be storage, strictly speaking, but it is related. The kayak is made for long distances, and fishing, and we got the first one out of the way with the pedal drive system and the storage. But for people who fish on their kayak, there are a couple of things you won't find with many of the competitors' products. To begin with, the seat's position is excellent, and you can easily pedal while your hands are free for fishing. The addition of three flush-mounted rod holders lets you keep fishing poles out of your way when you're traveling, and the easy-access storage is a godsent as well. The PK13 is an excellent option for kayak fishing, to be honest.
Wrapping things up
If you've read through our BKC UH PK13 review, you'll see that it isn't a one-size-fits-all solution. Instead, it's catered to a crowd, or two, that know what they want. It is a bit more expensive than some others, but the pedal drive system, all the storage solutions, and the build quality, make it well worth it.
It might not be the best first kayak for you, but if you know what you want, and it's a fishing kayak with a pedal drive system, you should absolutely consider it.
Were Sorry This Was Not Helpful!
Let us improve this post!
Please Tell Us How We Can Improve This Article.