Kayaks have been around for over 4000 years with some of the oldest kayaks from 1577 still on display in museums today. The original kayaks were made for fishing and traveling. The kayak has gone through many evolution's throughout it's time it has gone from a hull being made out of any materials available at the time with animal hides stretched over it all the way to the sophisticated kayaks we see today. Most people from their century would not have imagined all of the advancements including the advancement of the modern pedal kayak. We have spent hours researching the best pedal kayaks available and have compiled this guide which will hopefully help you in making your decision on which is best for you. Without much further ado, let's take a look at some of the best pedal kayaks you can get today.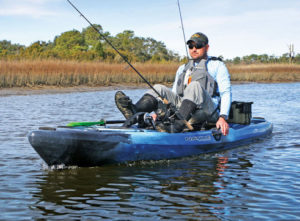 Update: March 1st 2019 - Updated list with new information and kayaks, added more information to our guide, BKC has still been the top pick
Top 5 Best Pedal Kayaks

If your looking for a truly great fishing kayak with everything you need to own the seas with a great price to match this is the one. We have chosen the BKC UH pk13 as our favorite pedal kayak for this year.
This is one of the only pedal kayaks with the capability to reverse. The BKC has a length of 13"  the width is 41.5 inches. The fitted hull weighs 154 pounds or 70 kg and fully rigged you can expect it to be about 178 pounds or 80.1 kg. The capacity is 550 pounds or 250 kg.
The kayak comes installed with a full-length seat sliding track and has a rod area that contains dual power pole mounts. The pedal kayak has split paddle storage and comes with a hand sewn seat. It has fitted anti-slip standing pads, and it's equipped with group tracks. The pedal kayak has a transducer mounting plate and is equipped with a big deck storage area. There is also a floor hatch for extra storage.
2. Native Watercraft Slayer Propel 10

An even smaller platform than the Hobie, the Slayer Propel 10 has all you might need in a 10 foot pedal drive fishing kayak. It comes in at an impressive weight of 62lbs without the drive unit, and it's light enough to move around when you're outside of the water. It's going to amaze you how good it is for hands free fishing! The pedal drive system will let you go forward and reverse, and the armchair comfortable seat will make sure that you don't feel any strain whichever direction you choose to go. As far as fishing specs go, you get a 17" dry bow hatch cover, as well as two flush rod holders, cup holders, and a rear storage well. It truly has everything you need, and a bit more.
The Hobie kayak comes in at 12 foot 1, it measures 33 inches and has a fitted hull of 88 pounds. Its overall weight capacity goes up to 400 pounds. 

The Hobie comes with a large bowel hatch and a detachable clip; it uses the Mirage Drive 180 technology with a mesh side pocket for storage. It has Vantage CT seating and comes with a two-piece paddle. It also comes with the rear cargo area and has an 8 inch rear twist and seal hatch. The kayak has an 8-inch twist and seal made hatch as well.

Hobie are veterans in the field of kayaks, and the Mirage Pro Angler 12 is an amazing representation of what they can do. It's a fishing kayak, and it has all the big-boat features of their PA series, but in a smaller, 12 foot long platform, which you can put in the back of your pickup truck.

The MirageDrive 180 pedal system is extremely efficient, and gives you full power in both directions, as well as high levels of maneuverability. Switching between forward and reverse is a piece of cake. You can stand with confidence, as the platform is extremely stable. And, when you want to take a seat, the Vantage ST elevated seat will make managing things in the boat extremely easy.

The last on the list is another Hobie. However, contrary to the previous models which were made for comfort, primarily, the Revolution 11 is made for speed and maneuverability. Again we have the MirageDrive pedaling system, and the kayak is both lightning fast, and can turn in its own length, which is impressive. At a length of 11', it's easy for transport and storage as well.

You'll still get all the things you need from a large fishing kayak, but at a much smaller weight. Things such as a pretty spacious storage well, molded-in rod holders and multiple hatches are present, and will make your trip enjoyable.
6. Hobie Oasis 14

The 14'6" length is justified by the fact that this pedal kayak is a tandem option. It combines the best of both worlds with the MirageDrive system mentioned above, and enough room for two people, plus all the gear they need. It's spacious, and performance oriented, with both speed and carrying capacity solved, and not an issue at all. You will get four hatches, a fairly generous on-deck area for storage, and molded-in rod holders when you want to go fishing. Style and comfort haven't been left out of the kayak, and it both looks and works great.
Which ones best for me?

When it comes down to control and fishing which many use these pedal kayaks for one of the most important things is stability while standup fishing most people know that the bigger the hull size, the more balance the kayak has because of its area. Going by that concept, the Titan Propel 13.5 pedal kayak has a hull size of 154 pounds and controls and has better stability compared to its competition the Mirage Outback pedal kayak which has a hull size of 88 pounds. However, you should also keep in consideration the type of water that you're going to be fishing from. For instance, in calm waters, a wide flat hole such as the native watercraft pedal kayak will be an ideal choice.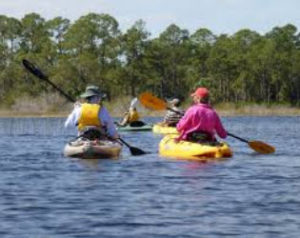 Speed is not a huge concern when it comes to fishing, however, some people prefer quicker kayaks, and in this category, the Native Watercraft pedal kayak comes in first because of its pedal drive system it has a better push forward power compared to its counterpart the Mirage pedal kayak.
Due to it's fitted Mirage pedal system the Mirage pedal kayak has better maneuverability in shallow water compared to the Titan.
Best Brands
When you're choosing a pedal kayak, it's important to know the different brands available. Though there are a number of different pedal kayak types, currently, the two most known names in the marketplace are the Native Watercraft pedal kayaks and the Hobie Mirage pedal kayaks followed by the perception brands.
BKC - Brooklyn Kayak Company
Brooklyn kayak company continues to show its chops in the pedal kayak game by bringing around great models at an affordable price. This is truly the brand for kayaks that will last and stay around for years to come and they provide features to hold up to their competitors.
Hobie kayaks

Hobie is known as one of the most innovative kayak manufacturers in the marketplace. For their pedal kayaks, they have developed something called Mirage Drive technology which gives people the ability to use their legs to move the kayak along. Hobie is known for the different kayaks they produce but also for the different types of devices such as motors, anchors, sails, and for our purposes the Mirage Drive.
Native Watercraft

Native watercraft is also a veteran in the kayaking space. They have many products kayaking and accessories which are not pedal related and have shown through reviews and time that they are one of the top players in the market as well as being on of the best pedal kayak manufacturers around.
Perception Kayaks

Perception has been coming into the market lately with their great offers of the Perception Pilot Pescador series, these pedal kayaks are great boats and come in strong against the competition.
Push pedals versus rotational

When you're choosing a pedal kayak, you learn that there are two types of pedals that are both equally easy to use. These are the rotational pedals and the push pedals. They both demand the use of your lower body but call on different lower body motions.
The push pedal
Kayaks that are propelled by the push pedal move forward by the act of you pushing your feet forward. The most significant issue here is the lack of momentum when you stop pushing since when you stop pushing the kayak comes to a complete stop you need to exert a somewhat more significant amount of force then you would with rotational paddles.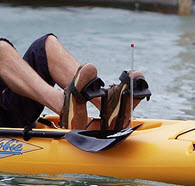 Rotational kayak paddle
With rotational kayak pedals, one moves the kayak as if you are in a walking motion. This calls for engagement of the legs entirely in a continuous motion created by the rotational paddle which helps in building momentum even if you decide to stop pedaling. When you finish pedaling the kayak will still maintain a particular speed and if or when you choose not to continue the kayak will continue gliding for a short amount of time. The most prominent downside of this is although you get increased speed and efficiency you do however have to sacrifice space.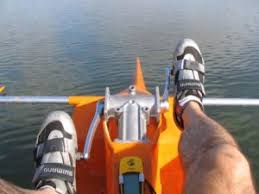 Launching and beaching
The pedal kayak or the paddle kayak are similar when it comes to launching and beaching. However, there are some subtle differences as you might imagine with the extra gear coming out from the bottom of the pedal kayak.
One of the great things about the new models of pedal kayaks is that the pedal system can be lifted out of the kayak while you're transporting it to avoid being banged up on some flat regions. It can then be adjusted and put in when you're ready to launch, and you can quickly get it into the water without scraping the bottom of the surface.
How do I choose the size?

Many new, and even some experienced kayakers, have difficulty deciding on a kayak size. They will often even try a few different ones, and make the mistake of settling for one they think is right, without even considering the essentials. Choosing kayak size should be done carefully, and while keeping a few things in mind.
To begin with, a question that answers "how to choose a good size" is actually "what will I be using the kayak for?". For example, a 20 foot kayak isn't really uncommon when you're talking about an open water ocean kayak. However, if you were to try whitewater kayaking with a kayak that long, it won't end well. Therefore, you need to consider what you will be using the kayak for. With pedal kayaks, it actually isn't that difficult. If you were to get a regular kayak, there are a lot more options.
When you're getting a pedal kayak, the first consideration is whether you'll want to go fishing with it. Pedal powered kayaks are often used for fishing, as they allow you to move slowly and still keep your hands free. If this is the case, it isn't the length you should be looking at – it's the beam. The beam is basically how wide your kayak is. For fishing, you'll want a wide kayak. A wide kayak gives you a lot more stability, and is much more difficult to flip over.
The compromise, however, is that a wide beam has more surface in contact with the water, and is thus slower than a narrower one. If you aren't really into fishing, consider your level of experience. If you're still a beginner, and are learning to paddle, you still want a wider beam. If you already know what you're doing, though, feel free to get a narrower one, and be able to move much faster.
Next, we have the length. Length of kayaks is all about maneuverability. A shorter hull will turn more quickly, but a longer one cruises more efficiently. And there's also the fact that a longer kayak will give you more storage space, too. This is, again, a personal preference.

You can't get both, you will have to compromise on one or the other. And no, you won't feel a huge difference in length when it's a few inches more or less. But anything over two feet is something you will definitely use. Aside from personal preference, there's also the water type you'll be paddling on. As we mentioned earlier, for an ocean kayak, you could go with a 11 to 13 foot length. However, for a whitewater kayak, anything over 9 feet is difficult to maneuver. And one last factor to consider is your weight. Yes, your weight does have an impact, as a heavier person will require a longer boat than a lighter one.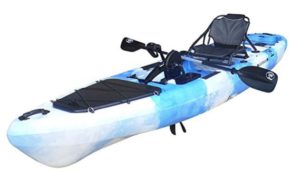 A general guideline if your just looking for comfort without storage space in mind is under 5'11 10-11 foot kayak over 5'11 11+, if your much taller we recommend the 13 foot kayak since it can accommodate much more weight and has more space for your legs. However anyone can enjoy a 13 foot kayak especially if their looking for that additional storage for fishing then the 13 foot actually makes more sense even if you are smaller in stature.
What material do you go for?

Kayaks aren't all made of one material. The cheapest, and the most common one, is plastic, but there are also composites, such as carbon fiber, which are popular in certain circles. Plastic comes in two types, either polyethylene, or ABS. Polyethylene is cheap and resistant to abrasion. Most of the pedal kayaks available nowadays are made of it, as it doesn't cost too much, yet can last quite a while. However, this is by far the heaviest option of the bunch, and UV rays from the sun severely degrade it after an extended period out in the sun. Therefore, if you do opt for this kind of material, make sure you store it under a tarp, or in a covered location. 
Next, we have ABS plastic. It's a bit lighter than polyethylene, which also makes it a bit more expensive. You get more or less the same durability, but the benefit is more UV resistance. Due to the fact that the top and bottom are formed separately, then bonded together, ABS usually comes in a two-tone design.
Once you move past plastic, we have fiberglass and composites, which are usually fiberglass and carbon-fiber. Composites come with a hefty increase in price. However, you're also getting quite a bit in terms of performance, too. The kayaks are usually very lightweight and easily maneuverable, and UV rays can't do much damage to them. There is a huge downside, though, aside from the price. A composite kayak is very easy to damage. Rocks, shallow water, dropping the boat when landing or unloading, these are all things that can easily damage the kayak, oftentimes permanently and beyond repair. This is the kind of kayak you get if you really know what you're doing.
When it comes to pedal powered kayaks, the go-to solution would be to opt for a plastic kayak. Most of them are plastic, anyways. A composite kayak is difficult to mold, and the pedal power system would add too much stress, weakening the material. Plastic, whether it's polyethylene, or ABS, would be your safer bet, and it would most likely last a bit longer.
Advantages of a pedal versus a paddle kayak

Compared to the paddle kayak the pedal-powered kayak has several advantages such as increased speed, and superior back support fitted seats. One of the best benefits is the fact that you can have a full body workout while in the kayak which includes your legs rather than just your upper body this will make you healthier overall. Another benefit is your ability to cover more distance with less fatigue since the leg muscles are much stronger than your upper body muscles you can probably pedal farther than you would be able to paddle and in combination with a paddle you can cover double the distance which means being able to get to those faraway fishing holes.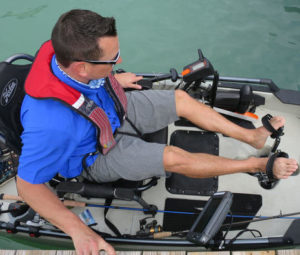 However, all these positives do not mean that pedal kayaks do not have drawbacks. Some of the disadvantages include reduced storage space, not great for shallow waters and high maintenance requirements. A lot of times the pedal kayaks come with extended warranties in the case that anything happens but there are many cases of constant issues with the pedal system, and you have to look for spare parts or continuously ordered new parts as your pedal system becomes damaged. A lot of these maintenance concerns can be avoided by making sure you are very careful when you're launching the kayak and also making sure that you're very careful when you go through shallow waters. The next issue is the fact that a lot of these pedal kayaks do tend to weigh more than their counterparts because of the extra parts.
What kind of paddles do you need?

Even though pedal powered kayaks are just that, pedal powered, you still need a paddle. A paddle is a great backup incase your pedal system breaks down and if you want to rest your legs, or don't want to use the pedals, the paddle is your solution. It is the primary way of propelling the kayak, after all. However, not all paddles are made equal, and there are factors that can affect your experience. Let's take a look at some of them. First of all, a paddle should be lightweight. This ensures you can easily maneuver it and it won't put too much stress on your arms. It should also have both a length and a width that are suitable to the paddler.
A paddle is held in both hands, and the dimensions should fit you well. There are two questions you should answer before buying, do you want a feathered paddle, and do you want a one or two-piece paddle.
Feathering can actually be a useful thing, but it's personal preference. With a feathered paddle, the blades of the paddle lie on different planes. Yes, this does require that you slightly rotate the paddle with each stroke. However, the blade that is not in the water slices through the air, and there's much less wind resistance. As we said, this is personal preference, as some might prefer not having to twist the paddle every time to the reduced air resistance.
Next, you have the choice between a single piece paddle, and a two-piece one. With a two-piece, the advantage is that it can be broken down, thus making it much smaller, and easier to transport. You can also adjust whether you want feathering or not on the fly. Most two-piece paddles come with two or three positions, and you can choose what works best for you. The downside is that a two-piece paddle is softer than a single-piece one. You don't have to rinse a single-piece paddle after using it in salt water, and they won't lose any strength over time at the joint, well, because they don't have a joint. Which type of paddle you opt for depends entirely on what you prefer, and which compromises you're ready to make.
Oh, and it's also worth considering paddle leashes. Everyone, from new paddlers, to the most experienced ones, has dropped a paddle or two. One rogue wave is all it takes, and you're stuck in your kayak until you find a way to recover it. A paddle leash will connect the paddle to your kayak, making sure that even if it does fall, you have a fast and sure way of recovering it.
Buying online or at the store?

When your considering buying a kayak you don't always think of the online option however over the years there have been huge advancements in eCommerce and the kayak market has seen massive growth.

These days buying online is one of the best ways to get your kayak, with new large box shipping methods getting a kayak delivered to you is incredibly easy.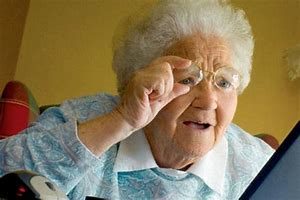 Many shops are available we recommend you make sure your shop has customer service down before you order and has a acceptable time of shipping. Other than that there is very few cases of damaged shipments and kayaks usually arrive on time, packed nicely, and ready for use. This also saves you the effort of taking a trip with the trailer.
What else will you need?

Getting a pedal powered kayak is a great thing. You'll be able to enjoy the benefits of kayaking, made much easier by the pedal system, and you can make your fishing experience much more pleasurable. However, not all is in the kayak, as you'll want some extra gear to go along with it. The essentials are a life jacket, and maybe a dry bag or two.

A life jacket can be literally a life saver sometimes, and a dry bag will let you store your belongings and ensure they remain dry and secure when you're out on the water. For kayak fishing, you might need some accessories and storage containers to hold all of your gear. Regardless of what you're getting your kayak for, even though it's a fun experience by itself, it can be much better if you add a few things to it.
In conclusion

A pedal kayak is a delightful way to enjoy the water it gives you the comfort of having a hands-free moment to do things such as fishing. As a rule, you should always be informed of different things when going on your kayaking trips like the weather, your trip distance, and the surrounding environment to keep safe. We hope this guide has helped you in getting a bit of a better overview of what a pedal kayak is and how to make the best decision on ordering one, happy kayaking!
All in all, if you want to make a change, or simply switch things up and try a pedal drive kayak instead of a regular one, the four above are the absolute best in their class. You won't regret getting any of them, and you'll be able to enjoy, regardless of whether you're going out for a relaxed ride, or for an extended fishing session that'll last a few hours.

If your looking for a truly great fishing kayak with everything you need to own the seas with a great price to match this is the one. We have chosen the BKC UH pk13 as our favorite pedal kayak for this year.
This is one of the only pedal kayaks with the capability to reverse. The BKC has a length of 13"  the width is 41.5 inches. The fitted hull weighs 154 pounds or 70 kg and fully rigged you can expect it to be about 178 pounds or 80.1 kg. The capacity is 550 pounds or 250 kg.
The kayak comes installed with a full-length seat sliding track and has a rod area that contains dual power pole mounts. The pedal kayak has split paddle storage and comes with a hand sewn seat. It has fitted anti-slip standing pads, and it's equipped with group tracks. The pedal kayak has a transducer mounting plate and is equipped with a big deck storage area. There is also a floor hatch for extra storage.