Hobie Mirage Sport Kayak Review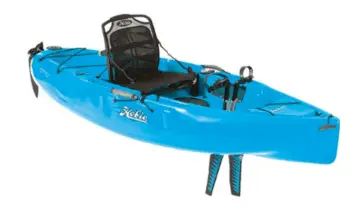 | | | | |
| --- | --- | --- | --- |
| | high performance great kayak | | |
The Hobie kayak is short, lightweight, 9 foot 7 inch kayak that works great as an all-around recreational or fishing kayak.
The first major innovation of the Mirage Sport is its movable seat. Designed to accommodate kayakers of varying heights, the seat can be moved forward or back to guarantee the perfect fit for both short and tall kayakers.
Like all new Hobie kayaks, the Mirage Sport is a pedaling kayak that makes use of Hobie's MirageDrive System. MirageDrive is a pedal system that utilizes two underwater fins to power the boat. MirageDrive is a fisherman's dream come true, offering true hands-free operation so you can concentrate on catching fish without the hassle of a paddle. By using pedals instead of paddle, you can cover more water at greater speeds with less effort while you are casting, reeling, taking photographs, or simply enjoying a sip of your favorite beverage.
Deck features of the Mirage Sport include a 6" twist and seal round hatch at the bow, a sail accessory mount (or use with optional sail kit), Hobie MirageDrive, a midship 8" twist and seal round hatch, a rudder control handle, 4 molded-in utility trays, 2 built in cup holders, 2 molded-in rod holders, a large rear cargo area.
The Hobie Mirage Sport is a great choice for both fisherman recreational kayak users looking for compact, lightweight pedaling kayak. It measures less than 10 feet in length, weighs only 48 pounds, and offers a weight capacity of 225 pounds. Easy to carry and to transport, the Mirage Sport is a great choice for solo kayakers who often need to carry the kayak, load, and tranport the boat without assistance from a partner or friend.
Before you proceed, here are options for the best fishing kayak for you!
So Why The Hobie Mirage Sport Kayak?
Most people's legs are so much stronger than their arms and shoulders this gives the kayak the extra torque it requires to go faster.
The Mirage sport is very sure it's however don't let yourself be fooled it's still a great fishing model. It's extremely stable, just over 9 foot and 225 pound capacity so it's really a popular boat with kids and and lighter weight people however I have seen some people catch 50 pound fish on this thing out in the ocean so anything is possible.
When they make a smaller boat they usually look at this seating area and make the auctions more compact for a small user but the big thing on the Hobie sport is all the redesigns used to have a wider bowel like the outback but they made it more pointed so it cuts through the water better and there is a lot less false land they built a big hatch on it and redesigned the cockpit area to have Matt pockets and utility trays and all kinds of extra features it's a great little boat.
A boat like this retails for just over $1700.
There are very few changes in the new model just a few extra features on the seat and on the Mirage drive to keep water out and make it easier.
The full kayak length is 9'7" long. 29 ½ inches wide it's 45 pounds. The weight capacity is 225 pounds. It's a really light kayak it's one of the lightest Hobie makes. It comes with the Mirage which lets you paddle or paddle dependent on what you wants.
It comes with the writers are standard, a two-piece paddle, the seat which is very comfortable, to storage ports in the back. The front storage port is 6 inches wide and latch is open and close and there is another storage for right below the seat which is 8 inches wide and it cracks open and has a little tackle box inside which is really close to you and makes it easy to use for whatever you want to use for which type of fish you will be looking for that day.
The steering handle is right next to the seed on the right-hand side and the pull lever is on the left to put the writer down or the rudder out.
One other great feature about this kayak is the extra bungee's that let you lock your kayak paddle next to you and easily take it out or put it back in dependent on what you want to be doing that they is also advisable to always keep your kayak paddle with you in case the hobie drive system stops working.
Features Of The Hobie Mirage Sport Kayak
 
Pros and Cons of the Hobie Mirage Sport Kayak
Pros
very light weights
perfect for smaller individuals and children
extremely fast due to its narrow hall shape
easy to pull the Mirage system out of the water if you're trying to get it into a launch point
very stable
can get through larger waves such as 1.5 ' waves with no trouble
as a great sale option to modify your kayak and make it faster
there is some comment saying that the seat gives amazing lower back support and some comments about the seat not giving adequate support you may have to purchase an aftermarket seat
Cons
the cord that helps pull the rudder can get damaged with age you may have to replace it
because of its smaller size there is not as much space for storage and different upgrades
high price tag
be careful with scraping your fins on shallow water this can cause a break so either carry spare parts or a paddle
lack of handles on both sides
Final Verdict
The Hobie Mirage sport is a great kayak if you're trying to get into battle kayaks or just want a nice upgraded model. The kayak is a little higher in price which may keep a lot of users from actually purchasing it however the kayak is definitely worth the additional price. The kayak itself is made for smaller individuals so if you are a 200 pounds or over individual this may not be the suitable kayak for you and it might be a better idea for you to go up in size. The kayak provides the pedal system with a lightning fast boat that still maintains all of the Hobie features we definitely recommend this if you have the money to spare.
We've review a few more kayaks. Check them below;
Were Sorry This Was Not Helpful!
Let us improve this post!
Please Tell Us How We Can Improve This Article.