Sun Dolphin 12 Sit On Top Kayak Review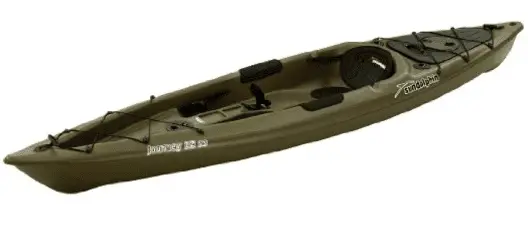 | | | | |
| --- | --- | --- | --- |
| | high performance great features | | |
Today were going to do a review on my fishing kayak I've had thisfor almost a year its a Sun Dolphin Journey 12 foot sit on top kayak I bought it on amazon for 450. If you're into modding out a kayak you might want to just spend the extra $500 more to get a better kayak but for what it is I like this one. it's the perfect kayak for a beginner or someone that's somewhat new to fishing and for the budget there are few other options that can beat it.
Here are the best fishing kayak in the market this year.
So Why The Sun Dolphin 12 Sit On Top Kayak?
They say it holds about 395 pounds and it's kind of a hybrid but it's not a sit on top since there's no scuppers but the sidewalls are pretty high and here you would stay pretty dry while you're inside so on a lake or pond fishing or maybe even light River you would be fine. I personally use it on a river and fish a lot on mountain lakes and on River areas.
It comes with a little dry compartment for your phone or wallet I usually don't really use it since it's kind of hard to close it off.
There is a place to put your feet, Rod holders in the center of the kayak and a couple more Rod holders that are located behind the seats. These Rod holders can have extra PVC pipe in them for future mods.
I have commonly seen a lot of people buying this kayak to continue building on it and adding a lot of modifications.
It's got about a half-inch of a dry hatch near the front of the kayak. It simply twists off and gives you a little bit of space which is a solid compartment for storing different items you don't want to get dry like your cell phone or wallet. A lot of people add a mod to cut away to give access to the hull to add a fish finder or a compass.
There is an area for the center mount rod holder that comes with a Scotty type rod holder. The flush mount rod holders in the back are well builds in position. It's got some leg pads next to the sides.
A good thing I like about the seat is that I have back problems and I really need back support and when you sit deep within the seat you can feel that the quality is good you can sit on it and the support for your back is very good.
There are some cupholders in front of the seat where you could sit different things snacks or drinks.
There is another little container at the back for storage. It's flush mount so you could definitely put a crate on top of it if you want to but we don't see a need to do this unless you're packing out a lot of stuff it can already hold three fishing holes. The storage pulls right out to give you more space. It's not that thick so you can fit about a days worth of storage there if you wanted you could also probably tie something to the handle to allow for easy towing behind if you would like. The recess when you remove the dry storage is not big enough for a crate but you can definitely create some mods or put in a cooler bag or maybe a tackle bag or something improvised.
For my purposes I'm only out on the lake for a couple of hours and I don't need to carry a huge amounts of storage so it's perfect for me.
It's only got two handles which are slight drawback. It would be nice if it had some side handles. The drain plug is at the front and when you flip it over to the bottom of the hull looks well-made with a design that looks to help with tracking. The kayak is known as tracking very well.
One thing to keep in mind about this kayak is you cannot stand up some users have tried it in different areas and fallen out trying to stand up since it's very unstable . If you want a kayak for standing up you should definitely look for a different model that is created strictly for that purpose.
Features Of The Sun Dolphin 12 Sit On Top Kayak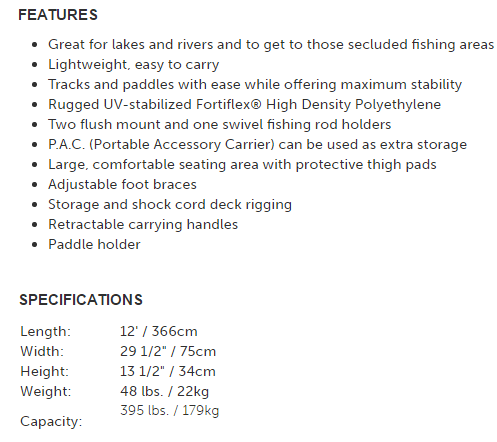 Pros and Cons of the Sun Dolphin 12 Sit On Top Kayak
Pros
overall good product for the price range
tracks very well
decent amount of storage space
great and comfortable seat
Cons
very unstable for standing on top
lack of handles on the sides
Final Verdict
The sun dolphin journey 12 SS is a great kayak for anyone starting out with a smaller budget. This kayak might not be as well-made as some of the bigger brands like the stealth however for the price it's almost unbeatable and will definitely offer you a great fishing experience. We recommend this kayak for the beginner or the buyer on a budget it can also be used for the advanced user if you want to expand on the kayak and add a bunch of different mods to make it your own.
Check out other kayak reviews below;
Were Sorry This Was Not Helpful!
Let us improve this post!
Please Tell Us How We Can Improve This Article.