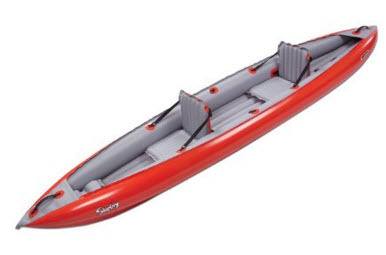 | | | | |
| --- | --- | --- | --- |
| | high performance great features | | |
The Innova Sunny is based on the design of the popular Helios models but is slightly longer with an open cockpit. It can be paddled as a single or two person, tandem kayak as the seats and tracking fin are removable. The seats also have a nifty feature that I personally like; the seats are supported by straps attached to D-rings. This makes for a more comfortable paddling experience.
The Sunny receives rave reviews from owners because it is light weight, durable, quick to inflate (under ten minutes) and fast. It is roomy, has a good payload and tracks easily. Its hard to find something negative to say about this inflatable kayak.
You may check here the best inflatable kayak and here are the best tandem kayak too.


Specifications of the INNOVA Sunny Kayak
• Weighs 33 pounds
• Measures 12' 7'' long and 31'' wide
• Has three main inflation chambers (3 PSI) with military-style plunger valves
• 16'' spray deck at the bow and stern
• Total load capacity of 396 pounds
• Tracking fin
Advantages of the Sunny
• Fast, comfortable, and tracks straight
• Comes with a valve adaptor
• Spray railing (about 1'') around the cockpit
• Adequate storage space
• Adequate leg room for solo or tandem
• The smooth surface of the Nitrilon allows for easy wiping/cleaning
• Comes with a dry bag backpack
• Dries quickly
• Many D-rings throughout the cabin
• Seats are reversible to accommodate solo or tandem paddling
• Great for fishing, camping, and recreational touring
Disadvantages
• Does not come with a pump
• Some of the valves on the kayak might not fit certain pumps
• The smooth Nitrilon surface can scratch easily
• A pump with a pressure gauge is best to ensure that the manufacturer's recommended 3 PSI is attained
• The kayak can take on a lot of water in choppy condition.
Overall the INNOVA Sunny is an excellent inflatable kayak that will provide your and your family with years of fun on the water.
Final Recommendation
The sunny is actually a double slash single which gives it a huge edge. The sunny is one of innovas most popular boats and the reason is because of its versatility, it can be setup to be a double twelve and a half feet long and it can fold into a backpack. That is small enough to be legal carry-on luggage and we have flown to hawai with the double in the overhead bin so you have tremendous travel flexibility and you also have the convertibility from a double arrangement to the single at a whim. It can be easily converted to single kayak by untying the forward seat turning it around the other way, picking up the other seat and replacing it with adjustable footrests.
The kayak is quite a fast kayak in compared to other kayak standards it was reviewed by sea kayak and magazine, the reviewer saw that it was a 4 knot boat 4 ½ miles per hour, they insisted on testing the boat to determine its speed and in fact saw that it is 3 ½ to 4 knot boat spring to 4 and ¾. So you are not really giving up much from a rigid kayak in regards to the flexibility of travel, ease of setup and a boat that is actually quite fast. A few of the other features includes that the boat has a footrest, adjustable inflatable bottom seats. We definitely recommend this kayak to anyone looking for portability and a great ride.
Check below some of the inflatable kayak reviews;
Were Sorry This Was Not Helpful!
Let us improve this post!
Please Tell Us How We Can Improve This Article.