Even though the kayak is a self-propelled craft and can navigate the elements efficiently. We can still see there are times, especially when we find ourselves on an expedition in a remote place where navigation and meteorology may be the best resource we have.
It is therefore important for us to have a basic understanding of meteorology in order to be able to go into unpredictable situations and know how to avoid them.
The following guide will take you on crash course of kayaking meteorology and will hopefully give you the necessary tools to succeed.
There are three atmospheric variables that we usually see.
Temperature, Pressure. Humidity
Changes to these variables are what usually tells us what conditions are available for kayaking. Through practical terms, the temperature and pressure are readily available using a bracelet or a GPS but for our purposes we can determine the measurement of moisture from our predictions.
In general, a drop in barometric pressure *2-3 mbar in 3 hours will indicate that bad weather is coming. If the drop is very rapid and pronounced *5 or more millibars in 3 hours . That will mean that a weather phenomenon is fast approaching and the temperature will tell us whether the front is cold or warm, which will usually determine rainfall.
Similarly, a barometric rise indicates improvements in the weather. If the temperature is low. We will have polar winds. Whereas if it goes up. We will have hot and dry weather.
With respect to humidity. It is interesting to know the dew point since when the temperature falls below this the humidity of the environment begins to condense or mist or fog.
| | | |
| --- | --- | --- |
| Pressure | Temperature | Prognosis |
| Dropping | Dropping | Abundance of rain |
| Dropping | Stable | Probable rain |
| Dropping | Rising | Weather may vary |
| Stable | Dropping | Probable rain |
| Stable | Stable | Weather may vary |
| Stable | Rising | Good temperature |
| Rising | Dropping | Polar winds |
| Rising | Stable | Good temperature |
| Rising | Rising | Hot and dry temperature |
If you're in the market to buy something to do this we recommend the following two products for measurements (if you don't need a GPS included).
Kestrel 4500 Weather & Environmental Meter
Kestrel 2500 Pocket Weather Meter
Clouds
Are another indicator of the state of the current weather and weather to come. Cirrus, stratus and cumulonimbus clouds are classified by their shape and can be combined between them at different heights to form zero Cumulus alto, stratus cumulus clouds.
Each cloud type and succession of clouds indicate with some precision what type of weather lies ahead. It is very useful to learn to recognize them and make your own projections and observations.
We can red flag for bad weather when the cirrus uncinus cloud is approaching that bad weather will be present within 48 hours, Nimbostarus and cumulonimbus may lead to thunderstorms. The prefix and suffix Nimbus refers to a cloud that produces precipitation also a large solar or lunar Halo reflection of crystal or ice indicates that snow or rain may be ahead.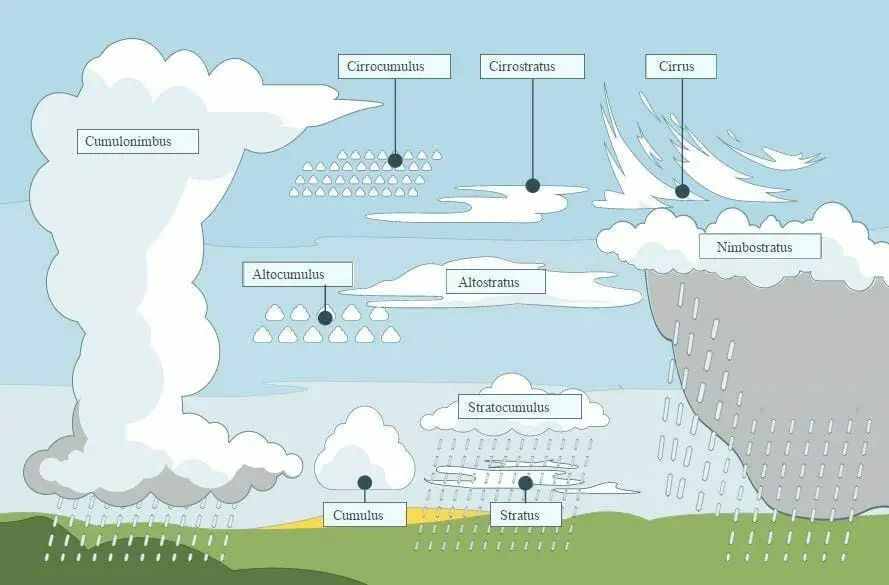 The combination of different signals are what can give you greater certainty in predicting the weather to come. It is usually not enough to identify a single indicator to make good predictions. You must use varied knowledge and various signals to determine what weather lies in store.
Wind
The sun comes out everywhere, but it does not heat all the parts of the world in the same way. Either by the inclination of the earth's access, causing different weather or because the different surfaces absorb heat differently. The result is that the atmosphere is in constant motion. The air is heated and rises, leaving an empty space that has to be occupied and air masses begin to circulate generating and transporting moisture. These are the dynamics essential for life on earth and for sailing sports.
For us kayaker's it is an inevitable obstacle on our trips and we should put as much attention to it as possible.
These pressure differences in the atmosphere produce a displacement of high air pressure towards low pressure that coupled with other factors such as gravity, Coriolis forces, centrifugal force and friction end up generating changes that will determine our trip through water. The wind is determined by the intensity or the force that blows and the direction from which it comes.
We normally find it shown in knots * 1knot = 1 mile marina/h = 1.85km /h and the direction is based on the direction of the rise of the winds *N, NE, E, S, SW, W, NW.
Beaufort Scale
To simplify things, Sir Francis Beaufort, an English sailor developed an empirical scale based on the effects of the wind on sails which was later assimilated to the effect of it on the sea and associated with the intensity of the wind measured by a anemometer. And so was born the Beaufort scale and below we see it associated with Douglas scale for effect on the sea.
In short,
0-3, go ahead and row happy,
3 to 4. The fun starts,
5. The experienced have fun,
6 you should be experienced to try this.
As we have been able to see, the waves are produced by the wind. How much  time and strength the wind blows on the waves without obstacles over develops the wave. In a Lake, the waves will be larger on the shore where the wind blows. In the sea its complicated, as there may be a sea of wind (caused by wind waves) and a sea of background (waves that travel from distant storms), and not necessarily in the same direction.
Given that kayaks usually sail close to the ground, we must also take into consideration the effect of geography on the wind, in order to find the most protected shores or avoid wind corridors.
Another aspect to consider is that the wind on the shore is always less than offshore, since terrestrial obstacles affect the wind both Windward (wind up) and Leeward(down wind) and depending on the height of the obstacle.
In the inland lakes winds may differ from sea winds. There are phenomena of local winds, which are caused by thermal differences rather than by isobaric gradients. The most common is the virazon or sea breeze blowing from the sea inland (wind W) once the Sun begins to warm and blowing during the night towards the coast (wind E).
They are also common in mountainous areas. The winds coming down the slopes of the mountains, producing turbulence and reaching dangerous levels in the areas of glaciers where they are known as williwaws and can reach 120 knots.
Wind is the main atmospheric element that affects us.
10 knots, will not have any effect on our ride,
while higher then 20 already causes issues for tipping kayaks.
and the 30s virtually prevents the advance of a kayak. 
Take this information with special consideration for going(or not) to go rowing.
The climate on the pacific as an example is determined mainly by two major geographic features: the Pacific Ocean and any mountainous areas. Because mountains are so narrow, some countries on the pacific essentially have a marine climate, but the different geographic and oceanographic characteristics make them different throughout the area.  We have a wide variety of climatic zones, with rainfall ranging from 0.0 mm in the desert and 8,000 mm in more southern areas of the Americas.
Interactions are clearly evident when examining the synoptic chart: Remember that low pressure centers suck air masses producing a movement (wind) that rotates clockwise toward the Center, while the center with high-pressure expels air that rotates counter clockwise, away from the Center.
Synoptic Chart Reading
The Synoptic chart shows high pressure centers (marked with an H) and low pressure centers (marked with a L or l). Filler lines represent places that have the same atmospheric pressure, so the closer these lines, the greater the winds, moving circularly from or toward the Center and usually at an angle of 25 ° – 35 ° of the Isobar. Low pressure centers bring fronts of bad weather that normally move w to E.
Now, if we prefer to leave this in the hands of professionals, we can be guided to the interpretation of its lines.
Navy Notices
The Meteorological Department of the Navy, issues a notice every 12 hours or a weather prognosis. This can be obtained from the navy website, via phone by calling any port authority, or via band radio marina, with any radio station. It is important (and mandatory) on long expeditions to have a band radio and a list of the stations and bases along your route.
What you get as an example could be as follows.
REPORT WEATHER MARITIME TO LA JOLLA SAN DIEGO.
VALID FROM 070800 UNTIL 072000 LOCAL TIME.
SITUATION SINOPTIC:
UNSTABLE TO MARGIN ANTICYCLONIC.
FORECAST:
PARTIAL TO CLEARED, VIS 10 KMS, VTO S/SW 10/20 NDS, SEA LEVEL ACURLY AT BAY WITH BEACHCOMBER IN COASTLINE OPEN TO THESOUTHWEST, COARSE TO VERY COARSE (3.5/5.0 METERS) AS THE SOUTHWEST IN AREA OCEAN SWELL.
PROBABLE MAXIMUM TEMPERATURE: 14° C
UV INDEX: 1-2 UNDER (DMC SUPPLY).
APPRECIATION VALID FROM 072000 UNTIL 080800 LOCAL TIME.
MARGIN ANTICYCLONIC, VTO S/SW 6/12 NDS.
The Data first explains to us which area the report pertains to. In this case La Jolla San Diego. It may also be given in areas that we need to identify on the map, since they make references to ports, lighthouses and Islands. Then it indicates the validity of the forecast period, indicating the date and the local time (070800 = 7th, 08:00 hours); and then the general synoptic situation in the area, that is, the presence of frontal systems and pressure centers.
Then it reports the outcome where we can identify:
PARTIAL TO CLEARED. Cloudiness measured in eighths. Clear is up to 1/8 of the sky with clouds, partial is 2/8 to 4/8, cloudy is from 5/8 to 7/8 and covered is the whole sky with clouds.
VIS 10 KMS, VTO S/SW 10/20 NDS ROLANDO SECTOR South NW/N 8/16NDS, visibility 10 kilometers and 10 to 20 knots of the S/SW.
SEA LEVEL A CURLY AT BAY WITH BEACHCOMBER IN COASTLINE OPEN TO THE SOUTHWEST, COARSE TO VERY COARSE (3.5/5.0 M) AS THE SOUTHWEST IN AREA OCEAN SWELL. State of the sea
If you are looking to apply this information on t
op of the temperature recommendations we recommend you take a look at purchasing a GPS. A possible recommendation is the Garmin 72H Waterproof Handheld GPS with High-Sensitivity.
Were Sorry This Was Not Helpful!
Let us improve this post!
Please Tell Us How We Can Improve This Article.