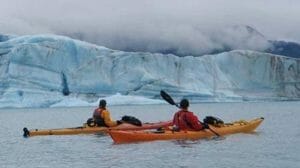 Many kayakers when starting off have preferred to use traditional clothing – first layer, some trousers or neoprene shorts and a jacket to paddle.
When there was a larger chance of getting soaked or seeing high waves. We chose to use a sleeveless kayak wetsuit.
This would go very well for the spring and summer in central areas of the country. However, when the weather started to cool or the latitude would increase it would not be great for swimming in the cold waters of the ocean.
We also tried the combination of using a waterproof jacket and dry pants which would only work when you didn't have to swim because regardless of all the effort you make to put on the clothing securely water would always find a way to seep inside, rendering them both utterly useless.
Finally, we decided to invest in a kayak drysuit. They are not cheap. The cost is almost half of the kayak, but it's worth every dollar. The temperature of the water would stay the same and plunges in the cold would change into manageable swims.
On expeditions. There is no worry in my head when the rain comes I will get wet, and I feel more confident in the morning to go out. Gone are the days of the cold, wet, miserable and probably hypothermic days.
Top 5 Kayak Drysuits
| | | | | |
| --- | --- | --- | --- | --- |
| Image | Name | Cost | Pros | Cons |
|   | Recommended | $$ | Includes dried bag and fleece keeps you very dry | A little bit of moisture may come through the zipper |
|   | Budget | $$ | Fit snugly and keeps you completely dry | Some sizes may be a bit loose so make sure you know your measurements |
|   | Runner Up | $$$ | Very warm suits and very buoyant has very strong materials | A little loose around the middle sometimes dependent on your waistline |
|   | Also Good | $$$$ | Very sturdy suit keeps you warm and does not restrict any movement | Some tightness around the neck |
|   | Stohlquist Ez Drysuit | $$$$ | Very snug fit however some have recorded that it was a little bit baggy | A little tight around the neck which may take some time to get used to |
 
Kayak Drysuit
Kayak Wetsuit
 
Pros

These are much easier to get in and out of in comparison to the wetsuit

These are designed to stay completely dry while you're inside which means you're not going to need to clean off after a day of kayaking since you have not gotten wet, the only risk is if you get a little too hot inside you may sweat a bit

This is perfect for kayaking in extreme cold it is definitely your best bet and your ability to wear clothing under neath for additional warmth is a bonus

A wetsuit can have added buoyancy more so than that of a dry suit

There are various types and styles which allow you to choose how much of your body you want to cover this is helpful dependent on the weather

Wetsuits are traditionally tighter on the body and allow you to move freely with less excess material

Meant to be splashed with water to prevent cold

Cons

If your suit doesn't have a fly going to the bathroom is a challenge

There are two types of dry suits ones that have breathable fabric and non-breathable fabric depending on which one you use you may find it may get sweaty inside and though you'll stay dry from the water you may get wet from your own sweat

Dry suits are not meant to insulate you from there called their primary purpose is to keep you dry and the clothing underneath is what does the rest of the work for the heating

Because of the fact that they are thinner than a dry suit when you are going into very low temperatures like temperatures below 45°F not even the thickest wetsuit will be sufficient enough to keep you warm

A lot of times it is hard to get in and out of a wetsuit especially when they become wet which surprisingly enough they usually are

Wetsuits are made  to keep you warm by being covered in water  so if your goal is to stay dry on your kayak the wetsuit is probably not for you
If your budget is small and you wanted a great kayak wetsuit we recommend the Oneil Wetsuits Mens Rector, you can get the best deal on one here.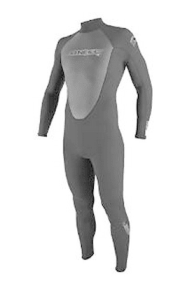 Needless to say, when things get complicated in the water. If the launch site is on the rocks we can jump out of the kayak and swim to shore with the kayak also on a beach with huge waves that we are not able to maneuver over; a dry suit will help a lot. It converts frequently paddled and explored routes that are demanding into more relaxed and comfortable journeys.
Kayak drysuits come in different shapes and sizes. The best-reputed brand being O'Neill suits. Which contain PTFE membrane (Granular PTFE), which gives the water resistance. Also, the famed trademark GoreTex has better durability waterproof and breathability. Other manufacturers to consider are NRS, Level Six, Stolquist, Bomber Gear and OS Systems.
With proper care, the suit can easily last 10 years. The most delicate parts are the latex on the neck sleeves and ankle seals, but the user can easily change these. Sun impairs the swimsuit fabric like any other material but is sheltered by the vast. Only the sleeves and neck are exposed a bit of sunscreen fabric will be welcome protection both for the suit and skirt.
The question that lingers is why to spend three or four times more on a kayak drysuit if I can use a kayak wetsuit made of neoprene. I will feel the comfort of being dry or not feel tight inside the suit. Even so, the suit has its advantages. If we aren't going to spend much time in the water, jumping in or playing on cliffs with rocks that may damage the suits then the kayak wetsuit will be best. Whether we decide to choose the comfort of a kayak drysuit or the robustness of a kayak wetsuit, the selection of the appropriate suit is crucial for the kayaker. Dressing accordingly to the temperature of the water and the environment must always be your guide in your time away from the coast.
For a great kayak Drysuit we recommend the Oneil Boost Drysuit
Final words are wet set or dry suit which do I choose?
As we have discussed earlier when you're finally going to choose which one to buy it all depends on the exact temperature or whether you're going after if you're looking for something that's going to perform great in temperatures that are under 50° we really recommend that you choose a dry suit but the dry suit by itself is not gonna keep you warm you need to make sure that you invest the appropriate amount of money on clothing underneath such as long-johns and a long sleeved shirt you may even opt to wear a sweater underneath dependent on how cold the temperature is. Wetsuits will generally have different levels of thickness and provide a lot of freedom of movement so they may be your best option for other activities but not completely recommended for cold weather.
Were Sorry This Was Not Helpful!
Let us improve this post!
Please Tell Us How We Can Improve This Article.