Kayaking Mexico 
Kayaking Mexico can be a wonderful adventure for the paddler stuck in a cold weather city during the winter months.
Not only is Mexico warm and sunny during the winter (and the rest of the year too!) but it also has thousands of miles of pristine coastline, both on the Pacific side and along the Gulf of Mexico.
Along the Baja peninsula, for example, there are island chains that are home to a variety of sea life, including whales, dolphins, colorful tropical fish and even sea lions. In fact, the paddling is so spectacular here that the Baja Peninsula of Mexico has become the most popular winter kayaking trip destination in the world. You just can beat the warm water, sunny weather, unforgettable scenery, and endless miles of wilderness Baja coast are perfect for sea kayak adventures.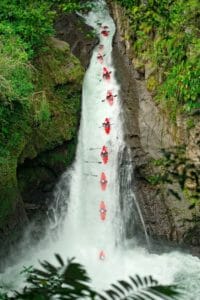 And kayaking Mexico isn't limited to the Baja. Other areas like Cancun also have large lagoons that are perfect for sea kayaking, with some routes leading to the sparkling reefs of the Caribbean Sea and beyond.
If you're a whitewater paddler, you wont feel left out kayaking Mexico in winter or any season. For example, in the states of Tabasco and Veracruz, there are whitewater river runs that will have you paddling past amazing caverns, and over a variety of waterfalls ranging from 30 to 100 feet or more!
So if you're stuck in Chicago or Denver or New York in January, and there's a foot of snow on the ground, and you're dreaming about paddling crystal blue water with the warm sun on your face, you can do something about it! Book a reservation and hop on a plane to Mexico, and leave that cold weather behind!
The weather in Baja during the mid-winter months is quite temperate. Daytime temperatures average in the 70s, with about a twenty degree drop at night (so bring a light jacket). As winter gives way to spring, the daytime temperatures rise well into the 80s, and then into the 90s during the summer. Water temperatures are quite comfortable year-round – 60s to upper 70s in most cases, although you'll want to bring a wet suit if you plan on diving or snorkeling during the winter season.
Choose a good guide or outfitter
Choosing the right guide, outfitter or adventure tour agency is important for having a fun and safe vacation when you're kayaking in Mexico.  You'll want someone who knows the territory, as well as the local customs and the logistics involved in getting you and your gear around Baja or any other part of the country.
A professional guide or tour agency can also help with kayak and other equipment rentals, resort and hotel accommodations, serve as a translator if you don't speak Spanish, shuttle you from launching point to launching point, and more.

Getting There
If you're thinking about kayaking Mexico, you should know that getting there has never been easier. There are a number of direct flights to the Baja from San Diego, as well as most other major cities in the U.S. and Canada.
If you're traveling from Asia or Europe or another part of the world, you'll probably have to fly to Mexico City and catch a connecting flight. Or Fly into San Diego and fly down to the Baja or other destination from there.
Either way, you'll be spreading on that suntan lotion and pushing your yak out to sea before you know it!  So let the Mexican kayaking adventures begin!
[box] Return from Kayaking Mexico to Kayaking Journal Home [/box]
Were Sorry This Was Not Helpful!
Let us improve this post!
Please Tell Us How We Can Improve This Article.