Malibu Stealth 12 Fishing Kayak Review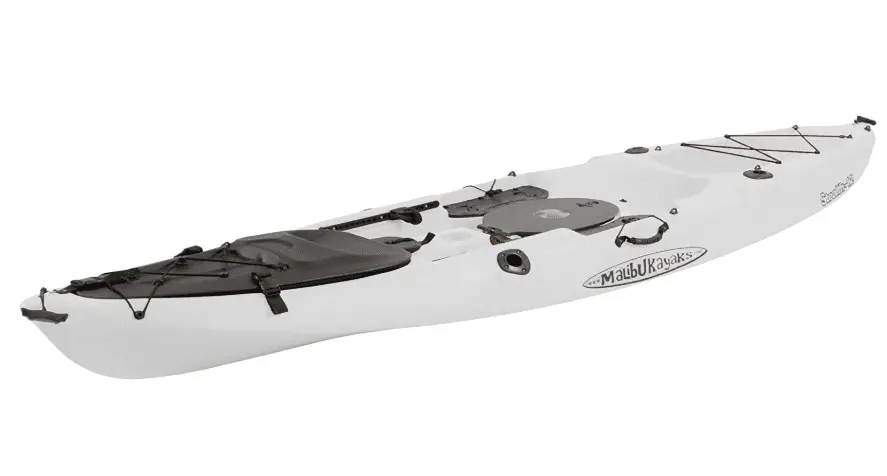 | | | | |
| --- | --- | --- | --- |
| | high performance great features | | |
Today we present our review and description of the Malibu Kayaks Stealth 12 Fishing Kayak.
Most anglers look for a few different things in a fishing kayak — stability, manoeuvrability, comfort, storage, and rod holders. The Malibu Stealth 12 offers all of these features and more.
You may check the best fishing kayak here.
Enhanced Stability and Maneuverability
Malibu Kayaks are known for offering superior stability, and the Stealth 12 Fishing Kayak is almost impossible to tip in normal conditions and is stable enough to stand from when fishing. At 12 feet long, it's not the fastest kayak in the fleet, but it offers outstanding manoeuvrability.
Center Live Well, Bait Tank and Casting Platform
A significant feature of the Stealth 12 Fishing Kayak is its built-in bait tank and live-well. Water is pumped into the tanks via hull pumps and is discharged once the water reaches a certain level by use of integrated discharge drains. An adjustable aerator valve allows you to adjust exactly how much water flows in. Access to the bait is simple by use of a 6-inch screw-off hatch in the middle of the well.
No live bait? No problem. The live-well also works as a storage area for a tackle box or other supplies.
Located to both the right and left of the casting platform are two additional hatches. The left trap provides access to the live bait pump and plumbing. The right trap is a built-in tackle box.
Incredible Storage
Anglers need space for rods, gear, lunch, bait, etc. The Stealth 12 includes four built-in rod holders -- two up front for fast access and two in the rear. A Gator Storage Hatch, Child Seat, and Bungee Storage system at the hull of the boat and a large open back well located behind the seat offer the ability to carry almost anything and give you the ability to keep your rods safe and secure when necessary.
Additional features of the Stealth 12 Kayak include bow and stern handles, adjustable footrests, a comfortable high back seat, and built-in paddle holders.
The Malibu Stealth 12 Fishing Kayak measures 12'4" in length, 33" in width, and weighs in at 60 pounds. It offers a maximum people and gear weight capacity of 450 pounds.
Full Features
Length: 12 feet, 4 inches
Width: 33 inches
Depth: 12 inches
Weight: 60 pounds
Capacity: 450 pounds
Casting Platform and live-bait tank
Unmatched Stability
Made for Anglers
Bungee Cord Storage
Child Seat
Gator Storage Area
Flush Mount Rod Holders (4)
Paddle Holders and Carry Handles
Optional Features
X-Wing Sliding Console with optional 3 Switch Electrical Plate
Foot Rudder System
Rear Live Well/Storage Tank,
Trolling Motor Kit
Malibu Stealth 12 Fishing Kayak Reviews
Customer Reviews
Reviews of the Stealth 12 Kayak have been outstanding from its owners.
Positive Customer Reviews
The most stable kayak I have ever owned. It takes some balance, but you can comfortably stand and fish from the Stealth 12. The live bait well is fantastic. I'm so happy with this kayak.
— T.R.
I purchased mine with a rudder system making it very easy to steer and move around. I was casting while standing up on my first trip out. I don't use the live-well for bait but as an extra storage area and I can't tell you how beautiful it is to have easy access to everything instead of always having to reach behind the seat. Great fishing yak here.
— T.C.
Negative Customer Comments
I always seem to be in the rear when paddling with other boats -- even other 12 foot kayaks. No big deal as I'm not racing, but it's not the fastest 12-foot kayak out there. But it's also not the slowest.
— R.W.
Latch for the live-well is flimsy as it gets. Front hatch will leak on occasion is not 100% waterproof.
— B.G.
Below are two of the kayaks we've reviewed. You might want to check them before deciding which one to buy;
Were Sorry This Was Not Helpful!
Let us improve this post!
Please Tell Us How We Can Improve This Article.