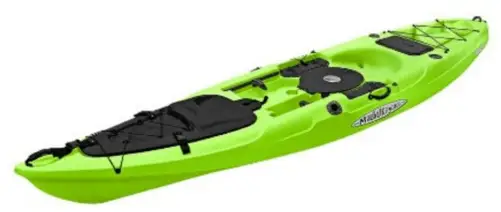 | | | | |
| --- | --- | --- | --- |
| | high performance great features | | |
The stealth is used by a lot of people for both saltwater and freshwater but is mostly a saltwater kayak to catch some big fish. It's a 14 foot kayak which is very big for a kayak. Two things that separate this kayak from most on the market is a functional standing platform and a built-in live well. No more bait buckets my brothers!
Here's the best fishing kayak in the market this year!


So Why The Malibu Stealth 1 Fishing Kayak?
Starting off in the back area, whats pretty critical for a lot of people whether you want to use a crate or if you have a fish bag. We have the largest bag by native and it fits in the storage area perfectly. One thing to note is that the self draining throughout the kayak is really phenomenal and impressive. They have actually built little trenches so all the water drains in and goes to a reservoir area and drains into two points with scupper plugs at the lowest points of the kayak making sure all the water is continuously drained.
Malibu has done a great job with kayak storage, one storage area directly behind the cockpit allows a well design removal dry-storage letting you rest assured you have plenty of room for whatever your fishing trip desires.
Its important to always inspect your kayak and make sure there is no flaw in the actual design. Give it the water test - let a little bit of water sit on the tops of the storage lips and see if there's any draining. Also make sure the spacing between the screws it secure make sure none of it is lifting up allowing water to go through the different holes.
Your rod holders are pretty much built right in between where the back of your seat would go and where the back of your kayak would drop off at. Its really a good and efficient placement.
The middle of the kayak comes with what they call a standing platform, the entire base is kind of gritted just a little bit for that extra grip when your standing up on the kayak. There are two options you can use it as storage and it also has the ability to become a live well. There is a scupper plug that lets a little bit of water in not much and not enough but in order for it to fully function as intended there is a separate device which is a pump that circulates water that keeps your live bait alive and kicking. Additional storage is located on right and left side of this main storage area.
There is a bungee on both sides of the kayak.
The foot-pegs are well designed there is a bit of a metal piece on it to move up and down and allow comfort.
Regarding the product positioning one things we noticed was the front rod holders which are pretty much becoming the norm these days, the placement of them has been a bit tough to nail for some of these companies Malibu has done a great job in positioning these front rod holders you are able to paddle aggressively without any interference and hitting your gear while still being able to connect with your reel during a fish hookup and not really having to worry about positioning yourself in an unorthodox way. When you're fighting a big fish the paddle can get in the way but Malibu has a series of bungees up at the front which are really nice and make it easy for you to just pop in the paddle and rest and continue to fight your fish.
Trolling if you get a hit you can slip the paddle up front within the top bungees and reel in your line.
With a 4 point harness it insures that it will not snap and will stay secure.
Features Of The Malibu Stealth 14

Pros and Cons of the Malibu Stealth 14
Pros
Stable
Very comfortable
Great and innovative storage areas and gear areas such as a live well
Quality materials and construction can be taken on class 2 rapids and dragged on dirt gravel and rocks
Only needs a few inches to float
Great weight capacity is super stable even with larger person inside (tested with 250 lbs man and great stability even when standing
 
Cons
Large, not really a con since this is what the kayak had as its market segment but notable none the less a  14 inch kayak may not be for everyone
Final Verdict
This is probably one of the most highly rated kayak that we have come across. The thing that stands out the most is the stability and sheer functionality everything has been placed to be perfect for the user right out of the box there are no modifications you need to make. From the positioning of the rod holder holes to the versatility of the storage to the drainage and scupper hole placement it feels like every single detail has been taken care of. We recommend this kayak for almost anyone in the market for a great product at a higher teir. You will definitely not be disappointed regardless of your size or your abilities we recommend this kayak for anyone serious about fishing.
Other Kayak reviews below that you can read too;


Resources
Were Sorry This Was Not Helpful!
Let us improve this post!
Please Tell Us How We Can Improve This Article.