Ocean Kayak Venus 11 Womens Kayak Review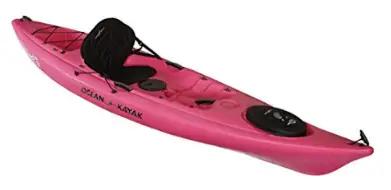 | | | | |
| --- | --- | --- | --- |
| | high performance great features | | |
Welcome everyone today were going to do a little review of the ocean kayak Venus 11. Its primarily made for females which is why I purchased the kayak, my wife likes to go kayaking with me and she wanted a kayak that was very comfortable for her and we tried this one out because a friend owned it similarly and she liked it enough so we went ahead and got her one.
We're going to talk about a few features and a few that aren't so great. But, before that, you may discover the best fishing kayak here.
Should I buy The Ocean Kayak Venus 11 Womens Kayak?
Firstly, you can see that the front is very narrow, it's got a nice little knife edge on it and cuts through the water very well and definitely is much faster than the other kayaks out there. It is 11 feet long and it comes with everything you see on the picture. Including the comfort tech seat very nice and padded for long trips. It has bungee cargo holds in the back which are great for putting in coolers or anything similar that you might want to secure and carry with you.
It does come with a little dry compartment at the front which is very simple to use, not exactly the most waterproof compartment so you may want to use a baggy to keep your stuff dry while it's in there and it does have a leash so you don't lose it while you're in the water.
Inside there is a molded in cup holder and nearby there is another indent which is circular for another storage item.
It comes with three carry handles. The two on the side are very good for picking up and carrying the kayak around. The kayak is very light and weighs only about 47 or 40 pounds. There is a handle near the middle top which my wife loves about the kayak since she can reach in and grab it and hoist herself up if she wants to get up.
In the front there are some more bungees great for tying down towels or lifejackets or whatever you want to bring with you and the drain plug is right up there in the front if it does get any water in it you can undo it and pour any water out.
It does come with a nice paddle holder on the side which you can unhook, let your paddle loose and when your done using your paddle you can just snap it back on there, it's very tight.
Last thing is it does quite a few little anchor points around the kayak which you could use to secure more gear or have stuff hanging off.
The downside is two things I don't personally like. 1. Is the way the handles are set up they are connected to the bungee straps and also a little plastic piece near the top holding the bungees so when you pull up its pretty hard to pull out over time it may wear on the bungee and snap, this same feature is on the back. The last thing that I think is a big fault is there is a setup in the front for your paddle patch but it's not cutout and it doesn't cut out and doesn't come with the top and if you like the top you would have to pay about 80 extra dollars.
Those are about the only things that I don't like, it doesn't have any true dry storage without cutting a huge hole in the kayak.
Other than that I think it's a great kayak suitable for any female that wants to try kayaking or someone less experienced that wants to enjoy the sport with her husband or alone.
Features Of The Ocean Kayak Venus 11 Womens Kayak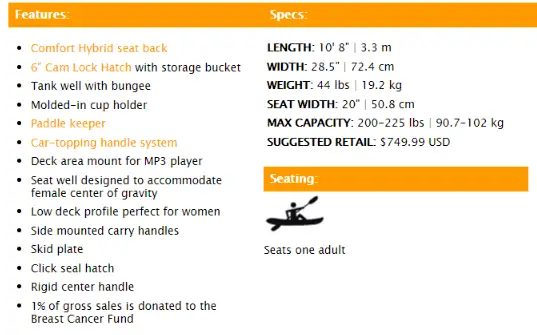 Final Thoughts
Other than the few negatives I think it's a great kayak suitable for any female that wants to try kayaking or someone less experienced that wants to enjoy the sport with her husband or alone.
Check other kayak reviews below;


Resources
Were Sorry This Was Not Helpful!
Let us improve this post!
Please Tell Us How We Can Improve This Article.