Old Town Canoes & Kayaks Vapor 12XT Kayak Review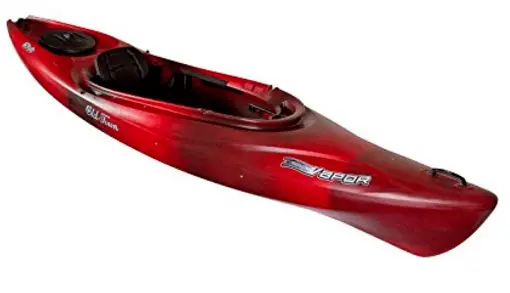 | | | | |
| --- | --- | --- | --- |
| | high performance great features | | |
For anyone looking for an all-round tool, which is made to offer a comfortable and relaxed ride, the Old Town Canoes & Kayaks Vapor 12XT recreational kayak is an excellent option. The Vapor 12XT is the bigger brother of the Vapor 10XT, and comes with even more room for you and your cargo. If you are a paddler who needs a kayak which tracks well in a number of circumstances, such as lakes, rivers, and even some class II and class III rapids, this is what you need. It is by no means a white water kayak, but it absolutely smashes the environments it's meant for.
The stability and tracking abilities of this kayak are amazing, and the large cockpit adds to the comfort, as well as the speed at which you'll be able to get in and out of the kayak. If this got your attention, don't stop here and continue reading our Old Town Canoes & Kayaks Vapor 12XT recreational kayak review, and decide whether you should be getting this or not.
Here's the detailed list of the best fishing kayak in the market nowadays.


Seating and Cargo
One of the most important features of this kayak is the extremely big cockpit. Getting in and out is a breeze, and you have enough wiggle room to move around a little during longer rides, which adds a lot to the comfort. Due to its size, there's also plenty of standing room in front of the seat. Speaking of the seat, the Comfort Flex seat is very comfortable as well, and the foot braces are both padded and adjustable, and you can suit this kayak to your size. The seat keeps the low seating position of a sit-inside design, and the lips on both sides are just enough to help your knees and provide much greater control, especially when you combine this with the foot braces, and the padded thigh braces. Even after long periods of paddling, you shouldn't feel any pressure. For anyone who wants to enjoy a drink or two when paddling, and even some snacks, you will be pleased to know that the kayak has a molded cup holder, and a cockpit tray – enough for you to enjoy while fishing.

When we're discussing the cargo, it's worth mentioning that there is a molded-in tank in the stern, which is ideal for live bait, or maybe a small cooler. There's also a paddle rest with a bungee cord retainer, as a fairly convenient place to store your paddle when you're fishing or bird watching. However, it's kind of disappointing to see that the kayak doesn't come with any sort of dry storage, which could prove to be a problem for some paddlers. The good thing is that this is basically the only downside of the Old Town Canoes & Kayaks Vapor 12XT recreational kayak.
Performance
The construction of the Vapor 12XT is made to guarantee two things: speed and stability. The speed is incredible, especially when you consider the amount of cargo it can carry, and the kayak is very stable even when full of gear. Maneuverability is also left unscathed, as you will be able to maneuver the kayak even fully loaded with ease. You should note, however, that due to the size of the cockpit, performing an eskimo roll might be a bit of a problem. On the other hand, with all the stability the Vapor 12XT offers, you shouldn't even need an eskimo roll. All in all, it's a great kayak for a variety of circumstances.
Conclusion
When you consider both the pros and cons of the Vapor 12XT by Old Town Canoes & Kayaks, you will see that only the most picky paddlers will find its cons so important that they avoid buying it. For all others, what you're getting in this kayak is a big, roomy, stable tool which can carry you, your cargo, and even your pet to your destination, give you room for drinks and snacks while you're there, and take you back, all with great speed and stability. Honestly, what more could you ask for?
Below are reviews you might be interested of, check them out;




Resources
Were Sorry This Was Not Helpful!
Let us improve this post!
Please Tell Us How We Can Improve This Article.