| | | | |
| --- | --- | --- | --- |
| | high performance great features | | |
Today were going to be doing a overview and review of the sea eagle 393rl razor light kayak. This is a very special inflatable kayak design that was recently put out by sea eagle. It is actually the worlds first fully constructed drop stitch inflatable kayak. Its lighter narrower and also much faster to paddle than other competing inflatable kayaks.
It's a high performance solo kayak basically built for the outdoor adventurer. Its got a tapered hard nosed bow and stern and as mentioned its fully constructed with drop-stitch technology so it cuts straight through waves. Straighter and sharper than any other kayak on the market today. Paddling speeds are up to 6 miles an hour.
Check here the best inflatable kayak for the money.
Why The Sea Eagle 393RL
Lets talk about some of the key features of the 393rl razor light.
The first of which well discuss is the kayaks straight hull design. Its an important and unique feature of the razor light. Its got a straight hull design which actually provides the maximum straight hull waterline length. This feature combined with a very narrow kayak width which is 25 inches at the waterline allows the 393rl to paddle as fast as any rigid kayak available today.
The bow and stern molds are made of durable plastic and this kayak cuts straight through wind waves current and water like a literally sharp age straight razor on a clean close shave.
Its very impressive with superior length to width ratio razor sharp bow entry straight line planning surface and a precision razor sharp stern exit at the rear the 393rl is in literally a performance league all of its own.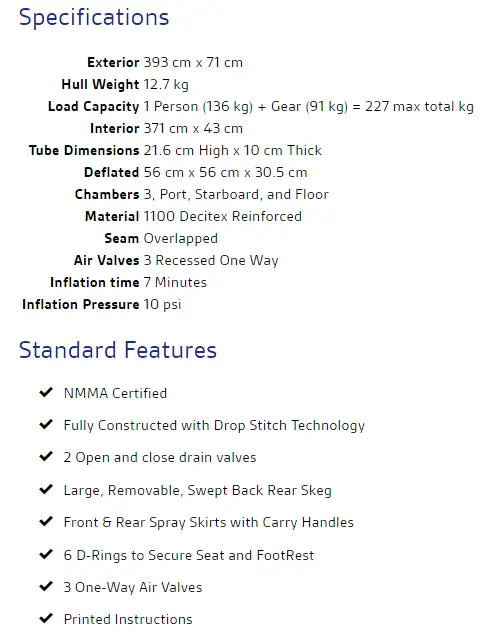 Lets talk about the unique bow and stern design with the tapered side walls. The razor light kayaks rigid bow and stern molds create the worlds very first speed entry system this leads into a double concave and then opens into a flat planning surface. Now the double concave design at the bow actually allows pockets of air to enter in between the hull and the water. What this does is it creates lift while also reducing friction and drag. The double concave stern creates a super clean exit and the taper drop stitch side walls provide a rigid support at the water line and also secondary buoyancy and stability. These features combine to enable the razor light 393rl to glide quickly and effortlessly through the water.  Now the bow and stern molds create a razor sharp speed entry and exit system. It's a very very important feature for this particular inflatable kayak because it really helps to create lift and increases paddling speeds as well. Now as we mentioned this is the world's first and only inflatable kayak made entirely of drop stitch material. The patent pending razor light kayak is the world's first kayak that features this technology its actually a 3 inch drop stitch material for the floor and for the sidewalls it features a four inch drop stitch material.
Now this drop stitch material uses thousands of high tensile strength threads that connect the top and bottom fabric layers. What it does is it actually creates thousands of supports which enables the kayak to be inflated to a much higher pressure of 10 psi when compared with the competition other competing kayaks you can only inflate to a max pressure of 3 to 4 psi so it goes without saying that this greatly increases overall rigidity of the razor light and the unique drop stitch construction makes this as fast as any 12 inch 12 foot rigid kayak and it provides the added benefit of being able to pack the kayak down into its own backpack. The result of which is a inflatable kayak that is not only tough as nails but is incredibly rigid, ultra light and super fast to paddle.
Lets talk a little bit about the specifications of the sea eagle 393rl. The exterior measurements are 393 by 71 cm. the weight is 12.7 kg. it has a max carrying capacity of 1 individual plus gear with a max weight capacity of 227 kg. the interior measurements are 371 by 43 cm. tube dimensions are 21.6 cm high by 10 cm thick.
One can quickly inflate and setup the sea eagle 393rl and get it in the water without any delay or real difficulty. Its very quick and simple to inflate and also to deflate and pack down.
Conclusion
Hopefully this overview has been helpful for you we definitely recommend this as one of the most advanced inflatable kayaks created to date. This kayak is perfect for any advanced kayaker or someone that wants to test how far the inflatable line can go. This is the top of its class and you will not find a better inflatable kayak than this. So If portability is your last goal and you absolutely refuse to get anything but the inflatable and you want the best in the market, you cant go wrong with the sea eagle 393rl kayak.
Other inflatable kayak full review below;


Resources
Were Sorry This Was Not Helpful!
Let us improve this post!
Please Tell Us How We Can Improve This Article.
Emotion Stealth Angler Kayak

Emotion Stealth Angler Kayak Review and detailed opinions and feedback on whether this is the best kayak for you.
Product Brand: Emotion Kayaks