Brooklyn Kayak UH RA220 Review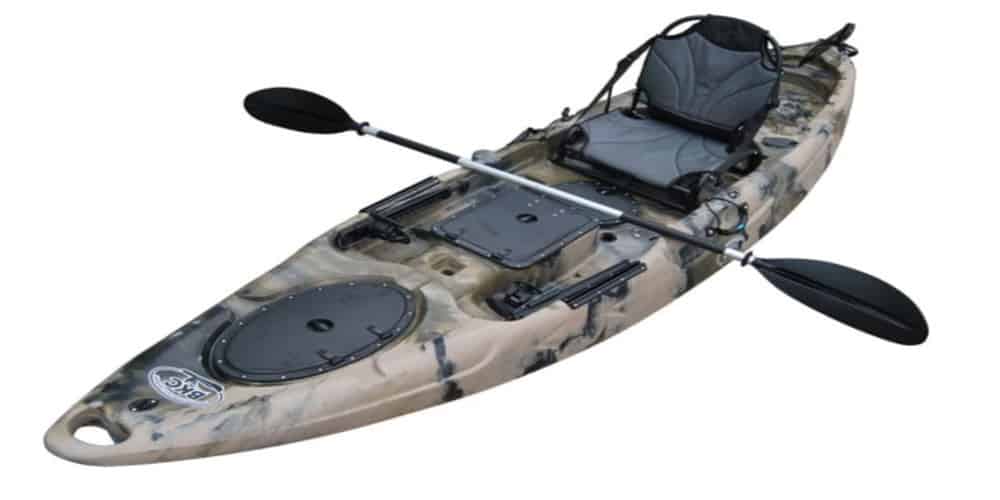 | | | | |
| --- | --- | --- | --- |
| | high performance great features | | |
The Brooklyn Kayak Company UH-RA220 is one such thing. It's made to be the "Swiss Army knife of fishing kayaks", according to BKC. And yes, it's an excellent kayak, as you'll see in our BKC UH-RA220 review below. We'll discuss a few things about it, from the build quality and storage, to the comfort and ride qualities.
The short version is that the UH-RA220 actually has almost everything an angler could want. From plenty of features, to an impressive array of storage options, it has it all. It's also very stable, given it's 11'5" length, as well as 34" width. In case you were wondering, yes, you can stand on it while fishing. Without wasting any more time, let's get into the details. (See our best fishing kayak here)
The Build Quality Is Stellar
The UH-RA220 is made from high quality polyethylene. It's the material of choice for plenty of kayaks nowadays. That's because it is lightweight, very durable, and fairly affordable. The capacity of the kayak is 440 pounds, which is, honestly, more than enough for most anglers.
However, this also results in a total weight of 70 pounds, which might be a bit tricky for maneuvering if you fish by yourself. You don't have to worry about carrying it to and from the water, as you'll get side-mounted carrying handles. There's also a carved handle on the bow, making it easy to launch or land if you're a solo angler. Nothing missing here.
It Has Plenty Of Storage
It's pretty obvious that this is a single-person kayak. However, that doesn't mean that it doesn't have plenty of storage. You can safely store all your gear, regardless of what you're carrying. To begin with, you have three different watertight compartments. They're all in front of the seat, so you can access them easily.
There's also a large cargo area at the stern, where you could store larger things you're carrying. That one has elastic bands that keep anything you might have inside from slipping into the water. One potential bummer is that there are no flush-mounted rod holders. That's the reason for the "almost" back in the introduction. You do, however, have a single articulating rod holder – and that one is in front of the seat as well.
How's the comfort?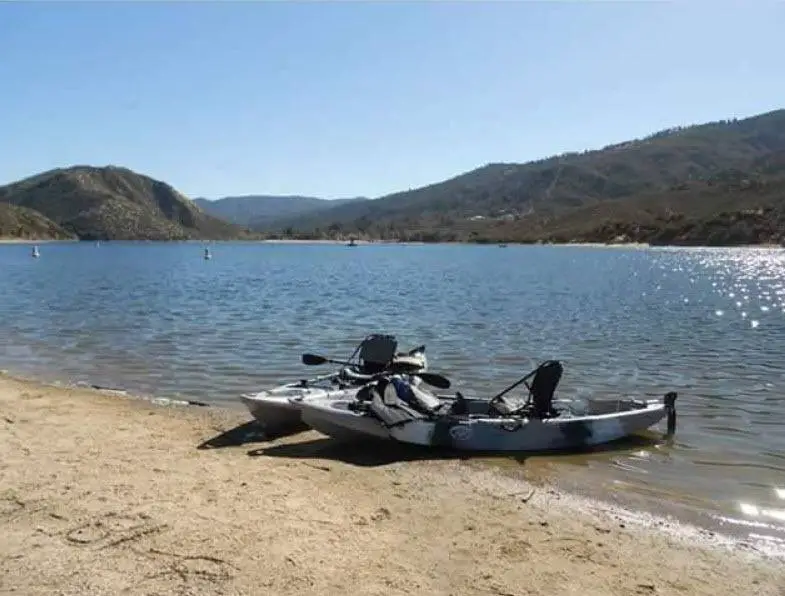 When you're out fishing in a kayak, you'll most likely be spending a couple of hours in it. Therefore, you want to be comfortable, and you want to be sure that you won't be more fatigued than you'd want to. The best way to ensure this is to have a good, comfortable seat, and the one on the UH-RA220 is easily among the best. Factor in the price, and it gets even better.
To be honest, the adjustable, high-backed seat is amazing. And it's not like that for one type of person, but it fits just about anyone. The only potential downside is that you might need to stretch out once or twice when you're on a really long trip. But, what kayak doesn't require that?
As we said, most of the storage is up front. This means that all of your essentials are conveniently placed, so you can easily access any part of your gear, without the risk of flipping over with your kayak. The cockpit is surprisingly roomy, and gives you quite a lot of leg room. Even if you do need to stretch out once in a while, you absolutely have the room to do so.


Let's Discuss The Paddling Capabilities

The first thing you'll want to consider with a fishing kayak is the stability. And, at 34" wide, there's plenty of it. It is extremely unlikely that the UH-RA220 will flip over and throw you and all your gear in the water. To improve a bit of stability, there are molded channels on the hull.
We have yet to find someone who didn't feel confident while standing up during fishing. This is partly thanks to the included standing platform. Most anglers actually find it very easy to both get in, and get out of the craft. Last but not least, it is absolutely stable enough if you want to fish standing up.
Those molded, long, deep channels in the hull, as well as the angular design of the bow, ensure that you have the maneuverability required for you to perfectly position yourself near one of your favorite fishing spots. If you want to have pinpoint control, there's a foot-operated rudder, which also allows for you to be able to negotiate almost any kind of water condition that's coming your way.
There's one thing we do need to mention, though. At 11 ½ feet long, and 70 pounds empty, this isn't the easiest kayak of them all when it comes to maneuverability. On the other hand, it's maneuverable enough for you to be able to focus on your fishing, and not the location.


Wrapping Things Up – Is It Good?
When you're in need of a kayak that's specifically made for fishing, you're bound to love the UH-RA220. It has almost everything, from a sturdy, durable construction, to decent performance in the water. Factor in the price, and it becomes an even more attractive kayak. Even though it isn't the lightest, or the nimblest kayak available, it absolutely does the job.
It's definitely not for everyone, however. If you need flush rod holders, or if you want something that's lightweight and very easy to maneuver, you might want to try your luck elsewhere. However, if you can afford to compromise on those two, and get much more in return, the UH-RA220 might be an excellent option for you.
You may want to read a few reviews of other kays too. See below;
Were Sorry This Was Not Helpful!
Let us improve this post!
Please Tell Us How We Can Improve This Article.