Jackson Kayaks Review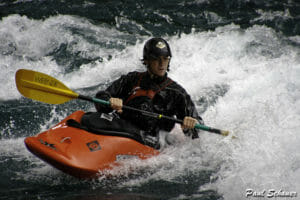 In the short time they've been in business, Jackson Kayak has built a reputation for mass producing fun and affordable kayaks.
Their boats have become increasingly popular over the years, especially their freestyle whitewater kayaks like the "Fun" and "Rock Star" models. These boats have proven themselves in ICF Freestyle World Championship competition time and time again.
Jackson Kayak founder and president Eric "EJ" Jackson is a four-time freestyle champion himself, so you can be sure the company knows how to make freestyle boats. Jackson kayaks have a well deserved reputation for being extremely lightweight and rugged, although you need to be careful with the carbon/fiber hull models as they can be damaged by sharp rocks, especially in shallow, rocky whitewater.
In addition to the freestyle boats, Jackson also produces several creekers/river runners, recreational and touring kayaks, fishing models and a line of boats designed for the youth market.
The Products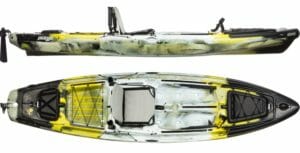 Jackson Kayak, a company started in 2003 by EJ and Tony Lunt, has grown in popularity over the years, especially among whitewater paddlers. The company is headquartered in Sparta, TN, and has a 100,000 square foot manufacturing facility in the small town of 8,000 people.
Jackson makes a full line of kayaks, including a half-dozen whitewater models, creekers, freestyles, tandems, river runners and more. They also make recreational and touring models, fishing kayaks, and a variety of kids kayaks. They manufacture all their plastic boats in house, along with accessories, clothing, and they even do custom manufacturing for playgrounds, other kayak companies, and more.
Jackson's line of whitewater kayaks includes the "Star" and "Rock Star," freestyle boats, and their other yaks sport campy names like "Fun," "Hero," "Villian," "Rogue" and the "Fun Sidekick" designed for kids. They offer several hull materials, including rotomolded plastic, superlinear /crosslink and carbon/kevlar. These boats are known for their speed, stability, and all around good river running, and the sidewall, deck package a wonderfully balanced vertical move boat for squirting, loops, cartwheels, and other hard moves. Outfittting on these boats is simple and minimal.
Jackson Kayak's recreational and touring kayaks include the Day Tripper, Journey, Rogue, Regal and several more. They use the same plastic resin hull materials in their touring kayaks as they use in their hard core whitewater kayaks, which means these boats are light and strong. Their fishing kayaks are the Coosa Sit On Top model, and the DayTripper, which is a canoe/kayak hybrid. And their youth line incudes the Side Kick, Little Hero, Mini Tripper and more.

The Pros
In our admittedly unscientific survey, most Jackson Kayak owners are a satisfied bunch. A few nitpicks aside, these boats get generally high marks for their innovative designs and attention to detail.
As reported, Jackson kayaks are extremely lightweight due to the innovative cross-linked plastic hull materials they use (although they can also be easily damage by sharp rocks, see paragraph below), which makes porting your yak up and down the river a breeze. These boats, especially the freestyle boats, tend to handle well, roll easily, spin on a dime, and make outstanding playboats for all skill levels. The design and craftsmanship are top notch.
The touring and recreational boats also get high marks for their stability and neutral handling. One reviewer thought the Journey 14 was best equipped with a skeg or rudder system, and Jackson's Smart Track rudder system got high marks from users,  as it utilizes rock solid footpegs with gas pedal type steering. These boats also have ample storage, well made fittings and comfortable seats, even on long all-day paddles.
The Cons
The only real complaints we've heard about Jackson Kayaks involve the hulls on the whitewater boats. There's one drawback to the light hull materials they use on some of their freestyle models – the fact that they're easily damaged under the wrong conditions, especially the carbon/fiber hulls.
Eric Jackson admitted as much in a recent company press release. He advises owners to avoid shallow, rocky whitewater whenever possible. Like any hulls, these yaks can be repaired, but it's best to avoid problems in the first place.
Company website – http://jacksonkayak.com/
[box] Top Jackson Kayaks For 2011[/box]
Jackson Fun Series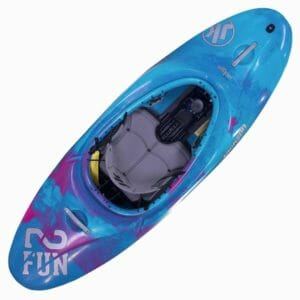 Superlinear Plastic and basic outfitting starts at under $900 from a variety of retailers. The Jackson Kayak Fun Series kayaks is ergonomically designed, with an emphasis on rollability and play. A great boat for all skill levels.  With 4 Sizes in the Classic Fun series there is a boat sized for everyone: 2 Fun, Fun, 4 Fun, Super Fun.

Jackson Journey
The Journey inspires confidence. Like all Jackson Kayak designs, this touring model is all about balance, blending stability with outstanding performance characteristics and exceptional comfort. The Journey tracks very well and offers tremend­ous speed for crossing open waters. The Journey comes in two sizes, 13.5 and 14 feet.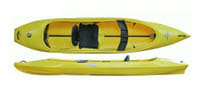 Jackson DayTripper Angler
A wide open cockpit makes it 1/2 canoe, 1/2 kayak, allows for easy entry into and exit from the boat, and provides ample room for your fishing or camping gear, your 4-legged friend, a kid, or all of the above! Very stable and straight tracking, the Daytripper in either 10-foot or 12-foot length, is an ideal first kayak, and has also become quite popular (and a tournament winner!) among the inland fishing crowd.