Pyranha Kayaks Reviewed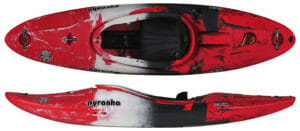 In business for over 30 years, Pyranha Kayaks has a reputation for building high-quality, innovative and affordable whitewater kayaks.
The company has grown over the years, and currently has over 70 employees and offices in Asheville, N.C. and Runcorn, England. Pyranha is staffed by a dedicated group of passionate kayakers who have a burning desire to build the most innovative whitewater boats on the planet.
Paddlers in Pyranha yaks have won numerous competitions and awards over the years, including Canoe & Kayak magazine's 2011 UK Varun Competition in a Varun piloted by Lee Brownsword.
The Products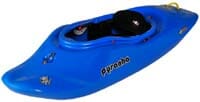 Pyranha makes a full line of whitewater kayaks, from freestyle boats to playboats, river runners, and all-around crossover models. Prices start at about $800 for the Rebel kids kayak to $1300 for the Pyranha Speeder.Freestyle kayaks – Pyranha's freestyle yak is the Molan, a playboat that comes in several sizes to match almost any paddler, and a hull design that allows for quick spins and extremely fast rotations, which makes it a great choice for paddlers looking to throw together some slick combo moves that will have your friends dropping their jaws in amazement.
Playboats – Pyranha kayak makes a whole line of playboats that are an absolute blast to paddle, according to our readers, including the Ammo, Z.One and Varun. These stable and agile playboats can carve as well as they can spin, and are comfortable, fast and forgiving for both novice and more experienced paddlers.
River Runners – River runners are another Pyranha specialty, and they have several popular models including the Burn, Everest, Fusion and the Speeder, which at 450cm is their longest long distance boat. We haven't received a lot of feedback on these yaks, but the comments that have come through are generally positive. The Burn in particular gets high marks as a creek kayak, and users rave about its speed and stability in even the most challenging water.
The Pros
As with a lot of the major manufacturers, we've heard mostly good things about Pyranha kayaks. Owners of these whitewater yaks seems to be a happy bunch overall, and Pyranha gets high marks for overall quality, stability, and just plain fun on the water.
The Fusion in particular gets a thumbs up for being fast, nimble, and forgiving. Users report very good tracking with the skeg up or down. The only nitpick was with the hatch, which one paddler complained was hard to get on and off.
We've also heard very good things about the Inazone 220. This yak has very good control and an almost effortless roll, and can spin and turn at the blink of an eye.
The Cons
As always, where were a few complaints voiced about Pyranha yaks. For once we didn't hear any negatives about seat comfort, which is a common gripe among paddlers of all brands and types of kayaks.
As mentioned in the "pros" section, one user had a problem with a very tight hatch cover in his Fusion. And an owner of a Speeder had the same complaint – that the rubber Kajaksport hatch cover was a real bear to get on. So hopefully Pyranha will hear the feedback on that and rectify one of the few glitches on what's an otherwise outstanding line of whitewater kayaks.
[box] Top Pyranha Kayaks For 2011[/box]
                                       Pyranha Fusion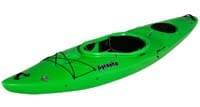 The Fusion is a cross-over kayak which allows the paddler to enjoy two great areas of paddle sport, white water and touring. Super stable, fast and easy to paddle, the Fusion gives you the freedom to choose from some fun whitewater or checking out some estuaries or a sheltered bay.
                                                        Pyranha Molan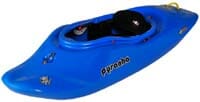 The Molan is a user-friendly, spin happy playboat capable of really fast rotation – perfect for paddlers looking to throw combo moves together. Whether you're after the highest competition score or just want to nail new tricks, you'll soon be ripping up the scene like you've never done before!
                                                Pyranha Speeder

The Speeder is for those of us who want to get out on the water and paddle for a longer distance, it's for when we fancy running rapids with a bit of speed to blast over the wave train, it's for going out on all day paddles with your lunch packed. You can paddle it around the coast or even power it along some flat water after a hard days work.
[box]
Return from Pyranha Kayaks to Kayak Reviews Home
Return from Pyranha Kayaks to Kayaking Journal Home Page [/box]