Dagger Kayaks Reviewed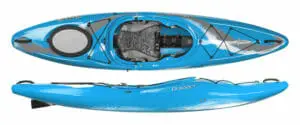 Dagger Kayaks is one of those innovative companies that isn't afraid to take a chance and try something new as far as designing new and innovative kayaks.
Although the company has only been around since the late 1980s, they've made a name for themselves by producing boats that continually perform at the top of their class in competition and recreational use.
We receive emails from paddlers all over the world, and owners of Dagger kayaks constantly praise their boats for their ruggedness and maneuverability. Paddlers also rave about Dagger's cutting edge hull

designs, sturdy construction, and stability on the water.
Just as with any other kayak brand, we've heard a few complaints about Dagger kayaks, mostly minor issues regarding hull denting and inadequate foot braces on some recreational models. But these negative comments have been relatively few and far between, and Dagger owners seem to be a loyal and happy bunch overall.
Dagger Kayaks — the company
Toward the end of the 80's, Joe Pulliam and three paddling buddies decided to pool their considerable experience in the fledgling paddlesports industry and create their own boat company. After a tiresome search for the perfect location, they finally settled on Roane County, TN. The deciding factors were close proximity to a variety of quality paddling and cheap rent – but not necessarily in that order.
Thus, in 1988, Dagger Canoe Co. was introduced to the world. In those days, Joe was as likely to be delivering a trailer-load of boats to Minnesota as he was to be in the plant shaping a plug. He and the other three owners quickly realized the tragic irony of this industry – when you're spending all your time designing, manufacturing, selling, and delivering boats, there's not much time for paddling them. They made do. But mostly they made boats.
Since then they've moved to a new facility in South Carolina, and grown quite a bit. These days, our shipping warehouse alone is large enough to hold our entire Tennessee facility. When we started, there wasn't even a separate area for R&D. Now, we have a state-of-the art R&D facility with more space and better equipment than some manufacturers' entire plants.
The Products
Dagger kayaks are known primarily for their whitewater boats, although they do have several lines of touring and recreational boats as well.
Their current whitewater lines include the award winning Crazy 88 series, along with the Mamba, Kingpin, Nomad, RPM, and Juice models. The boats come in a variety of planing and displacement hull models for river running, creeking, playboating, and freestyle applications.
The Crazy 88, which won Outside Magazine's "gear of the year" award in 2005, has a fused D-Bone™ subframe with an integrated center rail, stiffening the hull and reducing weight for increased aerial capabilities, as well as key seat, hip, thigh and back adjustments for control and comfort.
Dagger kayaks touring lines include the Specter, Halifax, and Exodus series. They come with polythylene hulls, along with the lighter and stiffer Airalite models (at an extra cost, of course, although less than a comparable composite hull).
As far as recreational kayaks, Dagger produces several lines, including the Blackwater, Catalyst, and Element series. These boats come in solo and tandem models, and feature an Aircore recreational touring seat system that are reportedly very comfortable even after an extended, multi-day trip.
The Pros
As we said in the opening, Dagger kayaks have a dedicated and enthusiastic following. Users have raved about their great hull speed, stability, and roomy and comfortable cockpits. They also like the surfing abilities of the planing hulled whitewater boats. Dagger's touring kayaks are noted for their speed, stability and large storage capacity.
Build quality and fit and finish on the Dagger boats also get high marks. Owners report that the hatches and bulkheads don't leak, the boats have ample storage room, the seats are generally comfortable even after a full day of paddling, and the rudders seem to perform as advertised.
The Cons
As as also mentioned, we have heard a few complaints from Dagger owners. Some of the whitewater boats are reportedly a little unstable when paddled by men over 200 pounds, with a tendency to pull back into an unwanted ender at unexpected moments. And a few people have complained about easily scratched and dented hulls, especially in the Airalite models, which seems to be common to all the major brands using that hull material.
Conclusion
These few minor faults aside, we would still highly recommend a Dagger kayak to anyone considering a new whitewater or touring boat. The Dagger kayaks feature innovative designs, rock-solid construction, and a good manufacturer's warranty.
[box] Top Dagger Kayaks For 2011[/box]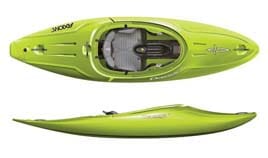 Dagger Axiom
Business in the front, party in the back. Designed to reward dynamic paddling, the Axiom features lower volume in the rear of the kayak for outstanding surfing ability combined with increased bow volume for comfort and control.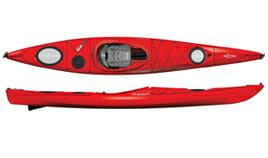 Dagger Alchemy
Dagger Alchemy
The stylish Alchemy light touring series hits the water running, packed with performance capabilities for both flat and moving water. Featuring the stability that's suitable for new paddlers, but with performance edging and turning capabilities ready for advanced skill levels. With enough storage and speed for an extended weekend excursion, it's time to grab your gear and get moving.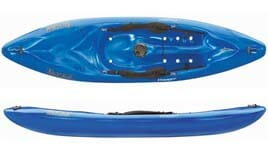 Dagger Torrent
Get the excitement of whitewater in the ease of a sit-on-top kayak. Just jump in and start paddling in this stable and easy to manage play machine. No kayak rolls required. Great for rocky streams and up to class III of whitewater.
[box]
Return from Dagger Kayaks to Kayak Reviews Home
Return from Dagger Kayaks to Kayaking Journal Home Page [/box]